2009 has been a good year in many ways. We got a new album by P, C & C ("Party Crasher"), with Helena Josefsson, the spring tour with Martinique and Helena's new single in Swedish. However we are still waiting for Helena's new album.
Le Journal des Mouches will be back in January 2010. We just want to wish you a
Merry Christmas and a Happy New Year
. Enjoy these days with your family and friends!
I want to be home to spend Christmas with my little family :o) I hope you will have a wonderful christmas! Helena!

Toodiloo all Roxers! 2009 turned out to be a killer year after all! My small but heartwarming Party Crasher Tour around Europe in the spring was followed by the huge and glorious Rox comeback at the Night of the Proms. Thanks everyone for your support (appreciated!) and for those loud voices in the front row (interesting!).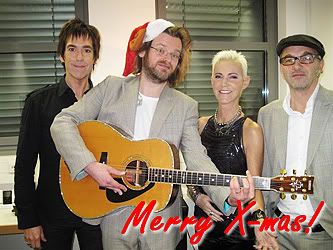 Also, we started recording a new Rox-album on the road. So far so good but there are, of course, lots more to be done. And for next year we have even more mighty plans. Will let you know what's goin' on in Roxville before long. But for now we wish y'all a great xmas och a extraordinarily swell new year. See ya around the corner. Cheers.