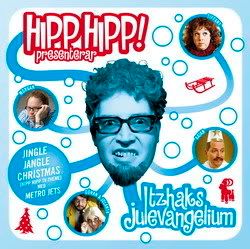 Here it is:
Metro Jets
wonderful X-mas release,
"Jingle Jangle Christmas"!
We're so happy about this, and I can tell you one thing: you don't want to miss this fast & fun & Spectorish snow flake audio dream! The song features Norwegian singer
Vibeke Saugestad
&
Helena Josefsson
from
Sandy Mouche
on vocals and was recorded at Christoffer's AGM studio.In Sweden, this song will be played a lot the following weeks, since it's the lead theme to the comedy show Hipp Hipp, that will start this Friday (hence the cover). We are still waiting for the single to show up on iTunes, in the meantime you can check it out over at
CD ON
and
Megastore.
More info about this coming up soon.