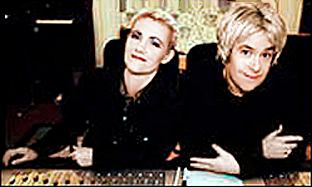 Something changed after recording "
The world according to Gessle
" (between September 1996 and January 1997). Per Gessle and Clarence Öfwerman, of Roxette, began working with a new team, including Brainpool's members.
It has been quiet around Per Gessle's most successful project, Roxette on the international music scene since their hits collection
Don't bore us - Get to the Chorus
in 1995, but they will be back next month with a new single,
Wish I Could Fly
, taken from the forthcoming album
Have a Nice Day
.
Roxette's modernisation includes changing members in the team around Marie Fredriksson, Per Gessle and Clarence Öfwerman. Michael Ilbert, previous producer of Brainpool's hit
Bandstarter
, has joined in as a co-producer after having already taken part in Gessle's S
he doesn't live here anymore
, The Lonely Boys and the last new songs of Gyllene Tider in 1995. Christoffer Lundquist (from Brainpool) plays several instruments (including cittra!!). Remember that both Michael Ilbert and Chris Lundquist have worked in the "
The World According to Gessle
".
It has been a long journey yet: the recordings began in January 1998 in Marbella, Spain. During the next six months, Roxette will be doing promotion around the world, except for the USA where the album Have a nice day is supposed to be released before earliest autumn 1999.
'So it's (finally? ) time for a new Roxette-album. We have recorded 19 songs from the 42 songs written. The work on this record started in January 1998 and the album was ought to be released already last autumn (1998). I blame my son Gabriel. I never thought that children and family would take that much of your time. It's hard to focus on the music when there's so much else around. Marie and I also thought that we had written all songs for the album when we started recording, but we were totally wrong. We scrapped most of those songs and wrote new ones while recording. According to the happy mathematician Clarence Öfwerman, we've spent over 200 days in the studio and one grabs the red Gretsch guitar as a reflex when he hears this album.
Our ambition has been to preserve all the 'trademarks' of Roxette, but at the same time to give you new freshness and an update of production and arrangement. We used to be a guitar band, but the guitars are almost gone now. We tried to make an album that sounds really up-to-date and therefore have we built much on modern technology and programming. Since there are also many strains used. This album sounds more up-to-date. We're trying to update our sound all the time. It will become unimaginably great. There are many more recording tricks nowadays than there were in the past. One can do almost everything. It's hard to hit the stop buttons every now and then. Still, this is no record that you can just program, the production work was very tough.".