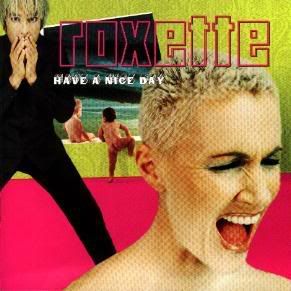 The sixth full-length studio album by Roxette,
Have a nice day
, has been released today in all Europe and it is supposed to be released next month in Asia and next June in Canada. So it will be released nearly worldwide (excluding the USA). The first single,
Wish I could fly
, published last January, has been one of the bestselling singles ever by Roxette.
Anyone
and
Stars
could be next singles.
Roxette has promoted the first single with some playback performances of
Wish I could fly
:
1999/02/06 Tivolis Koncertsal, Dansk Grammy 1999, Copenhagen,

Denmark

1999/02/12 MTV3 Studios Pasila, Miss Finland 1999, Helsinki,

Finland

1999/02/15 Kungliga Tennishallen, Grammisgalan 1999, Stockholm,

Sweden

1999/02/20 Sporthalle, Bravo Supershow 1999, Cologne,

Germany
In the CD we can read:
Special thanks to Brainpool for letting Christoffer Lundquist play with us. A super special thanks to: Clarence Öfwerman and Michael Ilbert who gave us their time and limitless homegrown talent.'

Clarence Öfwerman
and Michael Ilbert feature as producers, mixers and programmers. Clarence also plays the piano and keyboards.
Christoffer Lundquist
, from Brainpool, features as bass guitar and backing vocals.
This time, Christer Jansson (neither Mats Persson nor Jens Jansson) is the drummer and percussionist.
There are many songs with string arrangements, by Mats Holmquist and the SNYKO Orchestra.
Reading the booklet, we think the role of the new team (Per Gessle, Clarence Öfwerman and Christoffer Lundquist), that began to play together in
The world according to Gessle
, is improving.
Some songs are very influenced by the 60s sound from Brainpool and are a new chapter into the sound from
Stupid
,
B-Anyone-You-Wanna-B
and
Wish you the best
(all from TWATG album).
For example, in
Anyone
(one of the best songs from HAND), Clarence is the mixer, hammond organ and piano; Lundquist the bass guitar, backing vocals, six-string bass guitar, additional snare drums, zyther!!! and tambourines.
Perhaps
You can't put your arms around what's already gone
, with Per in leading vocals, could have been in the TWATG too.
Some fans say that in HAND the guitars have been crashed:
Have a Nice Day
is less guitar-based and more hi-tech. But the 60s Beatles air is also there if you forget the synthesizers.