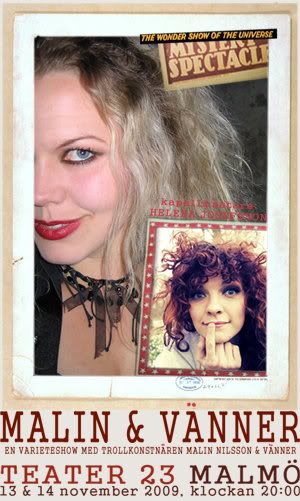 For two nights, Malin Nilsson has played her magic show at Teater 23 in Malmö, 13 and 14 November. The show is a mix of magic and music and includes Helena Josefsson's songs.
Emma Sonesson (aka BiLLY)
, administrator of the
HJ Fanclub Portal
, wrote in her
blog
: "
I was there with
Erik
and
Johanna
. We watched a funny magic show. Helena Josefsson was a guest but it was actually very funny, I've never been to anything like that before. Thank you Helena :)
".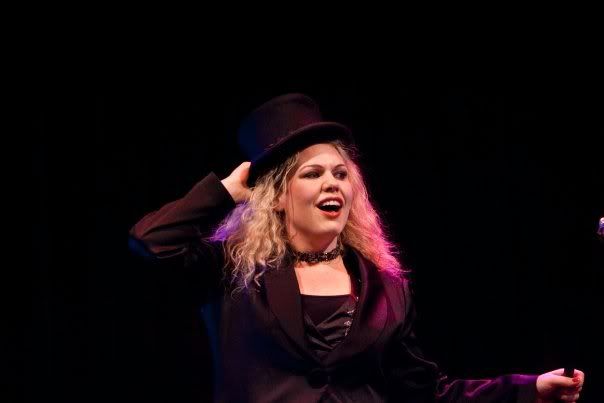 Malin has summarized the shows in her
blog
.
"I am lucky. I have got the best friends in the world. Some were in the audience. Otheres were waiting behind Variety Vauduvill's red velvet curtain waiting to hear their names in the loudspeakers. Before the opening Sweden's foremost spoken word poet Emil Jensen had said in the paper he writes for

that the variety will be a chance to see "the best singer and the best magician together on the same stage. Everything could happen. And

probably will." And it did. Emil, you were right as usual. The gallery at

my website

will soon be updated with photos taken by Karl Larsson at

bitsize.se

. But at the time being our good friend and photographer Lars Brundin has put some of his great shots in his Face Book gallery, check them out here:

Lars Brundin's facebook gallery

. Untill next time."
We recognize some of the pretty suits that Helena Josefsson's has worn with Sandy Mouche last years.

Malin kindly answered to LJdM's questions in her blog:

"It was amazing! It can't be described in words. As you might suspect Helena Josefsson was a great success, introducing her to my audience was one of the best things I have done on stage. I love her visual sense and creating magic to her tunes was an amazing process that has just begun … I am new in the blog sphere and haven't gone 'official' with my blog yet, but it is nice to see that you found your way here anyway. Keep in touch."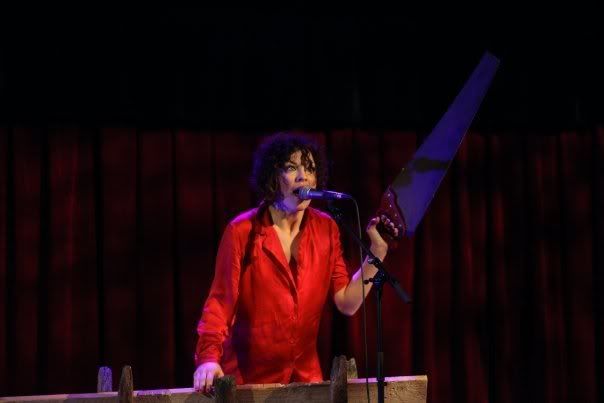 Helena Josefsson singing 'Ghosts' - Photo by Lars Brundin
We are sure Malin and Helena's fans are waiting for more shows next spring 2010. Meanwhile, if you are in the United States, try to follow Malin Nilsson's shows. It's worth it.