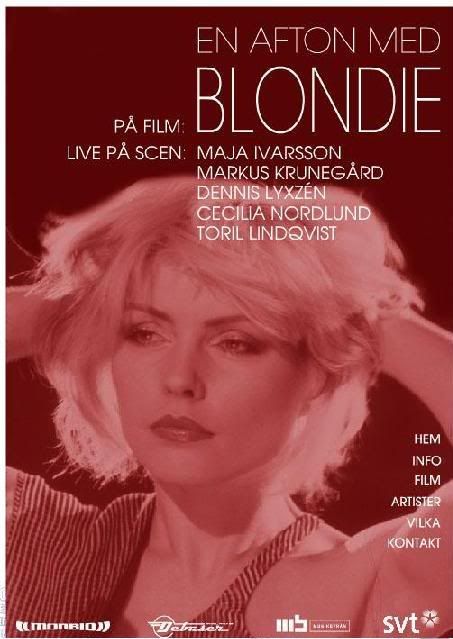 Debaser Malmö has payed homage to Blondie.
Blondie

is an American rock band that first gained fame in the late 1970s, and who have so far sold over 140 million records. The band was a pioneer in the early American punk rock and New Wave scenes. Its first two albums contained strong elements of these genres, and although successful in Australia and the United Kingdom, Blondie was regarded as an underground band in the United States until the release of

Parallel Lines

in 1978. Over the next three years, the band achieved several hit singles and was noted for its eclectic mix of musical styles incorporating elements of disco, pop and reggae, while retaining a basic style as a New Wave band. Lead singer Deborah Harry achieved a level of celebrity that eclipsed other band members, leading to tension within the group. Following a poorly received album, and with core member Chris Stein diagnosed with a potentially fatal disease, the group disbanded in 1982. As members pursued other projects, Blondie's reputation grew over the following decade and the group reformed in 1997, achieving renewed success and a number one single in the United Kingdom with "Maria" in 1999. The group toured and performed throughout the world over the following years, and was inducted into both the Rock and Roll Hall of Fame and the RockWalk of Fame in 2006. Blondie has sold 40 million records worldwide since their explosion onto the music scene in the 1970s
Cecilia Nordlund, Toril Lindqvist (Alice In Videoland), Dennis Lyxzén (The International Noise Conspiracy), Markus Krunegård (Laakso) and Maja Ivarsson (The Sounds)
have taken part in the concert. The band also features some famous musicians: Magnus Sveningsson
(Righteous Boy, The Cardigans)
on bass, Nathan Larson on guitar, Patrik Bartosch (Eggstone) on keyboards, Jens Andersson (The Ark), and Jens Jansson (Brainpool, A Camp) on drums.
The band also played the song "One Way or Another" with two guests:
Moto Boy and Helena Josefsson.