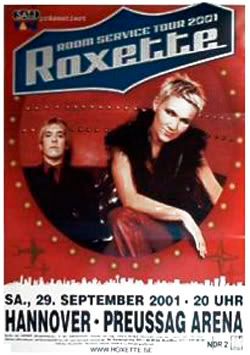 Since last spring, the promotion of the new Roxette's album,
Room Service
, has continued. They have released two new singles, one in June (the power-pop song
Real Sugar
) and another one in September (the ballad
Milk and Toast and Honey
, including some mixes).
This autumn, Roxette has been in a big Tour (the first time since the Crash! Boom! Bang! Tour 1994-1995).

Room service Tour
began in September and finished last week.
19/09/2001 Globen Stockholm

Sweden

28/09/2001 Olympiahalle Munich

Germany

9.592 spectators.
29/09/2001 Preussag Arena Hannover

Germany

6.633 spectators.
01/10/2001 Schleyerhalle Stuttgart

Germany

6.529 spectators.
02/10/2001 Arena Oberhausen

Germany

4.975 spectators.
03/10/2001 Sport/Kongresshalle Schwerin

Germany

4.022 spectators.
05/10/2001 Ostseehalle Kiel

Germany

3.895 spectators.
06/10/2001 Messehalle Leipzig

Germany

8.367 spectators.
07/10/2001 Arena Berlin

Germany

3.914 spectators.
09/10/2001 Paegas Arena Prague

Czech Republic

6.252 spectators.
21/10/2001 Stadthalle Freiburg

Germany

3.999 spectators.
22/10/2001 Forest National Brussels

Belgium

8.503 spectators.
24/10/2001 Palau San Jordi Barcelona

Spain

7.262 spectators.
25/10/2001 La Riviera Club Madrid

Spain

2.870 spectators.
28/10/2001 Westfalenhalle Dortmund

Germany

5.646 spectators.

30/10/2001 Festhalle Frankfurt

Germany

6.296 spectators.

31/10/2001 Hallenstadion Zürich

Switzerland

11.239 spectators.
01/11/2001 Olympiahalle Innsbruck

Austria

2.170 spectators.
02/11/2001 Stadthalle Vienna

Austria

4.728 spectators.
07/11/2001 Olimpiiski Moscow

Russia

12.900 spectators.
09/11/2001 New Arena St. Petersburg

Russia

10.607 spectators.
10/11/2001 Saku Hall Talinn

Estonia

7.682 spectators.
12/11/2001 Hartwall Arena Helsinki

Finland

8.499 spectators.
14/11/2001 Löfbergs Lilla Arena Karlstad

Sweden

6.539 spectators.
16/11/2001 Globen Stockholm

Sweden

14.289 spectators.

17/11/2001 Scandinavium Gothenburg

Sweden

10.690 spectators.
Band: Per Gessle and Marie Fredriksson, Per Pelle Alsing (drums), Jonas Isacsson (electric guitars), Christoffer Lundquist (bass) and Clarence Öfwerman (keyboards).
Supporting acts: The Rasmus (Estonia, Finland and Sweden), Alyssa AustriaBell, book and Candle (Germany), Bondage (Barcelona, Spain), Krystof (Czech Republic), Martin Schenkel (Switzerland), Peter Vanlaet (Belgium).
The band is again a mix of the classic Roxette band (1986-1995) (with Clarence Öfwerman, Jonas Isacsson and Pele Alsing) and the new times since 1996 (Christoffer Lundquist). Have they ordered "room service" in every country?
We have more news from Sweden. Do you remember what happens when six drummers invade a small apartment while the owners are out walking the dog? Four amazing jazz cuts with found objects, that's what! A tight, beautifully done, little piece.

Music for One Apartment and Six Drummers
(2001; 9 min 31 s)
Produced by: Kostr Film, SVT and Film i Skäne
Directors and editors: Ola Simonsson, Johannes Stjärne Nilsson
Cinematography and photography: Robert Blom, Johannes Stjärne Nilsson, Charlotta Tengroth
Production designers: Madeleine Schwanz, Cecilia Sterner
Music: Ola Simonsson
Music productor:

Magnus Börjeson
Six drummers:
* Magnus Börjeson
* Marcus Haraldson
* Frederik Myhr
* Sanna Persson
* Anders Vestergärd
* Johannes Björk

Couple:
* Zerby Thor
* Barbro Gustafson Löfgren

The TV-man:
* Anders Jansson

The dog:
* Salsa

IMDd:

A gang in a Volvo have staked out a flat; when its occupants leave to walk their dog, the six break into the place. One keeps his eyes on a stopwatch: they have only ten minutes before the couple returns. Instead of stealing things, the gang goes from room to room making fascinating percussive music with found objects: first in the kitchen, then the bedroom, the bathroom, and the salon. Cabinet doors, pot lids, light switches, a pill dispenser, a lamp, books, and a vacuum cleaner hose all add to the suite in four movements. The drummers keep the first three rooms tidy, but what will the flat's occupants make of the hurricane that hits the living room?





Timeout Film Guide:

Deadpan absurdist concert documentary, observing six resourceful guerilla drummers as they break into an old couple's apartment and unleash the latent rhythms buried in various items of household furniture. Listen and learn.





Martin Smith (mediaphen):

Tradition has it that a short film proceeds the main features at film festivals, and Gothenburg Film Festival is no exception. I've seen shorts at this festival for ages, and they rank between annoyingly useless and downright masterpieces (such as "The wrong trousers"). "Six drummers..." is a story of six drummers who break into an apartment and make music on whatever they find inside (such as toasters, medicine packs, slippers and books). It's playful, innovative and a fresh breeze. The idea is superb, and the perfect timing of the actors/drummers is amazing. I sincerely hope that this film gets all the attention and appreciation it deserves and wins all awards available. Short films are often underrated and seldom shown. Perhaps this small masterpiece can convince theatre owners to add shorts before their feature showings. It can well be as effective for the whole cinema-going experience as an entre/appetizer can be for the whole dinner. "Six drummers..." puts you in the perfect mood for a complete movie experience. Plus, the music is amazing.