The Ark
is a Swedish glam rock band from Malmö formed in 1991 by Ola Salo, Mikael Jepson, and Lasse "Leari" Ljungberg, when Ola Salo and Leari were only fourteen years old. Martin Axén officially joined the band in 1997, and Sylvester Schlegel in 1999. Their first album,
We are the Ark
, was released in 2000, with five singles: "Let Your Body Decide" (2000), "It Takes a Fool to Remain Sane" (2000), "Echo Chamber" (2000), "Joy Surrender" (2001) and "Let Your Body Decide" (2001). After dedicating most of 2001 to touring and promoting "We are The Ark", the band withdrew to prepare the next assault.
The new album, "
In Lust We Trust
", unleashed today in Sweden, has been recorded with the producer Peter Kvint in some famous Swedish studios: Polar (Stockholm), Sandovie, Jailhouse (Denmark) and 9-Volt. (Malmö) The backing vocals include Helena Josefsson, Gladys Del Pilar , Paris Gilbert , Pelle Ankarberg and Sara Isaksson.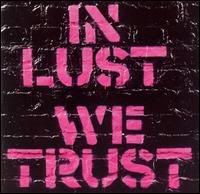 Helena Josefsson
, from Sandy Mouche, sings in 7 out of 11 songs:
Beauty Is The Beast; Father Of A Son; Tell Me This Night Is Over; Calleth You, Cometh I; Disease; 2000 Light-Years Of Darkness; The Most Radical Thing To Do.
Calleth You, Cometh I
, the first single, was released in February 2002. This week we can listen to the second one,
Father Of A Son
, about homosexuals' right to have children.