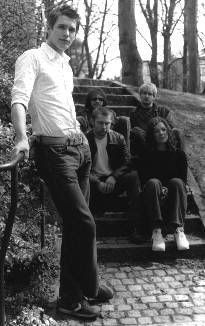 According to its web,
ewing.1
has released its first EP,
promo-1
, recorded in March 1999.
After our first gig in Lund last January, we felt we were ready to record our first demotape. With our dear friend Matthias Oldén (from The Pang) behind the controls, we have recorded a four-track promo-CD, wich will make our existance known to the record companies all over Sweden. A lot of people loves the fresh and energetic sound of ewing.1.


After this, Jens Hellgren (electric guitar) has decided that he has too many things goin' on at this time, to dedicate himself full-time to ewing.1. So the search began for a new lead guitarist, and after several auditions we have found exactely what we were looking for in the extremely talented guitarist Mattias Jeppsson, who has gladely joined the band this April.
So this is ewing.1 now:
Magnus Tingsek (from Sideshow Bob) - vocals, acoustic guitars, pedal steel.
Helena Josefsson (from Plastic Soul) - vocals, tambourine
Mårten Dahl (from The Pang) - bass guitar, harmony vocals
Johan Svensson - drums
Mattias Jeppsson - electric guitars

And these are the songs included in the first EP:


this spring (Tingsek/Josefsson)
mount yurway (Tingsek)
she devil (Tingsek)
back home (Tingsek)