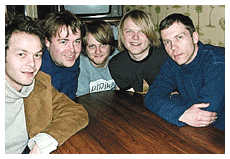 After their first album, What kept you (2002),
The Margarets
are now at
Tambourine Studios
, Malmö, recording their second album. They have been for two weeks of November at this Swedish studio with the producer Rune Berg and the engineer Herman Söderström (Tambourine Studios).
Helena Josefsson
takes part as background singer in some songs.
The recordings will continue at three different studios: Athletic Sound (Halden, Norway - December 2003 - January 2004, with Kai Ø. Andersen), Lydlab (Oslo, Norway, March 2004, with Ulf Holand) and Quad Recording Studios (New York, USA, September 2004, with Michael H. Brauer).
The Margarets is a Norwegian pop-group inspired by the Beatles. They're from Giske (a tiny island in the west coast of Norway) and play guitar-pop. They also have the musical influence of The Cure, Nick Drake, The Sundays, The Holllies, Led Zeppelin, Los Lobos, Astroburger and The Smiths.
The Margarets are:
* Alex Rinde - vocals
* Ante Giskeødegård - guitar
* Lars Berg - bass
* Rune Berg - guitar
* Ronnie Larsen - percussion