From time to time, Helena Josefsson and Martin Josefsson sing and play in churches, usually with the pianist Christoffer Andersson. They used the name "Sommardis" before for this trio and it is a good opportunity to see some of Sandy Mouche's members together.
It is Christmas time, good time for another concert. December 5, 2009, they have played with the trumpetist Roger Johansson (Kävlinge Golfklubb's greenkeeper) and a children's choir, in "Lions julsoaré" in Korsbacka church, Kävlinge, Skäne. The concert was arranged by
Lions Club Kävlinge
, a charitable secular organization.
Artists:
Helena and Martin Josefsson, singers
Christoffer Andersson*, piano
Roger Johansson, trumpet
Lucia from Korsbackaskolan and the church's children choir.
Tickets: 150 kr. Under 12 y.o. free.
Buy tickets at: Hellbergs Bokhandel, Kärvlinge
All the money will go to Världens barn / Children of the World.
Place: Korsbacka kyrka.
Time: 16.00 - 2009/12/05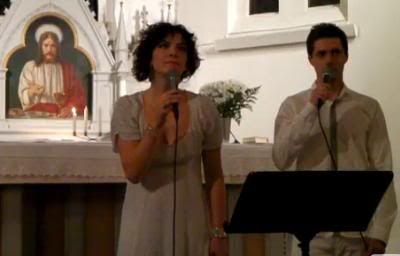 (

*Updated

: Finally, Christoffer Andersson could not play this time. Martin's brother played the piano)

Korsbacka kyrka 16.00 2009/12/05


Christmas concert! Candlelight and children´s choir guaranteed!
Martinique and me sing beautiful Christmas songs, and the children´s choir sings too in a "Luciatåg"!
Helena & Martin - "Hallelujah"


Helena & Martin - "Pie Jesu"


Helena & Martin - "Time to say gooodbye"