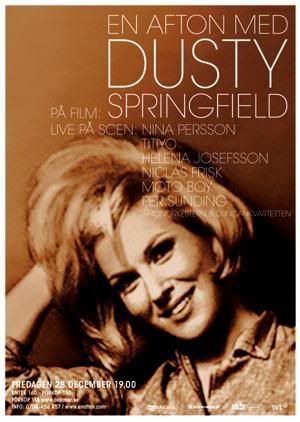 Debaser, Malmö 2007/12/28

-
www.debaser.nu
En afton med: Dusty Springfield!
Debaser Malmö has payed homage to Dusty Springfield.



Dusty Springfield

(April 16, 1939–March 2, 1999) was a popular British singer whose career spanned four decades (1959-1995). She achieved her most notable success during the 1960s, with a successful comeback in the late 1980s. Her most famous hits are:
"
I only want to be with you
" (1959), "
Wishin' and Hopin
'" (1964), "
I Just Don't Know What to Do with Myself
" (1964), "
You Don't Have to Say You Love Me
" (1966), "
Son of a Preacher Man
" (1969) and "
What have I done to deserve this?
" (1987).

Titiyo, Niclas Frisk (from Atomism Swing), Nina Persson (from The Cardigans), Per Sunding (from Eggstone), Motoboy and

Helena Josefsson

have taken part in the concert. It also features Magnus Sveningsson
(Righteous Boy, The Cardigans)
on bass, Nathan Larson on guitar, Patrik Bartosch (Eggstone) on keyboards and the strings of Aftonorkesten.


"En afton med ..."
is a project by Debaser Malmö, SVT and Monbio.
www.enafton.com
Before the concert, people could watch

Definitely Dusty

, a documentary that includes the duo Dusty Springfield + Aretha Franklin in Stockholm gig (1968). And after the show the DJs Magnus Sveningsson and Johan Tholson played some dance music inspired in Dusty's hits.


Sara Berg, from
Sydsvenskan
, interviewed Helena Josefsson about being Dusty for a night.
Helena Josefsson chose "

Look of love

", the
notable Bacharach-David composition, for the 1967 spoof Bond movie
Casino Royale
. Helena also loves another Dusty's cover:
Breakfast in bed
(1969). Helena says that she would like to cover Nick Drake, Kate Bush and Michael Jackson too. According to herself, an hypothetic "night with Helena Josefsson" would include music covers (like bizarre rap versions of her songs played by Timbuktu), coloured scenography, dance improvisation and ... many cakes!.
LJdM has found a video from the show. Titiyo introduces Moto boy, that plays "
You don't have to say you love me
". After the song, you can see all the artists that have taken part. Helena wears a beautiful red dress.
Ola, a nice fan of the Cardigans, wrote a very interesting review in his blog.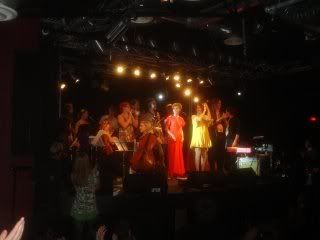 Probably few music is so wonderful as old recordings by Dusty Springfield. Once a month Debaser, a night club in Malmö, dedicates a night to a famous artist: in October, we had "A night with Velvet Underground" and in November it was "A night with Joni Mitchell". Tonight it is a night with Dusty. I went with Emma and Kristian. Debaser was full with approx. 500 persons as audience. The film about Dusty's life was nice. After it, the concert began. The Aftonorkestern ( with Particle Bartosch from Eggstone on keyboards), the Duncankvartetten , musicians from the band Damm! and four backgroundsingers appeared on scene. Then all the artists played. I would mention Moto Boy's and Nina Persson's versions. Nina was especially handsome tonight. The DJs session with music by Donny Hathaway, Sammy Davis Jr or Ronettes was a good ending for an intense concert. In February we'll have "A night with Blondie".
Moto Boy - If You Go Away (Ne Me Quitte Pas)
Nina Persson - The Windmills Of Your Mind
Niklas Frisk - Just A Little Lovin'
Per Sunding - Anyone Who Had a Heart
Moto Boy - You Don't Have To Say You Love Me
Go to
En afton med Dusty
to hear the different songs from the
D
usty Springfield tribute!
(28.12.2007). You will find all the performances under "videos".
Have you ever tried

Dusty Springfield

? She has one of the very few feminine voices that I could listen to all day long. So emotional, so sensual, so heavy. With "Anyone Who Had a Heart", "You Don't Own Me","Yesterday When I Was Young", "In Private", and, of course, the splendid "The Look of Love" I have good reason to rely on her.