According to Helena Josefsson, Sandy Mouche will perform for the very first time in three years on the club Kick-Start-
Banco de la Musica
festival on Stortorget in Malmö on March 4th. They have been rehearsing since Christmas and prepared new songs that they would like to perform. Please, become fan of official Sandy Mouche's page on Facebook – join
here
.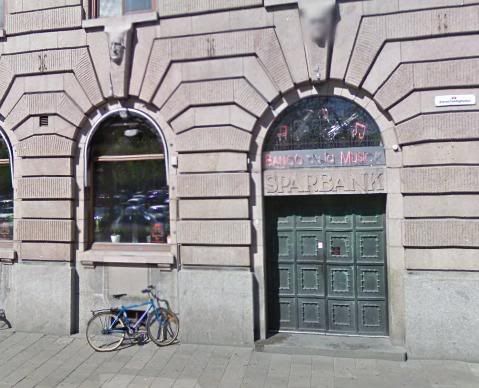 We have tried to translate the official add of Kick-Start club (read the original one in Swedish in the comments of this article):
Club Opens:

20:30;

On Stage:

21:30;

Club Closes:

When everybody is happy .

Admission:

SEK 60, SEK 40 (Kick-Starts members).

On Stage:

Sandy Mouche; Since Our First Guitar; The Luxe.

Evening DJ:

Magnus Sveningsson (The Cardigans)

The concept is just as before. We are presenting the best local live bands interspersed with the occasional interesting live bands from outside. When the Kick-Start was started later (1997-2002) won the live music venue Nöjesguidens Malmö / Lund price and was also named to the 'Net live club " in both the Evening Post and the process.

Sandy Mouche

is a pop band based on the joy of music and friendship. The music is a combination of realized and shattered dreams, things that happened and things they hope will happen, hope and a solitary walk in Twin Peaks' wet air. Band consists of two dear brothers (Per & Ola Blomgren) and lovebirds (Martin and Helena Josefsson), resulting in a very dynamic and responsive style of play. Two albums, three children, three-four years since they last test new material before an audience of Kick-Start. Much has been made with their personal development that affects how their music sounds. But the fun is at least as great as when they first started nine years ago! -

http://www.myspace.com/sandymouche

Since Our First Guitar

is a band with one foot in Malmö and the other in Seattle's Indie-swamp. They are in an old barn in the countryside, where they recorded their debut album, The Sound of Trees. -

http://www.myspace.com/sinceourfirstguit

ar


The Luxe:

Once born a child. His childhood consisted of porridge and joy. At his first love taught it to write poems and letters with rhyme and rhetoric. Farther ahead drank champagne and made mistakes, jumping from ledges in hopes of capturing something significant. Eventually realized that it all takes time. Sometimes an entire lifetime. In the end it was no more than skin, bones and scars. Recommended for those who appreciate The Killers, Coldplay and Kent. -

http://www.myspace.com/theluxeband

Le Journal des Mouches
has not confirmed it, but maybe the concert will be streamed alive through
Kick-Start Media website
.
Sandy Mouche concert! Welcome to Banco del Musica 4/3 2010, Stortorget, Malmö. After 3 years of silence and 3 children richer- Sandy Mouche is back! Since christmas we have been rehearsing and we have a handful of new songs that we would like to try together with an audience! Be Sandy Mouche´s friend on facebook!

History: