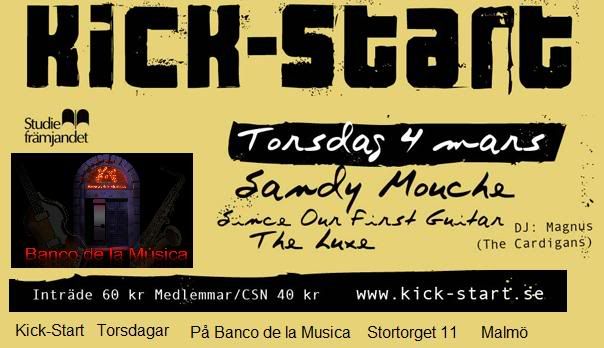 No Journal without "mouches" anymore. Yesterday night Sandy Mouche was back. It's has been 3 years since the last concert of the band and they offered a vibrant spectacle in a wonderful club in Malmö, Kick-Start (Banco de la Musica, Stortorget).
Le Journal des Mouches
was not there, but we followed the full concert live in
Kick-Start Media website
.
According to Patrick, from
Banco de la Música's blog in Swedish
: "
Finally time for the big day. Since Our First Guitar, The Luxe, and Sandy Mouche. And most of all ... we were able to stream the concerts! Past nights we had always had problems with internet. Sandy Mouche came at 17:30 and began to rig up their stuff on stage. At 18:00 it was time for soundcheck. We opened the club at 20:30. 21:30 The Luxe, 22:25 Since Our First Guitar and 23:20 Sandy Mouche. Everything went well. Lots of audience, great sound and lighting and especially rapid changes between bands. That was only two things that went bad. Right subwoofer did not work very well, but the sound still was pretty good. The second thing was that there must be someone connected wrongly to the speaker in the basement. DJ played low but not bands. There will be concerts at the Banco de la Música every Thursday evening until mid-May. So just come!
"
At 21,30, the night began with two lovely bands from Malmö,
Since our first guitar
and
The Luxe.
Magnus 'Cardigan' Sveningsson, was the righteous DJ boy before and after every band. At 23,00, Martin, Helena, Per and Ola made their appearence and prepared all their stuff before the "kick-start".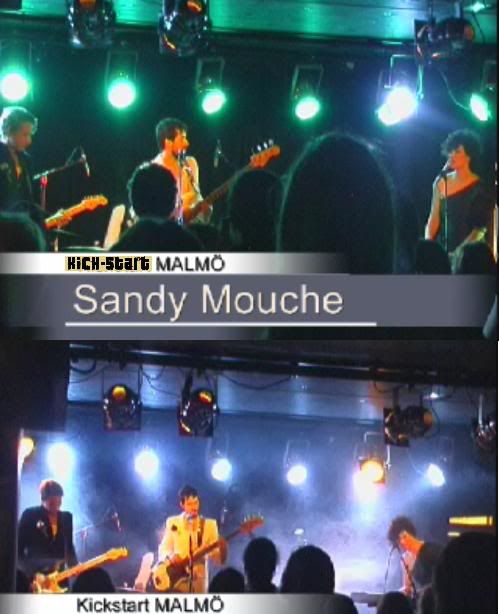 A few minutes later, Helena, followed by Martin, Ola and Per, showed up on stage; Helena and Ola, black-dressed, Martin and Per white-dressed. They played 7 songs, 5 were new and 2 previous hits, in a 45 minutes concert. We can summarize the songs of the gig, although we are not sure of the correct titles of the new songs.
1.

Follow the Rainbow:

Vocals and bass by Martin; vocals and keyboards by Helena; guitar by Ola; drums by Per. A sweet ballad with lots of positive feelings. Most of the parts of the songs are sung by Martinique, but it's a duet in the chorus with a magic music ending.
2.

I'll wait for you:

Vocals by Helena; backing vocals and keyboards by Martin; guitars by Ola and Per. A rhythmic danceable popsong with Helena singing into the audience.
3.

Living in a world:

Vocals and bass by Martin; backing vocals and keyboards by Helena; guitar by Ola; drums by Per. The chorus sounds like an American TV Serie theme of the 80s. Really nice ending with a disco touch.
4.

Oui, c'est nous:

Vocals and keyboards by Helena; bass by Martin; drums by Per; introduced by hand-clapping and a guitar solo by Ola. Their new song in French, a nice pop song with an original chorus.
5.

I can't find the fire:

Vocals and keyboards by Helena; bass by Martin; guitar by Ola; drums by Per. My favourite new song of the show. Catchy melancholic song. Helena singing really well as always. Per's drums are also marvelous in this song.
6.

Spiderweb suit:

Vocals by Helena; keyboards by Per Blomgren; percussion by Martinique and guitar by Ola Blomgren. A great version of one of their best songs ever. Touching.
7.

Le Mistral:

Vocals and bass by Martin; keyboars and backing vocals by Helena; guitar by Ola; drums by Per. Martinique had played it during his European Tour in 2009 and it was a good final song for this gig.
The audience firmly applauded after the show. We will try to update this topic with new pictures and comments. If you were there, tell us your experience in the comments. Don't be shy! By the way, become fan of official Sandy Mouche's page on Facebook – join
here
.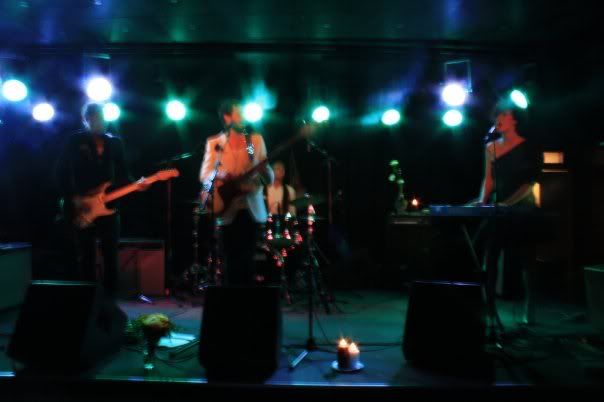 Picture by Emma Sonesson, administrator of the HJ Unofficial Fanclub
in Facebook (Link clicking the picture)


Yesterday we had a concert after 3 years. See it in Le Journal des Mouches. Oh wow we didn´t know that it was recorded...! Ooops then you also hear that the lyrics aren´t finished yet. The same verse goes round and round and round :o) Some lyric-polishing and than we can start recording and write more songs. And we´re looking for a cover- any suggestions?

History: