4.5 London, Islington Academy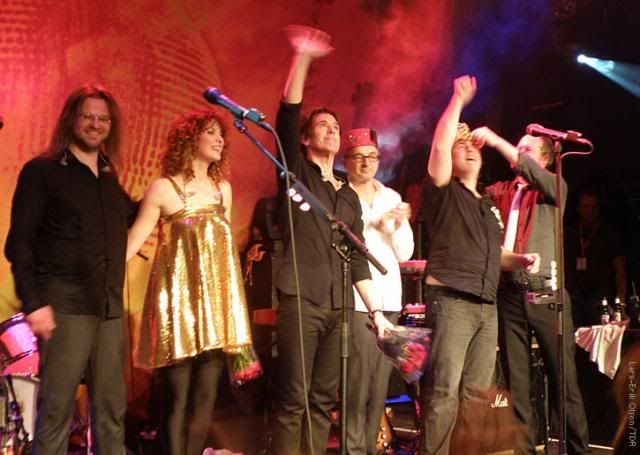 Having recovered from feeling a bit under the weather in Gent, Per Gessle was in top form Monday night when he and his band performed at the Islington Academy in front of a very appreciative crowd, according to TDR. Fans from Brazil — almost all of whom had flown into London just to attend this concert — made up the largest contingent of fans from outside the UK. Having also travelled from overseas, some long-time fans from California (USA) and Canada were there as well enjoying the show. While the set list remained the same, "Hey, Mr. DJ" was moved from it's position in Gent just after the band introductions to become one of the encore songs.

I was at Per Gessle's London show incidentally, and it was magic. My music might be too far removed from Roxette to warrant a posting on roxeblog.com, since I've never actually played with Per, but I wanted to keep you in the loop!

This week I am promoting my new animated video for the song Goodbye London which you can find on YouTube. I recorded the song in AGM Studios with Christoffer Lundquist, Magnus Börjeson and Jens Jansson. My wife Dora and I are were getting ready to leave London after spending an extended period of time there and I started to get nostalgic about the place. Pretty much everything in the song is just how it happened. I was running out of money, sick of playing in smoky clubs (this was pre-smoking ban) and Dora had insomnia. I'd just been fined £100 because a CCTV camera had caught the back wheel of my car on the very edge of a zebra crossing when I stopped for one minute at midnight in South End Green to use a bank machine that turned out to be out of order. At least I got a good lyric out of it! I had to balance the hate with the love though, because I do love the place and I can never stay away for long.



I approached Murray with the idea of creating a video that highlighted the bitter-sweet sentiment of the lyric. The only animation reference I gave him was that I had in mind the very frenetic style of animation used in the Rhubarb And Custard cartoons when we were kids. In terms of content I suggested that some of the video be very literal interpretation of the lyric, but that he should feel free to depart from that at will, which I think he did beautifully. He came up with the photo/animation idea and drafted a rough storyboard, most of which wound up in the finished piece. In terms of the techniques, let me quote Murray: "All the stop motion photos were taken around London, and I added the drawn 2-D animation using After Effects."


I started travelling to Canada in the early 90's and fate took me back there again and again. I emigrated to Toronto unofficially in 1997 but wound up back in London for a spell in 2006. The song was written at the end of that period. In London I always felt surrounded by people in a way that I don't here. Life is much more laid back in Toronto. I feel less pressure to work all the time, and perhaps because of that freedom I probably work a lot more. And we have actual seasons in Toronto…you know, really hot in Summer, really cold in Winter… You can't beat London for cultural diversity though. I was always spoiled as to what to do on any given evening. Not so here, although the Toronto Fringe is on right now which is brilliant. Also, the quality of the food here's generally not as good as in London. Not so much the restaurants, but the stuff you buy in the supermarket. Similarities? They both have an equal number of fantastic people and idiots, they both have beautiful green spaces for me to walk my dog, and you can't get a decent bite to eat after 10pm in either town.

I would have to say the most memorable London venue I played at was the old Marquee club on Charing Cross Road. I was still in school doing my A-Levels but was having a lot of fun playing in a band called Vodka Rubber Legs and when we got booked into the Marquee I couldn't believe it. It was a club I went to all the time to see my favourite bands. We were opening for a couple of well-known bands and the place was pretty packed. Incidentally we had a song called Hampstead Queen which was a lot of fun to play. Last I looked the Marquee was a hip wine bar called The Moon Under Water. More than anything else I miss the record shops I used to go to. Almost all of them are gone now. The internet pulled the rug out from under them…it's really sad. And Jade Boulangerie in South End Green. It's changed hands and names…still looks the same but you can't get the ham and cheese croissant any more. I cry.



The entire process of making this album was one of following my intuition. My philosophy was that so long as I could afford to do something, if an option was there I would explore it. I was invited to record at the studio in Sweden by my friends there. That was an incredible opportunity. Some of the ballads called for string arrangements and I'd had some contact with Robert Kirby before (when I mounted an ambitious Nick Drake tribute night a few years earlier), so the option to get in touch with him to write the string parts was there, and I took it. I never thought he'd say yes, but I'm an "if you don't ask you don't get" kind of person, so I asked. Robert's string parts called for nine players, and Christoffer (my producer) frequently uses the young players from Malmo's Opera Orchestra. So yes, I went to a lot of trouble to make a great-sounding record, but it wasn't as expensive as you might imagine, and the result was a record I could never have produced working at home with a digital set-up. Do I think it paid off? Absolutely. I set out to make a great record that would reflect who I was as an artist at that moment, that would present my songs in the best possible way and that would stand the test of time. I'm pretty certain I accomplished that. I had no commercial goals when I made this record. I knew I'd probably wind up releasing it on my own label with no support, and considering I've done everything on my own, I've reached a lot of people. The music industry is imploding on itself right now. It's like a slow-motion train wreck. People have stopped buying music. It's not the time to be putting out independent records, and it's certainly not the time to be judging your self-worth as an artist by how much money your music generates.