Elena Lenghel (roxette.ro): How did you start your musical career?
Helena Josefsson: In school when I was 14-16 years old we could choose extra subjects and I chose playing or singing in a band. in the beginning I only got to play the keyboard, but when the older girls went on to other schools I got to get friends with the microphone. We made a soirée and I got a great kick out of it. With songs like "Satisfaction" , "Black Magic Woman" and "I will always love you" :o)
E.L.: Your husband is a musician too?
H.J.: Yes! We met in Italy where both our choirs were competing. He also works with commercials.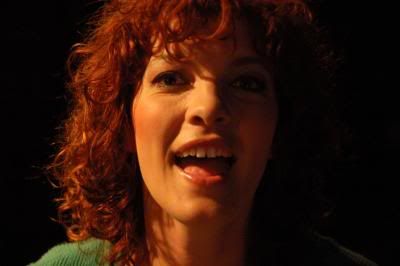 E.L.: Are you always happy (you certainly seem so)?
H.J.: Oh no. But I am always happy when I sing. And when I get to sing to an audience. It is like i get a chance to have my own little space in the world. There, I can be who I want to be. In private, I am quite sensitive and anxious. But when I feel insecure, I go to an empty room an sing for a while, and I feel better. Or if I meet new people and I don´t know if I am good enough to be there, I imagine them as animals. For example when I was new in this band, Per was a little pony and Jens (drummer) a little rabbit. Christoffer was a turtle. Or I try to see them as children. Maybe because I feel like a little child and it is not easy for me to play with a lot of grownups :o)
E.L.: Tell us about your band and your projects!
H.J.: My band Sandy Mouche is like my second marriage. We are preparing for the next album and I have now started dreaming about it, how it will feel. It is an honour to sing with these guys. Friends for life and we match each other musically in a once-in-a-lifetime way.
My soloproject: I have an album waiting for release. I have recorded one extra song together with Martin and Per from Sandy Mouche. As soon as I can I will put it on my website and so on.
E.L.: Tell us something funny about yourself!
H.J.: ... In my lower jaw , in the middle there is a milk-tooth. Because i have too few teeth and nothing came up underneath :o) I try to brush it carefully so I can keep it for as long as possible! If you see me looking like a witch you will know why!
E.L.: How is life on a tour?
H.J.: The concerts are amazingly funny. The time in between can be a bit lonely I think. Hotel rooms. But I try to walk around in the cities we visit. I have discovered the most beautiful parks and cafés that way.
E.L. Was it a difference recording in English?
H.J.: It is even easier to play with my voice and find different characters!
E.L.: How is your new life as a mother?
H.J.: More love, more smiles and laughs, never boring, too little sleep, more exciting, much more scary protecting a little innocent child
E.L.: What do you see for yourself in the future?
H.J.: An adventure with my little family. I wish we could live in a little house!
Creating songs and concerts more beautiful than I´ve ever done (with my own project and Sandy Mouche).