In a
live chat on TV4.se
, Per reveals that there may be a European club tour planned for April-May 2009. The tour will in that case include concerts in Sweden and "a concert in London in April if everything goes fine." According to Per at
gessle.com
, the next single off "Party Crasher" will be "Sing Along" and will be released in January 2009. "Silly Really" (Right Into Your Bed Remix), remixed by Dick Mixon, will be available digitally soon.
Head over to
gessle.com
and download your X-mas gift from Per for 2008 - a demo from 1995 named "Liberty." It was written for Belinda Carlisle. "Liberty" was recorded (and maybe composed as well) in between the Beijing and Moscow concerts of CBB! Tour.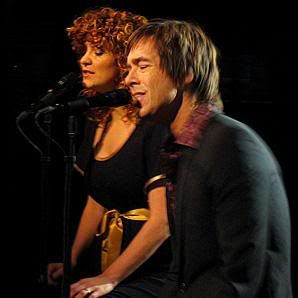 For LJdM, the most important news today is that Helena Josefsson is back with the band. They sang a lovely live version of "
Sing along
" at Swedish TV today and will play (playback) "Party Pleaser" next week.
If you want to know more about the Aerosol Grey Machine Studios, where Party Crasher was recorded, you can read an interview with Christoffer Lundquist in
roxette.ro
, .
I have great difficulty putting my T-shirts on the right way. More often than not I go an entire day with the shirt inside out without noticing. My kids point it out to me though. I actually find it very difficult to concentrate on anything but music; I can be very absent-minded and confused at times.

Per Gessle has nothing to do with the studio. I built it together with my wife who's an architect and we own it. Per is a favorite client and very good friend, not a partner in the studio at all. "Aerosol Grey Machine is the title of an old record from '69 by a band called "Van Der Graaf Generator", a very different and strange band that I always loved. "The Aerosol Grey Machine" is their first record (not that great actually!) and when my demo studio was in the garage of my wife's parent's garage I named the studio after this record. And the name sort of stuck.
I buy almost everything on eBay, mostly from the US. I've spent A LOT of both time and money on all these instruments for the studio. And I never seem to get enough! I'm totally in love with sound and different combinations of sound. Computer samples that anyone has access to are boring I think, I want the real thing: a room with real acoustics. That's magic for me! I just got a small church (pipe) organ installed in the studio so that's the new favorite. When I have gotten a new instrument that's always the favorite for a while and tends to get over-used during the first months. So right now there's church organ on everything I do!

Well, I buy many different instruments and then I try to play them! There are only 12 notes to choose from in the western scale and they are the same on every instrument so it's not that difficult really. And then I'm not exactly very good at playing any instrument, "real" instrumentalists would laugh at my ability. I just play what I hear in my head and hope for the best. A lot of the time I have no idea what note I'm actually playing or even what key I'm in, I play very much by intuition. I can't read music at all so my understanding of music theory is very home-grown. I'm probably only a "proper" musician as a bass player (that's where I feel most at home) and maybe as a guitar player. I've always played guitar but I hadn't done it so much on records before "Mazarin". For some reason I just played a lot of stuff on that record and sort of found my style a bit and it seemed to fit well with Per's new songs. And then Per wanted me to play guitar on the Mazarin tour. I was a little scared because I'd never played guitar live before but I really got into it. Nowadays I play a lot of the guitars on the records I produce.

As producer I tend to do a variety of the same thing: Pop/rock music played and sung "for real" with as little involvement from the computerized world of music as possible. I like organic music. Meaning I go for feeling and vibe before technical perfection. Meaning I really like a little out-of-tunes and mistakes and random things on records. I tend to get very bored with a lot of modern music that is computer-polished to the point of total perfection. I want to hear emotion and personality and inspiration from the speakers, not technical perfection. It just sounds boring to me. The new Gessle album is the first time I did any programming at all; I have only ever produced music that was played by human beings. But this time Per wanted to go in a new direction so I dived into it all and this record is the most different I've ever done in that respect. I learned a lot during the process and it was a lot of fun. I guess you could say that I can only produce music I really like and feel strongly about. And I don't feel strongly about most dance music so no one asks me to produce any dance music!

I get my inspiration from the people I work with, their talent, their music and their enthusiasm. And I also love working in my own studio which I've spent a lot of energy and resources to improve and develop. It's grown into a very special place, pretty much my dream place really. With good songs and good artists and players the inspiration ALWAYS arrives by itself, it's already in the music so to speak.


Christoffer Lundquist -
AGM Studios
I perform with Per Gessle today! Live Nyhetsmorgon The dress I will wear comes from Robert&Blad,
www.robertoblad.com
The same designer who made the clothes for my video to single "By your Side"

Comments by fans:
Hej Helena, I just have heard that you'll acompany Per and the band today to perform the unplugged version of "Sing Along". It's really couragous of you to turn up on stage after having a baby in November. I'll keep my fingers crossed for you. Good luck. It's a real pleasure to listen to your voice live. Lots of love.


Helena! I've seen the video from Nyhetsmorgon. That was really great (seems you enjoyed it too)! You have amazing voice. Underbart! P.S. The dress was very nice too! ;-) Let's sing along!





Hello Helena I have just watched the video from Nyhetsmorgan and I thought it was wonderfull and you looked fantastic keep up the good work. Hope you have a wonderfull christmas with your family. Sending you hugs from Wales XXX






Performance: Faddergalan 2008, TV4, 13.12.2008.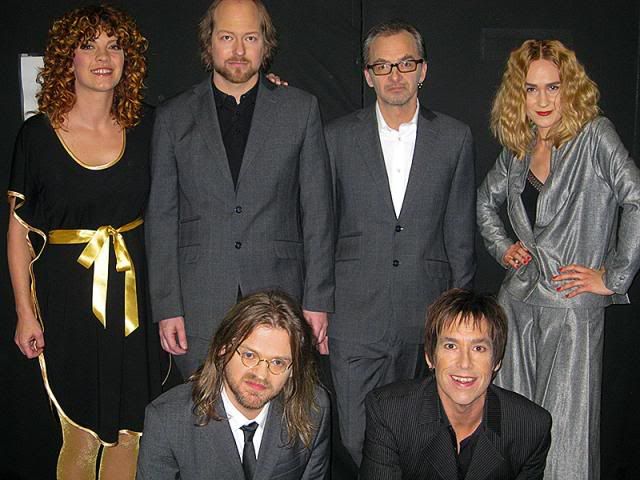 Per Gessle's Band: Helena Josefsson (vocals - Sandy Mouche), Clarence Öfwerman (keyboards - Roxette), Christoffer Lundquist (guitar - Brainpool), Magnus Borjeson (bass, Beagle - Metro Jets) and Josephine Forsman (drums, Sahara Hotnights)