"Party Crasher", the new album by Per Gessle, has been released today in Sweden.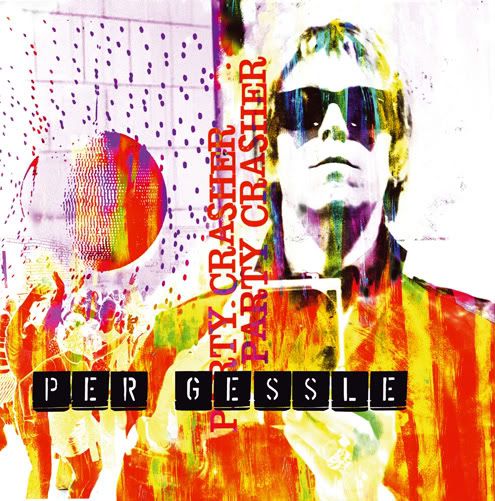 These are the credits of the album:
* Produced by Clarence Öfwerman, Christoffer Lundquist & Per Gessle
* Recorded at Aerosol Grey Machine, Vallarum, Sweden, between January & September 2008
* Engineer: Christoffer Lundquist; assistant engineer Lennart Haglund
* Mixed at Kingside, Stockholm, by Ronni Lahti in August-September 2008
* Track 4 mixed at Aerosol Grey Machine by Christoffer Lundquist in September 2008
* Words & music by Per Gessle, published by Jimmy Fun Music
* Played & sung by Per Gessle, Christoffer Lundquist, Clarence Öfwerman & Helena Josefsson
* Cover design by Pär Wickholm & Per Gessle
* Photos by Important Pete, Woody (Åsa Nordin-Gessle) & private
* Mastered by Henke at Masters of Audio, Stockholm
* Management: Marie Dimberg/D&D Management, Stockholm
We want to review the album, with the help of Per Gessle, TDR and Anders Nunstedt from Expressen. Helena Josefsson has received very good reviews. Even TDR's writer, Judith Seuma, who usually "hates" Helena's voice, says: "Helena is great on this one. "Perfect excuse," "Hey I Died," "Sing Along." Hats off!". Her partner at TDR, Colin, writes: "Helena sings more, and with excellent results! I really like their voices together and can't wait to see this stuff live on stage".
1. "Silly Really" — 3:40
A. Nunstedt: "Relentless keyboard riffs dominate the album's absolute feel good-hit, which consists of 87 % hair mousse and 13 % disco."
TDR: "The first track and single shows the new direction of Per. Gone is the back-to-basics pop-rock of "Mazarin," "En händig man," and "Son of a Plumber," now it's time for computers and dance beats. "Silly Really" stands out on the album. I'm not sure if it's entirely a good thing. It feels a bit more polished, more "produced," if you will, than the other songs. It's hard to say if the other songs have the same hit potential. This song certainly has. And it's going all Michael Jackson-Thriller in the end. A perfect album opener, and you just gotta love the video"
2. "The Party Pleaser" — 3:39
A. Nunstedt: "Hard-as-a-nail pop song with tons of oh la la's, hey-hey's and yeah yeah's. It sounds like two Roxette robots mangle P!nk with a gigantic steam roller."
TDR: "The bubblegum pop Per knows inside out. Nothing spectacular, but goes on like a rocket to a club on the Moon. I wouldn't have put this song next to "Silly Really." Now it feels like a sequel. It may have had a better place between the ballads later on the album. A fine song, anyway. The fastest track of the album? Let's party… or let's go on partying! I really love the verse and the way it builds up to the chorus, we're still on the dance floor!"
3. "Stuck Here With Me" — 3:20
A. Nunstedt: "Per Gessle goes Justin (!). An r'n'b ballad (!) which is more exciting than Gyllene Tider's "Upphetsad" ("Excited")! As if the title starts with "F" instead of "St"…"
TDR: "Helena is awesome in this song and I totally digg this vibe! Timbaland can leave the building. What, Per goes r'n'b?! This certainly isn't my cuppa either, but I do enjoy the massively heavy bass on this song, and it kind of sticks in my head. R'n'b á la Justin (or anyone) makes me cringe, but if nothing else, C&C prove they can match it with the best out there. Great production on this one!"
4. "Sing Along" — 4:00
A. Nunstedt: "Helena Josefsson, who sang like a British nightingale from the '60s on "Plumber" takes a lot of space. Power ballad á la "Joyride"."
TDR: "Ballad with lots of Helena singing. Would sound great live, with acoustic piano only. I was actually thinking to myself "How the hell will they be able to play this album live?" "Sing Along," which used to be named "Sing-A-Long," is a cutie. Helena's voice is so nice on this album and this song is no exception."
5. "Gut Feeling" — 3:34
A. Nunstedt: "Per buys a ticket to a T-Rex dream and sounds about the same as the latest Swedish solo album. Great rock song."
TDR: "The only song on the album that is more rock, with a reference to T. Rex. Rolls on nicely and has a certain Gyllene Tider sound in the synth. It should be Göran and his Farfisa! This is definitely GT on speed! Lots of guitar, at least to be this album. I just can't figure out where the riff is borrowed from. The first time I heard it I was almost sure it was a cover. One of the last songs to be recorded."
6. "Perfect Excuse" — 3:11
Per Gessle: "This ballad is great. I sing it really quiet and it makes my voice sound very different. I feel like I've found a new way to sing."
A. Nunstedt: "The pop magician transforms magically in this nice ballad: he changes and sounds like - abra cadabra - Michael Jackson!"
TDR: "Oh, this is the "Michael Jackson" song! When I heard this the first time I almost cried, and not from happiness! But after say 10 spins I had this at the top of my list. Very nice ballad, sung in a totally non-Per way. Lot's of Helena in it too. Per lists this as one of his best songs ever. This reminds me of the Plumber album. Helena's voice really fits Per's - a match made in heaven! This song sucks you in and before you know you're on a tropical island, whistling in the sun …"
7. "Breathe Life Into Me" — 3:41
A. Nunstedt: "Gessle has already done the best whistle solo thru times ("Här kommer alla känslorna"). Now he's laying back in his soul chair and whistles a nice reggae."
TDR: "Ahh, time to relax! This song is extremely contagious. You just want to lay back and start whistling yourself, preferably sipping on some good old Jamaican rum."
8. "Hey, I Died And Went to Heaven" — 4:00
A. Nunstedt: "A Timbaland-remix of "Wish I Could Fly"? A typical Gessle ballad, as romantically airy as the title suggests."
TDR: "Lovely ballad with Per singing verses and Helena singing the chorus. The chorus really gets stuck on you."
9. "Kissing Is The Key" — 3:08
A. Nunstedt: ""Kissing is the key/to an everlasting love". And the music settles it. This is Eurythmics in "Tommy's Pop Show" circa '83."
TDR: "Hard to describe it, it's (almost) a mid-tempo song that has for instance a "ray gun" in the background, also kissing noises and a groovy "chica-chi-chica-chi" in the beginning. Funny lyrics and a nice beat. They could've left that kissing sound out, though!"
10. "Thai With A Twist" — 2:41
A. Nunstedt: "Per rhymes "womanizer" with "kaiser" and "tranquilizer" before the song disappears in an unexpected saxophone solo drenched in audience sounds. Rather silly."
TDR: "Good to know that "womanizer" rhymes with "tranquilizer"… Power pop with nonsense lyrics. Per knows his business! I don't like the title, though, it sounds like a slogan for frozen food. What is Thai with a twist? Thai food with some lemon juice on? Ha ha! Strange title, great song. Typical "The Look" or "Crush on You" lyrics. I can hear Roxette or Gyllene Tider record this. Don't like the saxophone! Note to C&C: Audience sounds yes, sax no!"
11. "I Didn't Mean to Turn You On" — 3:35
A. Nunstedt: "The B-side of "Silly really". Electronic pop reggae with a brilliant synth solo."
TDR: "Have you noticed that the lyrics for all the songs in the world are actually about sex? If the lyrics first sound like they don't, it's only because they use metaphors. Then there are these songs that are saying it very straight out. Let's have sex and let's do it now! This is the B-side of the single "Silly Really," and according to C&C too good to be left out. I agree, even though I didn't enjoy the flute the first time I heard it. What can I say? It grew on me, and I absolutely love the line "By the way, no way she's your kind! (She's not your kind!)" The instrumental part stick around and I find myself whistling it occasionally."
12. "Doesn't Make Sense" — 3:50
A. Nunstedt: "Amazing little synthpop ballad that, how odd it may seem, sounds like an electronic mash-up of Van Morrison and the Pet Shop Boys."
TDR: "Sounds a lot like one of my all-time favorites, the French electro-pop group Air. And with that sound, you can't go wrong. Excellent ending to an excellent album!"
Extra 1. "I'm Glad You Called" (iTunes bonus track)
TDR: "Hmmm, Roxette meets Enya, and with great results! A track that didn't fit the style of the album so it was left off. I can see that as it doesn't fit the style, but the track is way too good to not be released."
Extra 2: "Theme From "Roberta Right"" (Telia bonus track)
Per Gessle: "Gabriel was sitting on the bed in Halmstad humming a melody. I thought it sounded terrific so I grabbed the nearest guitar and put down some chords to it. That's how it all started. He was singing: "Ro-bot ro-bot robot dans" which of course immediately became "Ro-Ro-Roberta Roberta Right". Great chorus indeed! It turned out a little bit too bubblegum to be included on this particular album, though, so I kept it away. It will pop up somewhere else."
TDR: "Roberta rocks! And it starts like a Nintendo video game! I mean the music… duh… Why is this song only released as a bonus track? Sounds like a Roxette song from the Room Service-era. "Come along, come alive!" and "Nothing, nothing, NOTHING!!" Helena reaches new levels on this track, and how about that AC/DC inspired riff? I'm going out on a limb here, but this should be single #2 off "Party Crasher"! Did C&C find an old Commodore computer somewhere? Per definately keeps the party going!"
November 17 on Swedish TV4 "Team Gessle" performed the new hit single "Silly Really" at Fotbollsgalan. Playback with Jens Jansson (drums), Magnus Börjeson (bass), Christoffer Lundquist (guitar), Clarence Öfwerman (keys) and Emma Christensen (vox).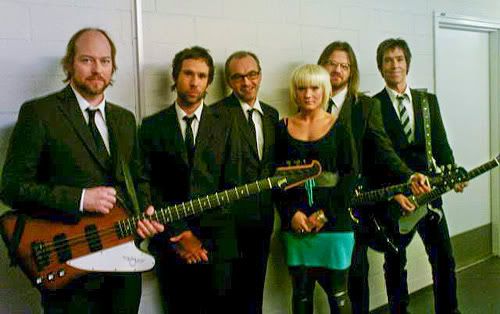 Emma substituted Helena Josefsson for a night after Helena's recent maternity.
In a recent interview in
Aftonbladet
Per speaks about the time and his new projects.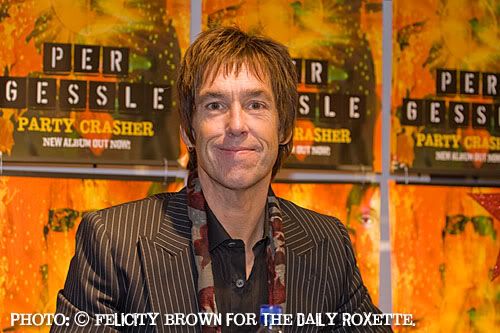 I've made many albums in a short period of time so I shouldn't really make another. But the normal tempo of today's artists is three-four year cycles. That doesn't work anymore, the albums have to get out faster. What else to do? I'm always making albums. There's always a project in the air. I think there will be more Roxette and Gyllene Tider, Swedish projects and English ones. I have three damned great Roxette-songs sitting in a drawer, and just as many GT-songs. It's all there. It all depends on what feels right. Gyllene Tider's problem is its greatness. The 2004 tour is hard to beat, so if we are to do something else there has to pass some time to re-energize the guys. Roxette is from obvious reasons at a stand still, but as Marie is out doing "Stjärnklart" now who knows. There may be Roxette. I'm sure Marie has the hunger as well. We've recorded songs for the compilation albums so sure, it will probably happen. The logistics will be different anyway. Just look at Roxette, between '88 and '95 we toured and worked constantly. It was seven years and you only do that once a lifetime. How does a 50-year old feel? I feel great and I think "ageing" has been good to me. I live good life, I'm sound and healthy. In my line of work I get more knowledge and self-assurance all the time. And I think I get better. The only thing I feel I can't get back is the naivety. That love song you write when you're 19 you can't just write when you're 49. Sometimes I think about what happened to Marie and that you can get sick, but I may also get run over by a car on my way home so you can't think that way. You walk a line and I'm not worried about getting older. You have to stop thinking about your look when you get older, but you still do. I don't work out as much as I should. But I want to look good in my videos and at photo sessions. At least as good as I possibly can with what I have. My son Gabriel says he doesn't like my music, but I notice he goes around singing my songs. He likes AC/DC and can play "Paint it Black" by the Stones on the guitar. When I built my house in Halmstad a prerequisite was to have it as a breathing place. Before that it happened I was awakened in my hammock by people wanting autographs. People are nuts.

I have a standing invitation to the Eurovision Song Contest. Honestly, I won't ever accept. There's no upside entering and it all seems so hysterical. Maybe I can write a song for it. But you feel like an outsider when you're not in it. And I like being the underdog!


Party Crasher album? I liked it the most out of the ones I have participated in. Favourite songs:
Doesn´t make sense,
and
Kissing is the key
. Not my favourite:
Gut Feeling
and
Party Pleaser
.
I remember when we were working on the Party Crasher, we thought it sounded a bit Roxettish.

Helena did a great job in the last album. Well, she opens her mouth and I am happy. But yes, she got more space in this album. And she did a wonderful job. I think it would have been better to call the Party Pleaser album a "Son of a Plumber" record, because that would have made more sense. Would have been a nice step, from the first double album to the more disco sound, could have created an entity. But they decided to release it under Gessle, because people would recognize his name and would be easier to get it through in radio stations. But who knows, all this marketing radio strategy stuff is so difficult to guess. I have no idea.

There is one saxo solo on "
I was so lucky
" which I think is too perfect, not too fond of that one. But on "
Thai with a twist
" Christoffer Lundquist plays it, that's better, because he's a lousy player, so it's fun. But he is great, he played oboe on "
Son of a plumber
", and clarinet on "En händig man". He just learns how to play these instruments in the morning, you know, before we start to record in the studio. For "
I like it like that
" we talked about having an oboe, so when we went to the studio the next morning, there he was, making weird noises, practising oboe. After a few hours it was very good. I don't even get a sound out of these things, it is actually kind of difficult, so he is fantastic.
Working in the studio or touring? Difficult question. Both are fun in different ways. It's nice to be in the studio and do new songs, but it's also to play them live, of course, if you don't tour forever. Work in studio has also changed a lot, even if we got back to the old way of recording with Christoffer Lundquist's studio, he has tape recorders, for example, there are lots of things we do with the help of computers. And music in general is nowadays done in computers only, you can do anything with the right software yourself, home. But then the quality is not that good, everything sounds the same, there is no difference in the guitar sound or drums. We try the old way a bit, mixing it with the new. "
Party crasher
" is more modern recording, but we spent enough time to make it good and make it sound unique. I think it sounds good. We always try to reinvent ourselves, try new things. It's fun and creative. You cannot do the same album over and over, you get bored with yourself. So let's see what happens with the next one.
The album I am the most proud of? I think from the last ones it must be "
Mazarin
". "
En händig man
" was kind of a follow-up, but wasn't that good. It's still fun to listen to "
Mazarin
". Once released I just listen to the albums sometimes, but it's mostly because my kids listen to them. I don't usually listen to them myself. I am not that fond of the songs on the EP, but there was a reason why they didn't make it on the album.
I think everything became better when Per Gessle finished recording demos. Like "
Son of a plumber
" and "
Party Crasher
", it's more fun to just start everything with his guitar, when he presents us the song, and then we just go from there. In the past, specially for "CBB",
Have a nice day
,
Room service
, he did very complete demos with MP, then you are kind of locked into the arrangements you have heard on the demo. Often you don't get many new ideas, it's easier if you just have the chords and go on from there, so things can happen. Of course, if he knows exactly what he wants, we stick to it.