Now I have been listening and listening to recording, and my reaction was all new- Martin and I started listening in a car on our way to his mother´s summer house, not far from the studio. And my head started banging and I started shouting and yelling and dancing there in the car-I have never felt that way from listening to my own music. But somehow, I always knew that one day, I would be able to really dance to my music. Finally! When we came back home, I sent a copy to the guardian angel and record company Per Gessle. Nervous… would I have to write even more songs? Now he has listened too, and he was also happy with the results! Luckily….!! The funny part is that the two songs he likes least are my own favourites :o)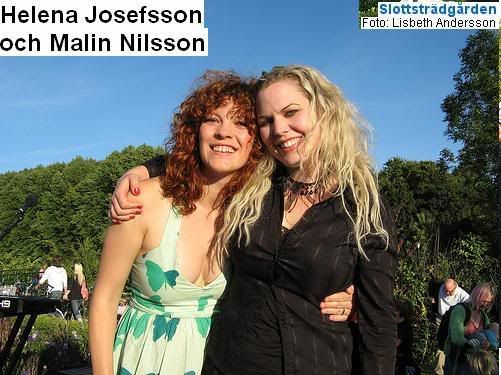 Still, he felt he missed one song from the demo recordings. It is a Greek song that I have heard in the flamenco lessons, and I have made my own lyrics. He asked us to record this song. I am happy about it because the song is very interesting but it means that the album is NOT quite finished yet. I could not get an appointment in the studio until the end of August or so. But finally it WILL be finished and I am already longing for when we will start playing the songs live!
While I am awaiting for it all to be finished, I am going for a vacation! First we will visit my father on his 60:th birthday just above Gothenburg, and then, to Martin´s relatives in Piteå, in the very north of Sweden.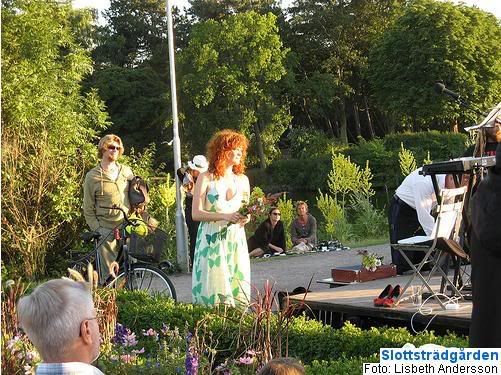 2008.07.02 Slottsträdgården, Malmö

Now I won´t have so much to write about the record for a while but I will keep you updated as soon as something happens!
Love, Helena
On July 2, 2008, Helena Josefsson took part in a magic show of her friends Malin and Ola Nilsson in
Slottsträdgårdens kafé
, in Malmö's wonderful organic garden situated just behind Malmöhus Castle adjacent to Kungsparken.