Last June 2008, Dolly Parton began her European Tour in Sweden (Stockholm, 13-06-2008; Malmö, 14-06-2008). According to Skanskan.se, Jessica Nettelbladt recorded the last images for her documentary "
Dollykollot
", about 5 enthusiastic female musicians.
Gudrun Hauksdottir, the producer of Shemusic and the woman behind the Debaser club in Malmö, said: "
Dolly Parton is an example to all us. She has dared to believe in herself and go her own way. Dolly is a strong business woman who is merely doing what all of us aspire. She has produced 300 songs. My friend Nina Persson (The Cardigans) gave me an American biography of Dolly Parton in 2004 as a present and the idea of a DollyCamp was born. We decided to start together a band and arrange concerts with Dolly Parton's music. It would be our love tribute to this country star. In addition to Nina and me, Robyn and three talented musicians from Skåne (Cecilia Nordlund, Lotta Wenglén and Helena Josefsson) joint us.
"
Their first gig was held in Malmö in 2004 and became a real success. They were invited to play at Pride festival in Stockholm in 2005, the World Athletics Championships in Gothenburg in 2006 and afterparty in Dolly Parton's concert in Stockholm in 2007. For four years, these musicians have become close friends.
According to Lotta Wenglén: "
DollyKollot is a fun way to meet people and do something together. It is like a family where Gudrun is everybody's mother
". Helena Josefsson said: "
Dolly's provocative look and style is challenging and let the women learn that it is OK to be who you want to be. You can still succeed as an artist.
"
The director, Jessica Nettelbladt, explained her film: "
I want to show that one can succeed or not, but the important thing is the journey and keep on believing in your dream. Naturally, I want my film to be shown in cinemas and I am fighting for it. The alternative is SVT Television. The idea is that the film should be ready next year.
"
Helena Josefsson writes today in her blog a post about the last meeting of the "DollyKollot Band". Read it.
Jessica Nettelbladt who makes a documentary about female musicians of which I am one, was at AGM Studio in Christoffer Lundquist's daughter party and together with her, a cake tasted even better!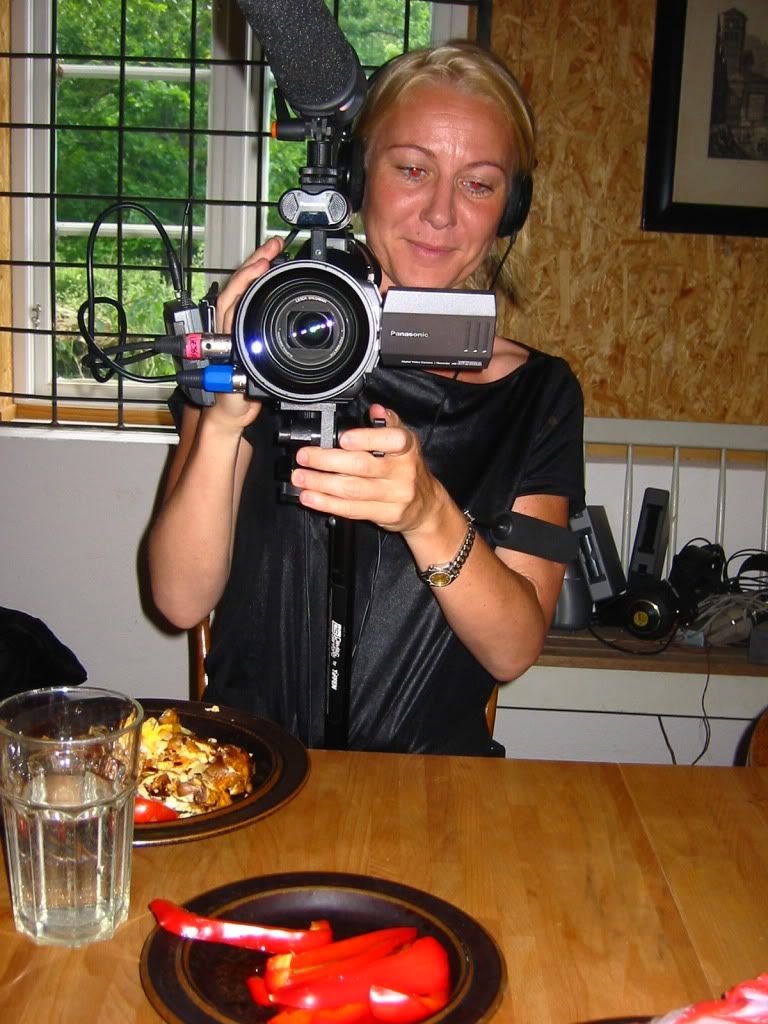 Two days later, we met up at a cottage 1 hour away from the studio towards the sea, and I left Christoffer alone in the studio. He needed to rest so the timing was good. Here in this cottage, we made the last meeting all five of us who are in the documentary. We had a great time, talking about our dreams and what had happened since last time, and we had salmon from the grill! Yummie :o) The other girls slept over in the cottage, while I went back to the studio to keep working. Here you can see how cosy it was: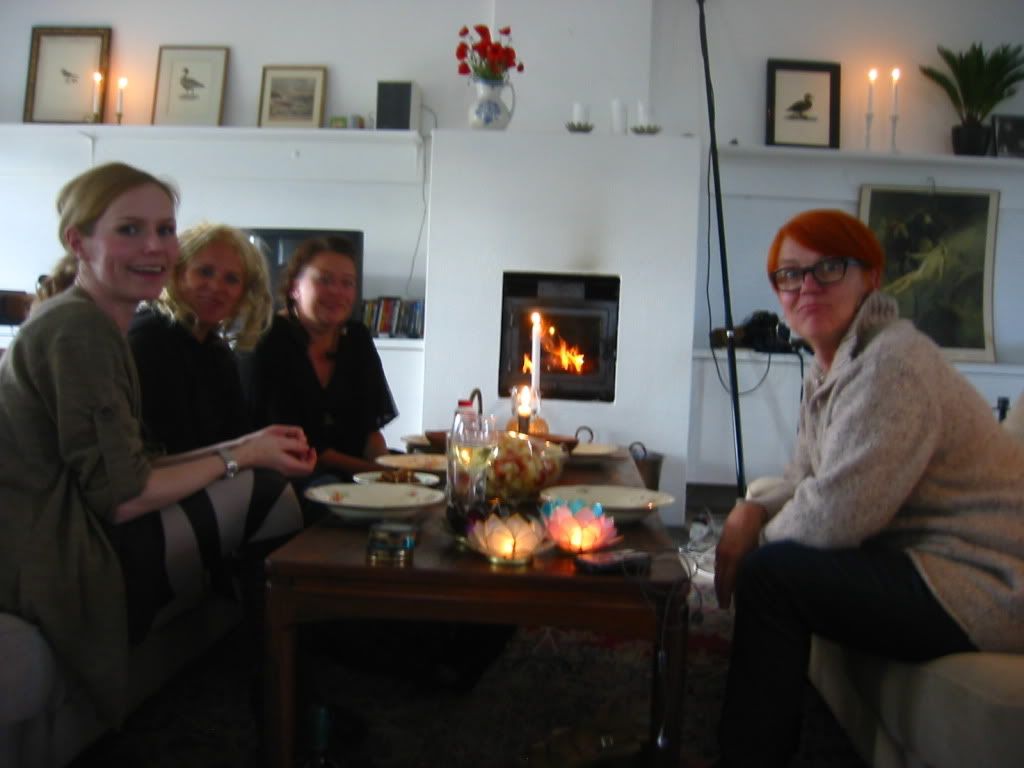 It is Nina Persson, Lotta Wenglén, Cecilia Nordlund and arranger Gudrun Hauksdottir plus me in the movie. It will be edited this fall and then I hope you will soon be able to see the result! The cottage belongs to Magnus Svenningsson, bassplayer of the Cardigans, and his girlfriend and it was very beautiful! And here you see the filmteam: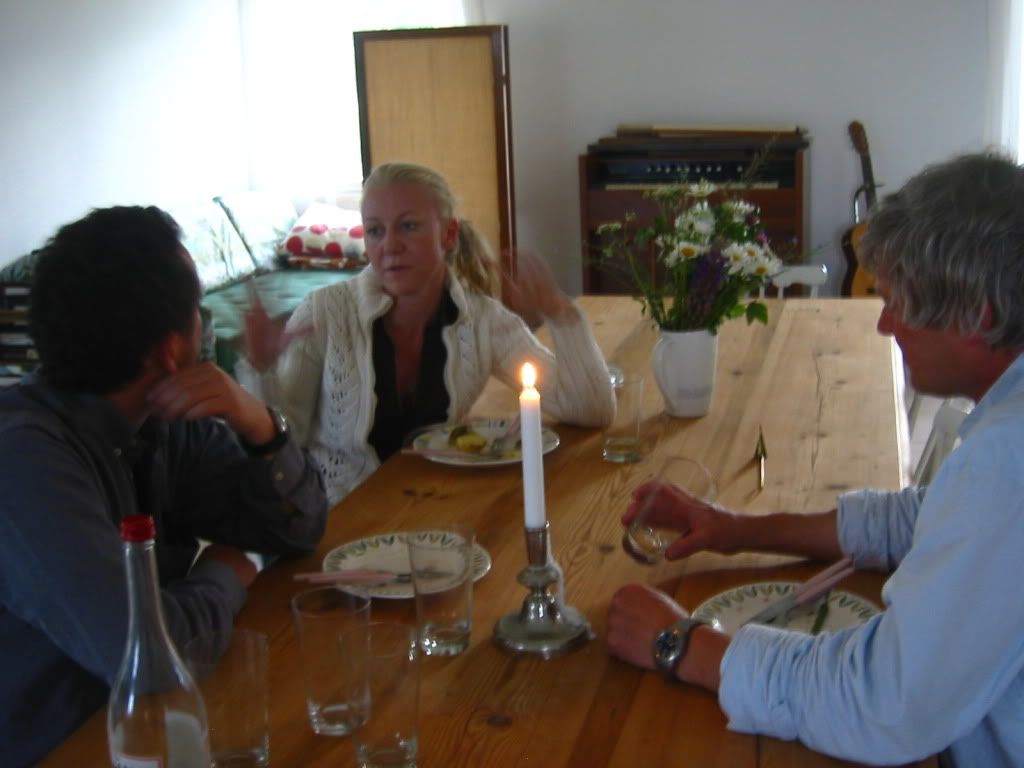 The documentary has been a lot of fun to be part in, and I am sure I have made new friends for life! Both with Jessica, and the other musicians!!