Per Gessle, Clarence Öfwerman and Christoffer Lundquist (P, C & C) began the year in a Rox-Plumber box.
January was a month of unwon prizes. Roxette was once again nominated for a Rockbjörnen award in Aftonbladet's annual ceremony, in the Swedish Group of the Year category. Unfortunately, Bodies Without Organs (BWO) took the award this year. During the previous years, Roxette has already received six Rock Bears. "The RoxBox/Roxette 86-06" didn't get a
Grammis
in the awards ceremony in January. Roxette's 20th anniversary release was nominated in the open category with five other compilations. The winner was "Samtliga grammofoninspelningar 1921-1970," a compilation of old Evert Taube-recordings. According to EMI Sweden Roxette's "
Hits!
" has now reached gold in Sweden, which means 30,000 delivered copies, as per usual.
P, C & C have continued the recordings for a new Gessle's album (probably in Swedish) that began in September 2006. The work at the AGM studio could finish in March 2007. Helena Josefsson has taken part again as backing singer. And Jens Jansson, the usual drummer, has become dad.
The next single off of Roxette's "Hits!" is "Reveal" and will be released tomorrow (February 14th).
01: Reveal (The Attic remake) 3:29 - According to TDR, "a poppy ditty that reminds one of early Depeche Mode".
02: Reveal (Kleerup remix) 3:41 - "A slower, heavy with drums and strings, dance mix. Kleerup has worked with Robyn, among others", says TDR.
03: Reveal (single version) 3:43 - "We prefer the sound, less weak as the album one", according to LJdM's editor.
04: One Wish Video - "Not one of our favourites", says LJdM's editor.
Last Brainpool's project, the rock opera Junk, will be premiered at Los Angeles this spring. We have not many news about it but it is marvelous that it could be played live. We simply loved the album.


If you want to imagine P, C & C recording at AGM studios, just watch Canadian artist Luke Jackson doing it. Very good pop music, by the way.

EMI Blue Note was releasing the
Son of a Plumber
album in the US, but as EMI is down-sizing now I've just received a thanks but no thanks. Too bad, as my contact at Blue Note just loved the album. I'm still shopping around though, as the album is quite timeless it doesn't matter if it's not released in 2007.
Mixing a track from Luke Jackson's new album "And Then Some" at Christoffer Lundquist's studio in Sweden.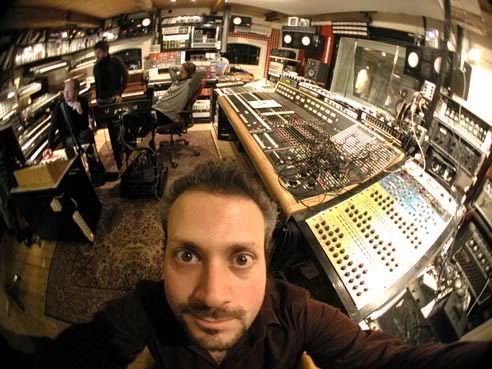 Hey, that's our friend
Luke Jackson
recording at AGM in January with three junkies (Chris Lundquist, Jens Jansson and Magnus Börjeson) relaxing in the background. Luke's album will be finished in May. When you take pics of yourself with a fish-eye lens, it looks like you are holding a huge camera. To me, that is very funny. But then again, I might need a holiday.

Anders Mildner

I returned to Sweden in January 2007 and set to work in the studio with Magnus Börjeson on bass and Christoffer Lundquist's Brainpool bandmate Jens Jansson on drums. The four musicians worked quickly and spontaneously to capture half a dozen songs, including "Come Tomorrow" which I had begun writing the day before leaving for Sweden. I returned to London buzzing with excitement.
Maybe it's time for a "hardware" update as well. What are the Junk people doing in real life? Anything Junk related? Anything else? A bit of both it turns out.

We're starting with Mom & Dad, the previously publicised, highly hyped and awesomely anticipated kraut konzept from Jens Jansson (Mom) and David Birde (Dad) of Brainpool. To our joy Mom recently became a dad. And as Dad says, "the confusion is now at a maximum". But they will straighten out, contain themeselves and finish what they've started. Hopefully this spring. We wait wantingly.

And what about the
Metro Jets
album that was talked and blogged so much about here on Junk during the recent Fall? Well to some, this liberating Brecht-esque idea of making an album in public quickly went from being the great motivator to the great restrainer. How do you keep a subconscious process going while simultaneously stopping to think and write about it? Beats me. And we've got a whole lot of nothingness to prove it … But in the great words of Mr Nick Lowe "I've been a lot of things but I never was a quitter, I'm a …". So we keep keeping on. Off-line. With the occasional text and sound update here on Junk. Same as it ever was… same as it ever was… And it's fun again.

We're very happy to tell you that our friend Shakina Nayfack will direct the stage version of Junk - A Rock Opera!
JUNK will make its stage debut at the Steve Allen Theatre in Hollywood, California, May 18/19 & 25/26, 2007. This production will be the first in a series of development workshops set to take the show from LA to Chicago, and ultimately New York in 2008-9. It has begun...