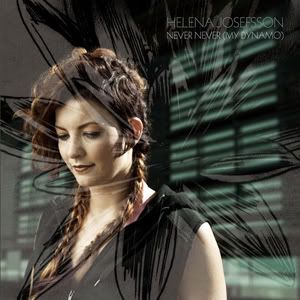 Helena releases today her second solo single,
NEVER NEVER
. It contains two songs:
1.
Never never (my dynamo)
- It is now in Swedish radio
2.
Fire
- It will be included only in this single.
The album,
DYNAMO
, will be released on 28th February.
The citizens live surrounded by concrete and locks. We´re almost like shoes in a box. We don't know what the sky is like: usually a skyscraper´s blocking the sight.
People avoid every glance, facing the ground all ashamed: "a citizen must play the game".
Helena cries against this life-style and dare to give someone a chance: "
Never never. I won't be alone 'cause forever you'll light up my sky high. Live forever: you're my dynamo. Never ever stop spreading light
".
"What about Christoffer Lundquist?" I hear you chant in chorus. As usual he's working around the clock in the comfort of his knobs, faders, tubes and capasitors. A taste of his neverending strive for excellence can be heard on Helena Josefsson's new album. Helena has taken a break from Sandy Mouche and will release her EMI solo dubut on Feb. 28. Preview the single iTunes or on her MySpace page.