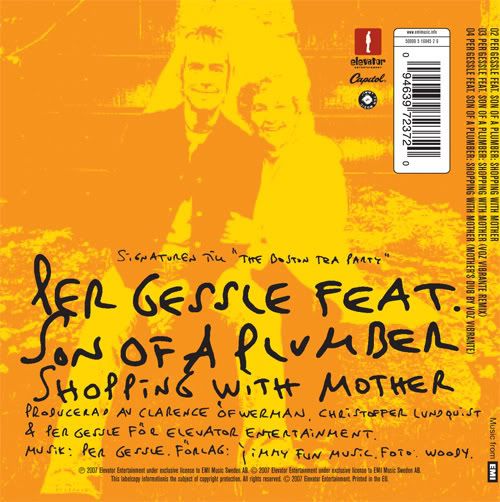 Fredrik Wikingsson, one of the show's two hosts, says: "
"Boston Tea Party" is a show about finding strange things out, like how human flesh tastes like… "Many will see this as a new chapter of Per Gessle's musical career. I can't place this tune in a genre, but it sounds like how it would look when riding a limo through New York way too fast."
The tune is called "Shopping With Mother" and will be premiered in the season finale of the show at the end of November. It will be released as a double A-sided single together with two remixes by Erik Hjärpe (a.k.a. Voz Vibrante, a member of Damn!, The Martelli Tapes, and Krosusork). Erik has remixed "Shopping With Mother" in two different versions - the Voz Vibrante remix and the Mother's Dub by Voz Vibrante.
The directors and the two hosts of the show, Fredrik and Filip have chosen Per to be the composer of the new musical theme of the show. Therefore, along 9 weeks, the two guys followed Per creating the new song, being witnesses of his funny and surprising behavior which might have confused the viewers who have known the Swedish pop-star as a very "quiet" person.

Along these weeks, Per is constantly making fun of Fredrik and Filip who are trying to get at least a bit of the song, but all they find is a nasty Per who avoids them or closes the door in their noses. Surprisingly, on October 22, the two guys meet a very friendly Per in his studio in Skåne, who is willing to hand them the demo of the new song. Short happiness though for them, when they realise that Per handed them the "Gå och fiska!" disc; no new song!

Daniel Alvedahl, a Swedish fan, remembers us that Shopping with mother was a cool title that Per had in his list of cool titles that he wanted to make a song of. (Att Vara Per Gessle, page 220). Per mixes Swedish with English ... but just in theory, because this is an instrumental theme.

According to Thomas Evensson, from TDR: "Voz's style of music is fast fusion and electric funk, while the tune itself can be described best as a cross between a '60s Bond theme with some Star Trek and general '60s pop in it. Does it sound crazy? It is. The double A-sided single will be released November 28, with the slightly edited version of "Pratar med min müsli" from Per's hit album "En händig man" as the other A-side, a little later than expected, but now released to the public."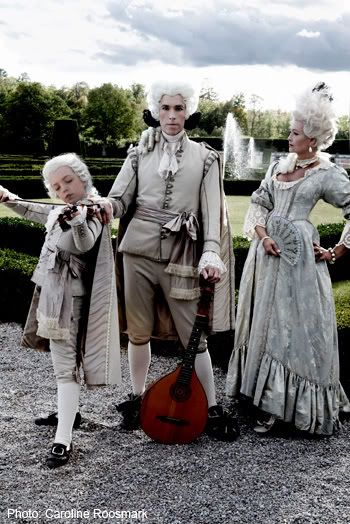 Per Gessle, his wife Åsa and their son Gabriel feature in
Caroline Roosmark's
2008 calendar "
The Women and Men of the Year 2008
". Per is dressed in a Mozartesque style, with a "guitar" of course. He is in May's picture. You can order the calendar at Caroline's site, 15 SEK of every calendar will go to the foundation of Riccardo Campogiani's memory.
Caroline Roosmark said:
"Per usually doesn't do things like these, but this time he's been very into it. He spent days picking out a good wig! This year's edition is dedicated to 16 year old Riccardo Campogiani who was meaninglessly killed on the streets October 7, 2007. "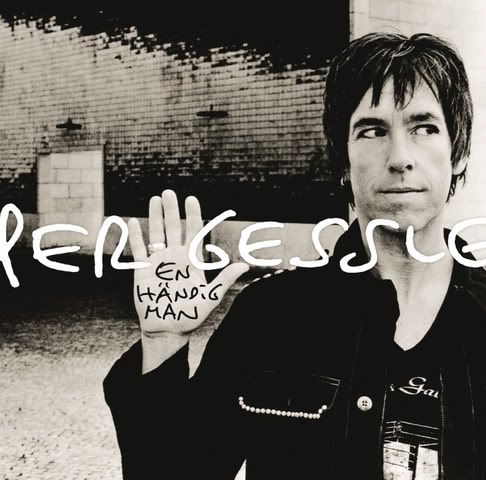 We have a handy man in the U.S., ... and it is not George Bush.
Caroline Distribution
, EMI's U.S. independent distribution company, has released today in the United States "
Finn5fel!
" (originally 2004, by Gyllene Tider) and "
En händig man
" (2007, by Per Gessle). Last month they also released "Mazarin" (PG, 2003), "
Gyllene Tider
" (GT, 1980), "
Moderna Tider
" (GT, 1981), "
Puls
" (GT, 1982) , "
GT25!
" (GT, 2004) and "
Hjärtats trakt
" (PG, 1997). All albums can be found on
iTunes
USA. These are obviously digital releases only, so no problem to put them in your bedroom. By the way, I could not help posting here the story of
René H. Jepsen (aka RJ1976)
, a fan from Denmark. This is what he wrote in TDR a few days ago:
I am Danish but I've got my second apartment in Germany, because I work a lot in the city of Flensburg also. I've made myself a Roxetteroom like office... Somewhere I gotta put it all. It's all mixed up my collection, with Gessle, Grape Rock, Roxette and everything else from the God-Like Man Gessle, and Wonder Woman Marie :-)

What I wanna know is... how big are you collect

ions ? ... Mine ? I have no idea... I'd guess more than 300 cds, singles, vinyls, different versions of records and and and... Anyone else have made something like an Roxroom ? Instead of hiding it all in a box ? Poster and stuff like that doesn't interest me... That's magazin stuff and has nothing to do with them really... Eventhough I also have a lot of that. **LOL** Before you ask ... Looks quite cool and not like crap... Studio like office *G* ... Im 31 ... Will I ever grow up ? NOOOOOO WAY !!!... My 9 y.o daughter listens also to the stuff now ... Hmm... Thats not good... :-S