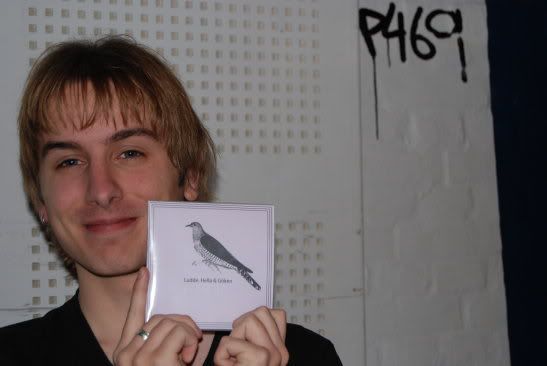 Johanna Molander (a.k.a.
gessloholic
) and her friend Erik, got a demo CD from
Ludde, Hella & Göken
in Copenhagen, after the Helena Josefsson's gig at Huset. The CD includes these songs (recorded in AGM Studio):
1. Wuthering heights / Kate Bush
2. Disarm / Smashing pumpkins
3. När det blåser på monen / Kent
4. Grace / Jeff Buckley
5. I'll be seeing you / Sammy Fain / Irving Kahal
Ludde, Hella & Göken (a.k.a. Mikael Gökinan Trio) are:

Mikael Gökinan - acoustic guitar and backing vocals
Helena Josefsson - vocals
Ludde Wennström - contrabass and backing vocals.
Mikael Gökinan
plays the guitar in many bands from Malmö:
The Red,
Oomaigoosh
Tailfeathers
,
Markus Murevärn band
, Evangelyn
, Adrian
....
Ludde Wennström
has been playing bass and contrabass with many bands too:
HepCat Daddies
,
Ågrens Orkester
,
Max Magiska Cirkusvarieté
,
Stilleben
, ...
Helena Josefsson
has played with
Sandy Mouche
and
Son of a Plumber
.
They play soul and jazz, influenced by Jeff Buckley, Kate Bush and Kent. We can listen to some of their covers in
Mikael Gökinan Myspace
and talk about them in
HJ Official Forum
.
Comments by fans:
When I saw Helena in Copenhagen I got a record with the songs. I really love Wuthering Heights, it made me cry the first time I heard it



Check out

Ludde, Hella and Göken

, a project featuring Swedish musicians Helena Josefsson (lead singer of Sandy Mouche, backing singer for Per Gessle), Mikael Gökinan, and Ludde Wennström. They have done some kickass covers (Kate Bush's "Wuthering Heights", Smashing Pumpkins' "Disarm", Billie Holiday's "I'll Be Seeing You", and just added "Grace" by Jeff Buckley.