Boston Tea Party
, the Swedish TV show, continues. In the show broadcasted on November 19, Fredrik and Filip reach the studio exactly when Per Gessle is threatening to commit suicide! In one of the darkest rooms in his studio, Per is sitting on the floor with a gun in his mouth terrifying the people around him. Even the Swedish tabloid Aftonbladet is writing about this episode, under a malicious headline "Per continues to make a fool of himself in the Boston Tea Party show".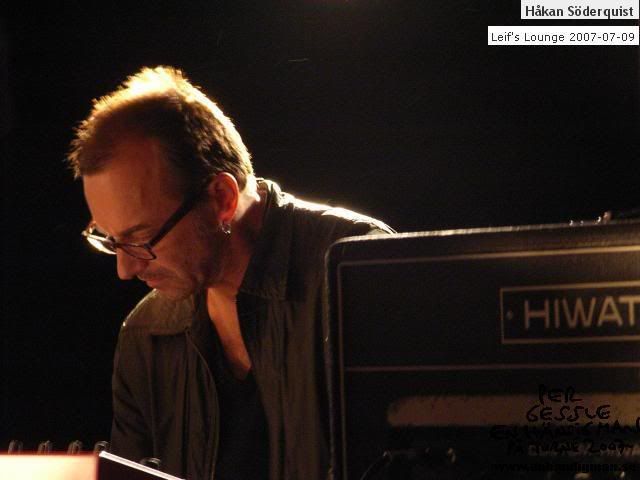 Ivanych (a.k.a.
pei99
), remembered in R2R forum that
this Thursday Clarence celebrates his 50 th b-day.
Clarence Öfwerman:
Born: 22 November, 1957. Producer, keyboards and backing vocals. First produced Roxette's album 'Pearls Of Passion' and has been involved in every Roxette album since as producer and keyboards player. Responsible for most of Roxette's string arrangements. Played in groups Uvertyr, Raj Montana Band and Passagerarna.
Clarence is 'guilty' of the sound of LJdM's editor favourite album, Son of a Plumber.
I have always try to explain what I feel listening Son of a Plumber's album. Just today I have read an interesting topic in
Son of a Plumber's Official forum
. You can visit the forum and add your opinion.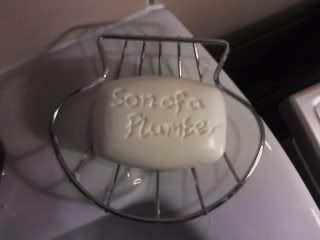 "The nice Kai", from Berlin,
thinks that Son of a Plumber's album is different from most albums you can buy in the shops these days: it is a challenge to your ears and maybe too hard for the average music listener. Anyway, according to him, you need to listen to the album very carefully to hear every single detail and to understand the story of the songs. He suggests that we should try to listen to the songs and all the background sounds carefully. I have done it and he is right: we can lose many details if we don't listen to the album again. It's worth indeed.
Other members of the forum seem to have done it too. For example,
C
hristel Johansson (aka Chrissie78 or Baby-C),
from Sölvesborg, SE
thinks the same:
the main problem with SOAP is that the "average listener" don't take the time to listen carefully to any kind of music nowadays. It could be the reason why SOAP is misunderstood: people just don't take the time to sit down and really listen to, and analyze, new music.

But, what make SOAP become such a great album?


René H. Jepsen (aka RJ1976), from Denmark / Flensburg, DE, says in TDR forum these days that he loves Helena Josefsson's sweet voice in SOAP. As other fans, I really
believe that Christoffer (Lundquist) really complements Per work in such a great way! My fave song is still

I have a party in my head

.
Heyoka
(aka
Akoyeh from Poland) says that SOAP is the best Gessle album since this time. She is sure that with some good promotion it could be a success in Europe. She has taken an hilarious picture of her "soap" ("Per lives in her bathroom"). I have read many bad comments about the album so I wonder: should some Gessle's fans clean their ears with this soap before listening to the album. Heyoka also speaks about the future of Gessle & Co.:
"I am sure about a new SOAP album in 2008, and I feel the good vibrations because the winter is coming, SOAP was made at the same time and I have the strange feeling that the new album will have this same sweet winter melodies inside, little dreamy, romantic and Christmas climate...I would like to hear something like this, it's the best what Per could do now. EHM was made mainly for the Swedish summer tour and now it's time for winter songs, delicate sounds, for cold winter days near by the fire."
We will keep on waiting for a new album, the second challenge to our - your? - ears.


My father did kind of the same things that I do, he played piano, jazz, and got into producing Swedish artists and later from all around the world. He always said to me "don't become a musician, it's very difficult to make a living on it", he thought I should study economy, because he actually wanted to do that but never succeeded. He once produced an album with Toots Thielemans and he came down to Rotterdam and they hung out one night together, which was great!

Influences when I was younger? Beatles to start with. We actually had a Beatles night yesterday, we listened to three albums in between the sets. I actually saw the Beatles live in the stadium in the sixties, when I was six. I however don't remember anything, except all the girls screaming. You couldn't hear the band, they only had small guitar amplifiers back then. They couldn't hear themselves, so they stopped I think in 65. But yeah, everybody in this band grew up with the Beatles.

I started to play in bands when I was a teenager anyway. I started playing guitar, then I met a guy who was a lot better than me playing guitar, so I switched to piano. I think that was around 73, 74. I don't play the guitar now. I only help my daughter to learn some chords. That's about it.