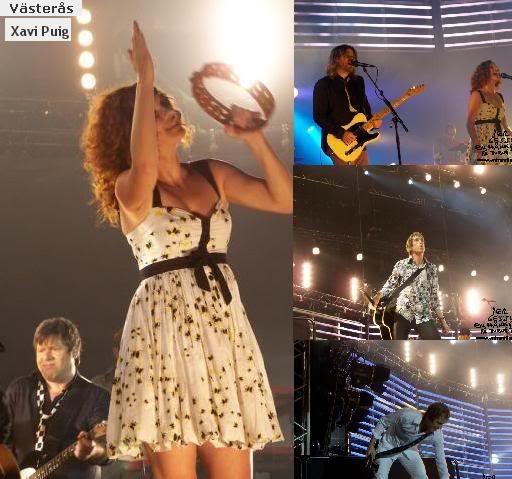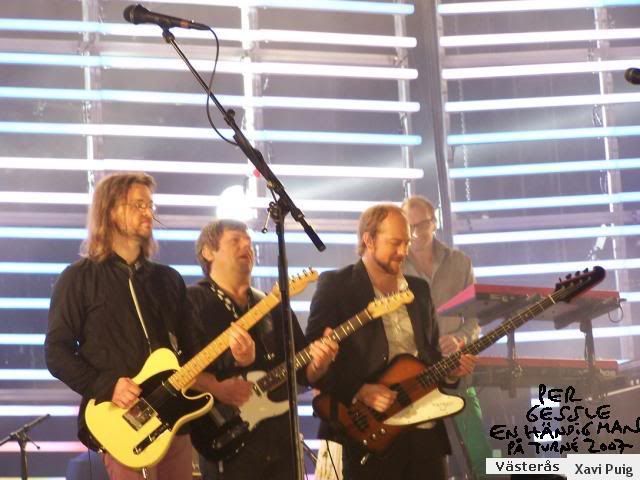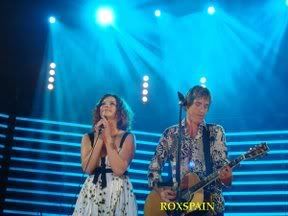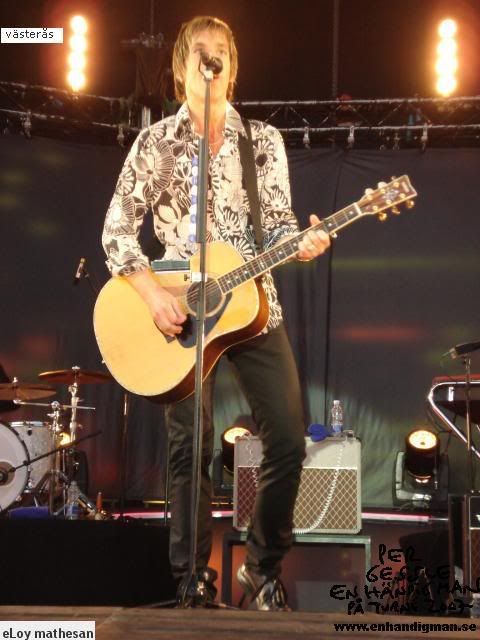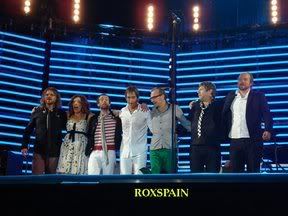 10 August

Västerås

Lögarängen
Per Gessle wrote these words on 8th August (two days before the concert):
Day off in the sun. Warm again. I'd gotten used to my coat. Nice... and most of all a sin to complain... Am drinking strange juices with the children, teach myself how to use a new film camera (why are manuals so complicated, and I indeed are handy...) and a playing wonderful songs by e.g. Dylan: 'Just Like A Woman' (live at the Albert Hall, 1966), a masterpiece!!!!!!), Nick Drake, Joni Mitchell's 'The River' by brilliant Blue... and 'Chick-e-Chack' BY Docent Död. Almost air guitar position.

Chantal (a.k.a.
chantie79
), from Alkmaar, Netherlands, were in Jönköping and Malmö. This is her story:
It's strange how things can go sometimes. Last year I was so fed up with Gessle, I never listened to his music anymore. When his album was about to come out, still nothing happened with me. I was not interested. I was skeptical, to say the least, about 'En Händig Man'. I didn't like 'Son Of A Plumber' and now after giving it another chance, it's still my least fave. But then... somehow, out of nowhere, the wave hit me again. A friend sent me the songs from the new album. Per's promoteam posts a compilation video of the Mazarin-tour online... people start talking... a buzz goes around the Roxette-community on Internet... a tour is planned! Summer is coming!! CHANTIE GOES TO SWEDEN!! The trip to Sweden was fantastic. It was a dream. It was.... uncomplicated, for the first time. It was hilarious, warm, sunny, delicious, pretty, joyful and everything else. It was exactly what I needed! I've gotten a little closer to Sweden this summer. It seems I understand the language better every time I go back. I remembered places I've been to and coming back felt better than I expected. This vacation was a dream. I can't wait to do it again. I have to go back to see someone there, I promised him I'd come back. You see, I found a man dressed in white and he smiled at me from a distance... I wonder how long it's going to last this time. How long will these three shows keep me up? What's the next thing that pushes me away from this man? We'll see. Until then, I'm love-sick...
Gessle also speaks about Västeras concert in his blog:
Västerås. Believe it or not but it has been just as cool there! Fucking fab audience and the band in top shape after a 4-day break, calm and time-off from me!!!!Six plusses of five possible ones!!! An additional hurra! to all international visitors who came and greeted; from Argentina, Spain, Norway, the UK, Brazil, etc. You are a bit mad but just fantastic!!!!!