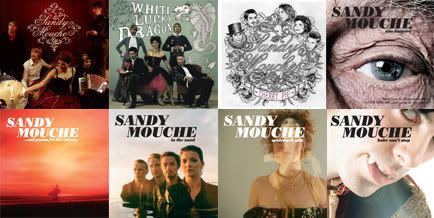 According to Helena Josefsson (as it is said in her website and in
SM Official Guestbook
),
Sandy Mouche
is thinking about a new album.
On 21st May 2007, Helena said: "
Martinique and I were in Paris last week, singing some Sandy Mouche songs, and he got some fun ideas about new projects for us! So next week, after Ola Blomgren´s (guitarist) wedding, we will discuss this! I hope it will be a positive result and then Martinique and I can start writing together!!
".
On 14th July 2007, Helena said: "
We have just found new ideas for the next album!
".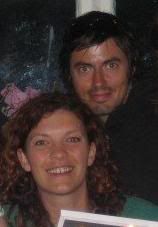 Picture by Lotta Josefsson, August 2007
And today she has written: "
Martinique is writing new songs for a coming album. We will start recording it the coming winter
"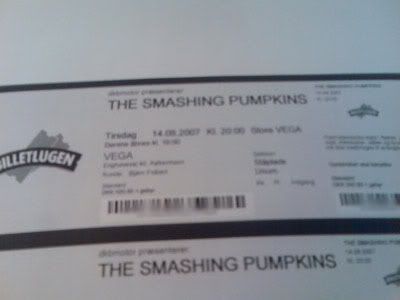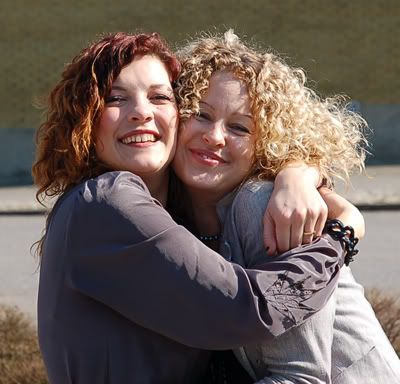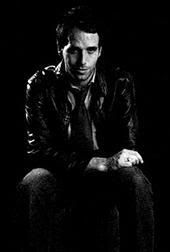 Meanwhile, the drummer Per Blomgren has been working in Fred Whitling's new solo album. Fred Whitling (aka Fred Vaine) is a singer from Malmö that played with the bands Plastic Soul (with Johan Duncansson, Helena Josefsson and Per Blomgren, between 1996 and 2000) and Sing (in 2001, with Johan Duncansson and Per Blomgren). When his high school's friends began other projects (The Good Mornings and The Radio Dept), Fred joint other bands like The Resurrection (Morning has broken my heart EP, 2003) , The Heartfalls (C'mon Baby, Album, 2005) and Achordian (My dear listener, Album, 2004; A product of the 80's, Album, 2007), usually playing the bass together with Jesper Bjellerup (leadvocals and guitar) and Jakob Bjellerup (drums and backing vocals). Fred left Achordian before their second album and began to work in a solo project with some friends (The Downloaders) like Per Blomgren. Whitling has released some songs in his
myspace
. We can find things about Fred there:
Fred Whitling would like to think of himself as a contemporary crooner, inspired by the humble and modest hope that his experiences and reflections communicated in song might reach out and touch some people. He has played music for as long as he can remember, and has written songs since his early teens. After graciously serving time with several southern Swedish bands he decided last year that it was time to go solo and to move to Italy. So he did. Fred amusingly likes to think of his backing group as The Downloaders. The set-up of the band varies depending on who happens to be in town when he calls. He hereby wishes to express his heartfelt thanks and love to all concerned. All songs are written by Fred Whitling. The recording took place at Mission Hall Studios and was engineered by Henrik Larsson.
'
The Downloaders
' consist of Fred Whitling (vocals, piano & guitar), Tobbe Larsson (keyboards), 'Plastic'
Per Blomgren
(drums), Marcus Anderberg (double bass), Henke Larsson (guitar), Emil Johannisson (backing vocals) & Edith Söderström (backing vocals).
This summer, we could notice that Sandy Mouche is still alive in Wikipedia and Fan Forums.
I was at

Youtube

today, searched for Helena Josefsson, found the user Sandy Mouche. And look what i found!! Sandy Mouche's videos:
Spiderweb suit:
soundtrack in New York Waiting

The Sandy Mouche song "Spiderweb Suit" is featured in the film "New York Waiting" by Joachim Hedén. Premiere in Greece: June 28th, 2007 as "Perimenontas sti Nea Yorki"

Tyko Runesson is a
musician
and guitar builder from Malmö. Now he has a new
website
for his handmake acoustic guitars.
Ola Blomgren, from Sandy Mouche, made the design of the logotype, visiting card and the label of the guitars.
Today I have been completing the first article in English about Sandy Mouche in Wikipedia.
There was no reference in English, only in Swedish.
Ilya Volkov, a Russian fan, had written a good article in wikipedia (August, 2006) about Helena Josefsson, but there was no article about Sandy Mouche.
If you want to complete something, please do it.
I have taken most of information from the official website. Update it if you want to.
Sandy Mouche
is a
Swedish
band from
Lund
,
Skåne County
, southern Sweden. It consists of songwriter- and singercouple Martinique and
Helena Josefsson
, and the brothers Per (drums) and Ola (guitar) Blomgren. On live shows they bring a bassist and a pianist. They sing in English and French.
Sandy Mouche was born ...(2001)
Sandy Mouche was born on a beach on Crete, Greece, fall 2001. The Josefsson couple and Per with his girlfriend Hanna was on a holiday together as Martinique showed them a song, "A Year", in his minidisc. They sat in a café on the beach, eating. The song was vibrating, with its thin sound. The melody, the voice of Martinique and the chords were strong and told us to start a band. Down by the towels again, we started looking for a name. Per and Helena had already played together for six years in other groups, but Martinique had played in other constellations.
Per dug the hot sand and shouted: -"Sandy!" Helena watched her new family. All three had a mouche in their faces, on the left side. Sandy Mouche had then seen the light of day. It sounded like a woman´s name. We would lay there telling each other about who she was. Then the idea to sing in French and English was born. To this day, the band believes she is a young woman who lives in every band member making sure we stay on the right track.
It didn´t take long before Pers big brother Ola was part of the band.
The E.P. (2003) and White Lucky Dragon (2004)
Demos were recorded in Per´s bedroom, and in a studio together with Danyal Taylan, who played the bass from that point until 2004. An EP was released and sent to producer Christoffer Lundquist, who with his huge ears and genuine feeling felt like the perfect collaborator. Sandy Mouche decided to release an album, White Lucky Dragon (2004) on their own label- Magpie Music. Magpies love things that glitter and collect them.
Swedish band Sandy Mouche doesn´t use thick distorsion and a cocky attitude to get your attention. It is just the other way around. They offer dual-language pop that grows the more you listen. Come to a concert and an arrow is fired towards your heart. The arrow spreads warmth from he inside and out. Somebody said they sound like they set a John Bauer-painting to music. A transparent fairy is mirrored in the silent, dark small lake- surrounded by the black, high forest where sorrow and the often so difficult triviality interrupts.
White Lucky Dragon was released in Sweden and Japan.
... and poems for the unborn (2006)
Sandy Mouche …"and poems for the unborn" is the last treasure of the band, financed by the band itself, distributed by Playground Music Scandinavia and Junk Music. Recorded and mixed in 10 early summer days with a collection of songs that believe in the ability of the listener. That you feel like coming into their world where it´s okey to be insecure or kind. An opportunity to step out of the pup and be reborn into the person you were meant to be. The last album is more shattered than the debut. The songwriters have written separately. We can find disco ( "Baby Can´t Stop"), a mixture of Joanna Newsom and ABBA ( "Fairies & Alves" ), cheerful pop ( "Une Histoire" ) a blend of children´s music and Benjamin Britten ("Laisse les anges te protéger"). Sprinkled with a little soul and jazz. The group says that they have made the record they would like to buy themselves.
Future
Since 2006, Helena Josefsson, Martinique Josefsson, Per Blomgren and Ola Blomgren have been working in solo projects, although Sandy Mouche will probably record a new album soon, according to Helena and Martinique words. They have also made some promotion of …"and poems for the unborn" with gigs in France and Switzerland.
On February 28th, 2007, Helena Josefsson released her first solo album, Dynamo, produced by Christoffer Lundquist. Helena has worked with Per Gessle (Roxette), The Ark, Righteous Boy, Swan Lee, Andreas Johnson, Sebastian Karlsson, Gyllene Tider... and is a member of Son of a Plumber. Dynamo does not break the Sandy Mouche project: in fact Martinique Josefsson and Per Blomgren have been working in Helena's solo project (in the studio and/or in the gigs).
Albums by Sandy Mouche
Sandy Mouche (spring 2003) - ep
Albums by Helena Josefsson
Singles by Sandy Mouche
Singles by Helena Josefsson
Videography by Sandy Mouche
Cherry pie (dir. Johan Tholsson)
C'est pas juste (dir. Per and Ola Blomgren)
Papillon (dir. Jeffry Rich)
Videography by Helena Josefsson
Links