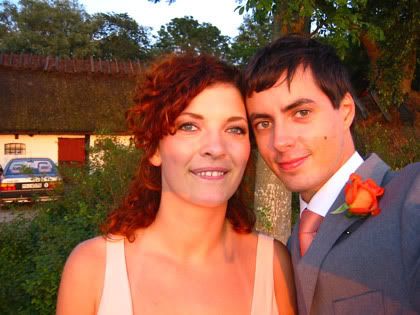 Helena and Martinique Josefsson have married this summer. Due to the gigs with Per Gessle and Sandy Mouche, they have not got too many holidays. Helena and Martin have been together since she was 17 years old.
Sandy Mouche have been playing live in Lund and Malmö this summer.


* Kajplats 305, Malmö 2003 · 06 · 11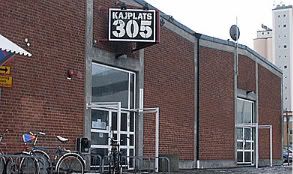 Studentkåren Malmös kårhus
- Bassänggatan 8
-
It is a big house in central Malmö with a cafe, concerthall and rehearsalrooms for the students of Malmö Högskola (University of Malmö).
* Västra Hamnfesten, Malmö 2003 · 06 · 14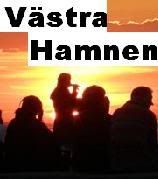 Västra Hamnen ("Western Harbour") is a modern district in the city of Malmö. The Western Harbour is currently being transformed from an industrial area into a complete urban quarter with accommodation, services, workplaces and educational facilities. The district celebrates its annual festival every June. Sandy Mouche played with The Mo, the Swedish nouveau glam rockers from Växjö that released the album City Heart in 2002.
* Blender Summercamp, Basilika, Lund 2003 · 07 · 12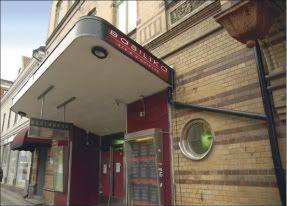 Basilika Bar is a restaurant and a "nattklubb" (nightclub) with a small dance floor in St. Södergatan 13, Lund. It occasionally hosts live bands from Sweden and Europe. Basilika is considered the largest club in Lund: it has been able to admit 550 people sometimes.

* We & You, Bulltoftaparken, Malmö 2003 · 07 · 18
Bulltoftaparken is large recreational area in western outskirts of Malmö, designed in early 1980s in the area of former Malmö's Bulltofta airport. The size of the park is 75 hectares, and it is a green oasis surrounded by Malmö's residential suburbs, some light industry and big shopping centres. Revolution #9 announced in April 2003 the creation of a new pop festival to occur this summer on July 18-19 at Bulltoftaparken in Malmö: the "We & You" fest and they expect to book about 25 bands. Finally, the festival has included this year some bands as The Radio Dept., José González, Slagsmålsklubben, Gisela, Sandy Mouche, Dr. Higgins, Speedmarket Avenue, Ant, Hospital, The Winston Solution, Adria, The Dannys Says and Homeland.
* Kalas-Tour, Mölleplatesen, Malmö 2003 · 07 · 24
Möllevångstorget -
The Kalas-Tour is a one day festival that runs through Sweden almost each summer with only Swedish acts. This year the artists are The Rawhypnols (Norrköping), The Stuckups (Kalmar), Gilmour (Visby), Firestone (Örebro), Hundarna (Skövde), Dog Almighty (Lysekil), Sandy Mouche (Malmö), Whitesilver (Varberg), Olivia (Göteborg), Soardy (Säter) and Kungers (Stockholm). Mölleplatsen has a capacity for about 20,000 people.
* Mejeriet, Lund 2003 · 07 · 25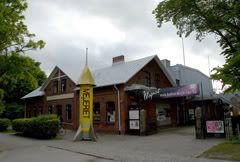 Mejeriet, Stora Södergatan 64, Lund, is a multicultural venue with an emphasis on music. Mejeriet is probably the most famous place in Lund for live music, and known in the rest of Sweden too amongst music lovers. There is a mix of just about anything you might want to listen to here from jazz to clubbing via salsa and rock n'roll and many local bands reherse here too. The official name is Kulturmejeriet ("Culture Dairy") as the building was originally an old dairy. Whenever there is something on, they also have a bar and restaurant. Helena Josefsson had played there before (with Jive with Clive and ewing.1).
Sitting here among the trees of Santa Monica bay,
I can hardly speak i´m in too deep and it´s not my fault,
climbing up a tree towards the glowing cinnamon sky
chewing gums for free
i´m tasting yours, you´re swallowing mine,
A year goes by fleeing and so will I
I didn´t see u falling once again
I didn´t hear u calling a friend
This is not the end
we´re standing near the fall of our lives
truth will never lie
this moment is the key to our lives
"
A Year
" is properly the first song by
Sandy Mouche
. In fall 2001, Helena, Martinique and Per were on a beach on Crete, Greece, fall 2001. Martinique showed them this song in his minidisc. They sat in a café on the beach, eating. The song was vibrating, with its thin sound. The melody, the voice of Martinique and the chords were strong and Martinique told the others to start a band. According to Martinique: "
I wrote it in 2001 on a Roland Juno 60 synthesizer. This was the song I made Per and Helena listen to during a trip to Greece. It became the first Sandy Mouche song and it's about living like there was no tomorrow
".
This week "A Year" will be released in a compilation of Johnny Bråttom Records,
Svensk Populärmusik vol 2.
In 2001, Viktor Banke, Adam Svanell and a couple of other friends started organising concerts under the name "Trevligt med rockmusik" in the small town of Kristianstad. In just a year, Adam and Viktor came up with the idea of releasing records as well, and
Johnny Bråttom Records
was formed. Trevligt med rockmusik fell asleep after little more than two years, as both Adam and Viktor had moved out of Kristianstad, but Johnny Bråttom lived on. Johnny Bråttom's first release, a co-operation with Trevligt med rockmusik, was the compilation cd "Svensk populärmusik vol 1". It featured Swedish artists like Slagsmålsklubben, Dr Higgins, Laakso, Thomas Denver Jonsson, Svenska akademien and Björn Kleinhenz. Adam and Viktor continue to release Swedish independent music in different genres.
Svensk Populärmusik vol 2
also includes two great songs by José González and Anne Brun.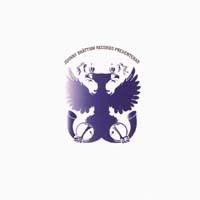 Svensk Populärmusik vol 2.
CDOASS - The Box
Niccokick - Run, Run, Run
Björn Kleinhenz - How Long Is The Night?
Slagsmålsklubben - Filter Fabric Facts (DJ Upperkurt Instrumental Remix)
Idiot Savants - Daily Routine
Music 77 - Kameror
Pete Thompson - Folk Song
Lola Barbershop - Ticket To Happiness
The Kid - Baton Rouge
Junip - Turn To The Assassin
The Topeka Twins - Hunting Song
Menteroja - Call Me
Bremen Brotröster GmbH - Greater/Better
The Flu - Golden Hair
Celestine - Sunflower
José González - Heartbeats
Café Polymorf - A Good Time
Quit Your Dayjob - Pissing On A Panda
Joni - Frank Xerox
Ane Brun - Are They Saying Goodbye?
Sandy Mouche - A Year