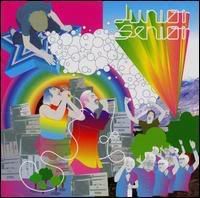 Junior Senior
is a pop musical duo from Denmark. The duo consists of keyboardist, guitarist and vocalist Jesper "Junior" Mortensen (born 1977) and vocalist Jeppe "Senior" Laursen (born 1975). Junior Senior formed in 1998 when Jesper Mortensen and Jeppe Laursen got back together after their previous band Ludo-X broke up in 1995. The band signed a deal with Danish label Crunchy Frog Records and here it is: their debut album,
D-D-Don't Stop the Beat
. The first single, "
Move Your Feet
" (April 2003), is one of the most played songs on Danish radio and eventually has climbed the charts in over thirteen countries, including the United States, Australia, France, the United Kingdom and Denmark.
The second single could be "Rhythm bandits", featuring Helena Josefsson (Sandy Mouche) as background singer. It was recorded at Tambourine Studios and produced by Eggstone's members.