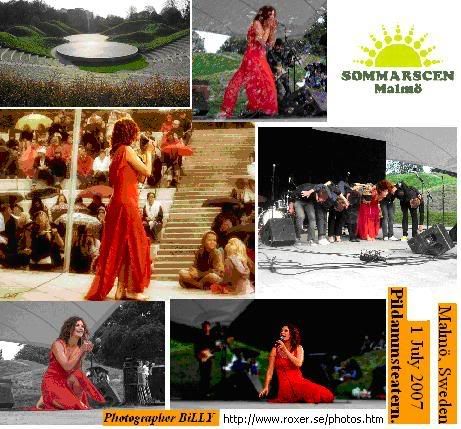 I have been at Peace & Love with all my shirts and bags and stuff, hoping that people want some. I'll try to be on every gig near Malmö - Helsingborg - Göteborg. I'll take every chance I get! There was a lot of people taking photos of her, so I put a small adv to them. And then I should give one to Helena, but she got so happy so she gave it away to someone that bought her album. Ooh, she is sooooo sweet! I wish some day to be some sort of photographer to her. Well, somehow I am already .. I mean official. Dad came with a good suggestion. He said i could be her official paparazzi, what do you tink? hahahahaha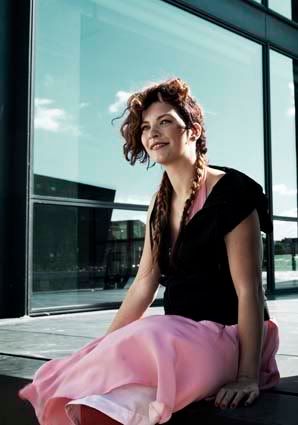 Do you have any idea how we can help Helena with promoting her album? I have done only a small step here in Germany. I wrote an email to EMI Germany and told them about this young Swedish woman with the great voice. They were very thankful for that inspiration, but nothing else happened yet.
I´m wondering, if I should send her "By your side" single, which I have twice, to the biggest radiostation in Germany. But I´m not sure, if it´s worth it or a bit too strange. Have you done something like this before? Or what do you think about that? What can we do? Everyone´s opinion is needed!
I've uploaded a video to YouTube ("Never Never" on Bingolotto), and have posted about Helena on several online forums. I also have the videos from Bingo Royale and Nyhetsmorgon, but I'm having trouble editing them so I can upload them to YouTube.
My promotional efforts are more casual: Recommending her to friends, making them listen to her music when they visit, or showing her videos around ("By Your Side" is one of the videos I keep on my mobile).
I like the idea of sending singles to radio stations! Capitol Records wanted nothing to do with The Beatles, till American DJs started playing "I Want to Hold Your Hand" of their own accord and the public started clamoring for more.
And for a more relevant example, think of how Roxette first got huge in the States: An American student went home from a stay in Sweden enamored with the band, requested "The Look" at a local radio station, and the rest is history.


I think the best thing to do is to request her songs at local radio stations. Even better, if you know someone in the radio scene, get them to listen to her material (maybe give them one of her singles or whatnot).
Does MTV Europe (and the other local MTV stations such as MTV Portugal) have any TRL-type shows? That might be another avenue to pursue...
I think stations have to pay a "tax" to the record company, as broadcasting a song means that a listener could theoretically tape the broadcast, effectively acquiring a copy of the song without paying for it. One would think the record companies would welcome the free publicity (after all, who would choose a poorly taped radio broadcast over a pristine authentic copy of the single on CD?), but not in this mad world we live in
I think sending them the single could still work. I mean, the idea is to make them aware of her music. A note like "hey, this is a great song I'd love to hear on your show..." would be great. They'll be aware of what (if any) legal steps they'd need to take to make it possible for them to broadcast it.
Or maybe it'd be quicker (and cheaper) to send them links to her videos online. I don't think I'd have much luck with that here in Venezuela, because local stations favor latin music over all other styles (don't get me started...), but in Europe it might succeed.