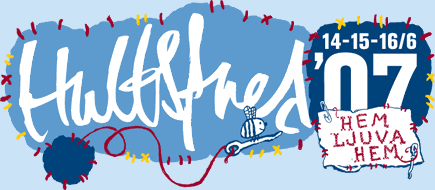 For the first time, Helena sang at Hultsfredsfestivalen, yesterday in Hultsfred.

Alexander Frydahl took this pics:

And Jerry Boman took this photo: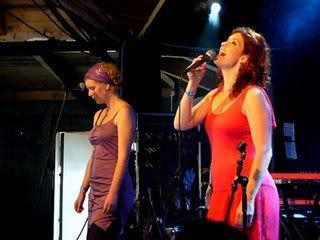 LJdM

What an eventful past few days it's been! Hultsfred was a blast… so much so that it's going to take me the rest of the week to describe it in full. Luckily it only rained one day out of the three, though Swedish nights are very cold (I seem to forget this, though, every time I go to Sweden). Today starts my round-up of the acts that I saw at the festival: Helena Josefsson.
I was not all that familiar with Helena's music before seeing her, but I had heard a few songs and was pretty impressed, so I decided to stop by. I felt a bit sorry for her at first because there didn't seem to be much of a crowd, but she didn't seem to mind. In fact, she was a bit crazy, lurching around the stage and singing about air hostesses. The same couldn't be said for her stoic background singer, who rarely moved (but sounded great). It was funny because at several times during the performance Helena put her hand on the background singer's shoulder and tried to interact with her, but the girl didn't seem to notice or care. It was all very entertaining to me. Best bit: The frantic operatics of
The Moon Is A Grain Of Sand
.

My 6 years old dream about playing at Hultsfred came to life last week! I want to thank my booker Blixten & Co for making it come true, and of course my fabulous musicians!!
Then I went straight to Halmstad where I will spend two weeks rehearsing with Mr Gessle for the tour www.enhandingman.se! It strikes me when I sing in Per´s band, how he and his music has become so popular and loved, while he is nothing but himself in a very honest and simple way. That is most inspiring! In the week end I and Martinique will go to a friend´s house and celebrate Midsummer´s Eve, and we will contribute with a strawberry cake, mmmm it will taste so sweet...!
In between the strawberries, spongecake, and the rehearsals I will squeeze in gigs in Borlänge, Malmö and Gotland with my own music and it will be both trio, quintet and septet settings, different from spot to spot depending on the circumstances. But thank God Martinique is in all of the settings so I get to see my beautiful muse! I think this summer will be one to remember! And I am grateful for every bit.
See you soon!