Yesterday Helena Josefsson was DJ for a night at Debaser
www.debaser.nu
, the outdoor bar in Malmö.

According to Helena:

"The music my mom played at home was a mix of Kate Bush, the '80s David Bowie, The Temptations, Enya, all the soul queens, Bruce [Springsteen] and a record that was on heavy rotation for 15 years was Jane Fonda's aerobics vinyl with everything from The Jacksons' 'Bridge Over Troubled Water' in a disco-soul version and Jane cheering on. It never gets old! I've always sung, if I am to describe my music it sounds like my maternal grandparents were Kate Bush and Michael Jackson, and my paternal grandparents were Madonna and Nick Drake!"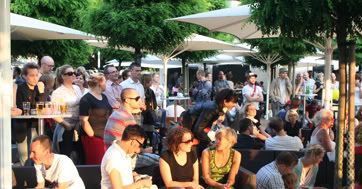 Debaser, Malmö
Helena played her favourite music -
"Min Musiksamling" ("My Record Collection) -
for 4 hours. Emma Sonesson, a fan from Helsinborg was there. According to Emma:
"Helena was at Debaser Bar in Malmö playing her "music collection", and that was her mom's vinyls she got from her. I used to like that. I mean I listen to The Beatles, Tom Petty, CCR, ... Cos it is what my parents have played."