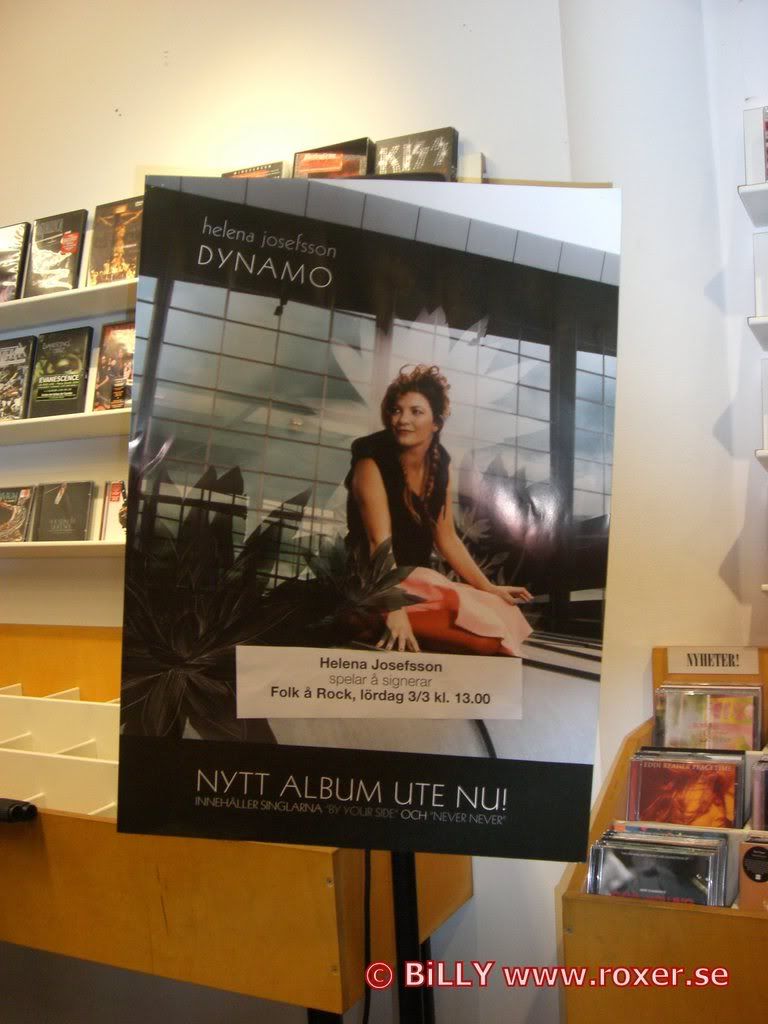 Yesterday, Helena sang and signed the album at Folk å Rock record store in Mal
mö, by Lilla Torg. Martinique Josefsson and Christoffer Andersson played along.
Today
Helena has sung and signed the album at the record store Folk å Rock, situated on the main shopping street of Helsingborg. Christoffer and Martinique have accompanied her again.
Emma Sonesson ("Billy"), a fan from Helsingborg, was there an took some great photos.
See Billy's Gallery here
Meanwhile, Adela Toplean, a Swedish artist, has written a marvelous article about Helena Josefsson. Read it.

Not the first time when I write about Helena Josefsson. She is part of Sandy Mouche and the finest ingredient in Per Gessle's vocational project Son of a Plumber. But today I will turn to Helena alone. Her first solo album Dynamo is out, so I finally got the chance to write about her in relation to nobody else.
Helena makes that kind of music you want to follow, you want to see growing, spreading, raising debates, questioning, fighting and beating clichés, puzzling conventionalists and captivating those who have an intense (and intuitive) sense of music; you somehow want to take this music upon yourself and make it circulate faster, make it reach everybody, not tomorrow, not in a few hours, but now. It rarely happens to start my mails and conversations with: "you gotta hear this", but ever since I have listened to Helena's first single "By Your Side", I was compelled to change my greeting-habits; and after listening to the whole album, I've realized that, for some reason, I took Helena's music very personally; which is a thing that doesn't happen often, if at all.
However, better tell you more about this amazing album that, from today on, is out in the open.
So I will start with an attribute I tell everybody and write everywhere: she's otherworldly. And everything else has its roots in this first description.
Now you will probably tell me that every artful gesture coming from every artist must have an otherworldly touch in order to make (and support) a difference; and I won't argue with you. But. Founding your art on bewitching premises, as Helena does, takes an extremely well-controlled creative force. It's about a very rare ability of faultlessly juggling with your own creative impulses and slippery imagination, merging them with only half-understood intuitions and totally unknown throbs coming from some nebulous "other side". And so, Dynamo is a "visited" place, full of slushes, whispers, insinuating noises; and there's no one there to help you out, because Helena has already become a fairy and, like all fairies, she turns ambiguous and ambivalent, provocative and passionate, comfortless and cruel, tender and ticklish. You're lost, and you like it. It's first class escapism.
One could, of course, point at a certain fashion of ingeniously combining elegant, ethereal sounds with red-blooded spirit coming directly from the early Kate Bush (especially "The Dreaming", the classical "Wuthering Hights", "Man with the Child in His Eyes", "Army Dreamers") or from her latest eclectic and graceful masterpiece Aerial; or, again, from Björk's earlier music, before the electronically distorted sounds to become the Icelandic artist's favourites; or, moreover, from the never used-up 70-80's R&B influences wonderfully recaptured by, say, Antony and the Johnsons, my favourite New Yorkers. Yes, they are all to be guessed in the background of Helena's album. However, as far as I am personally concerned, I couldn't help but hearing in her "Pirate King"'s noisy presence as well as in the whole airy fairy-tale-ish atmosphere of the album, the legendary Sgt. Pepper and his "Lucy in the Sky of Diamonds", "Good Morning Good Morning", "Being for the Benefit of Mr. Kite" and therefore I would speculate here Christoffer Lundquist's propensity to Beatles and conceptual albums.
Speaking about Helena's genius-producer, I ought to mention (and salute) his latest predilection to oboe that already saved a Roxette track ("Reveal" that is) and is going to make "Sleepyhead" one of the most touching and realistically positive songs to be heard. As a matter of fact, as far as a dilettante (like me) could discern, Dynamo is arranged with excellency; infinite attention paid to details, but always to the benefit of the general (oh so smooth) view, nothing thick, nothing loose, nothing overwrought, no excesses, just subtleties and adequacy.
The album seems literally (consider the geographical position of Aerosol Grey Machine Studio!) and imagistically (consider the lyrics and Helena's presence!) plucked off the Nature; which provides on one hand, a rough freshness and, on the other hand, an unexpected, sophisticated mythical dimension. My favourite "Where does the unused love go?" and the artful "Air hostess" are, perhaps, the most "urban" songs on the album, "In the Woods", "Meadow", "Ghosts", "Big Bad Wolf" and "The Moon is a Grain of Sand" are almost-almost displaying a cosmic fusion with Nature and a careful playing with the equivocal Powers Out There, while "Never Never", "Waterlily Love", "Sleepyhead" and "By your side" descend deep inside the (often underrated) woman's labyrinthine soul; they uncover the essentially ambivalent approach of one's self and of others; there is, yes, tension in the album; and infinite tenderness too; the most melodic parts are delivered in twisted, unexpected, refined ways ("Waterlily Love", "By Your Side") while the most dissonant and heavy ones are displayed with a childish candour ("Pirate King", "Big Bad Wolf"). Still, the album is not an uncomprehensible paradox, but a smooth, coherent fundamentally existential statement. And it is, yes, more than music. And that's why I am grateful. So grateful.
Written by Adela Toplean (photo)
Adela Toplean's Blog - About Helena Josefsson 1st March 2007

Read her blog, please.
Very interesting.