I've just listened to your album. Helena, it's just wonderful, small masterpiece. I keep my fingers crossed that it'll be released somewhere abroad.

Congrats with the 23rd place on Hitlistan. It has to be higher next week.

Hugs from Poland
INTERVIEW WITH HELENA JOSEFSSON


ROCKSELLOUT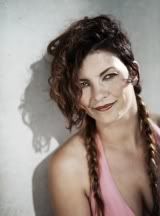 Perhaps there's something in the water, I don't know, but Sweden has been generating a wave of great artists in all sorts of genres these past years, such as The Knife, Marit Bergman and Peter Bjorn & John. The latest rising star from the north is Helena Josefsson, who's debut album "Dynamo" recently hit the stores. Taking the liberty to describe her music myself, I would ask you to imagine Kate Bush, Björk and perhaps Regina Spektor collaborating together. Just check out the video below for Helena's first single, "By Your Side" and you'll see what I mean. First though, take a moment to read some of this former chewing gum junkie's own words:
If you were making a mix for our readers, what would be the first three songs you'd select?
A mix from my own music would be: Meadow and Sleepyhead from "Dynamo"
and Spiderweb Suit from Sandy Mouche´s latest album

:o)
And if it was other music, I could choose:
True Colors with Cyndi Lauper
Hello Earth with Kate Bush
Samson with Regina Spektor
Name any musical influence(s)?
I have a lot of different influences even though I´ve understood it can be hard to hear them in the music! The Cure (fell in love with Robert Smith when I was a kid and I saw him in the "Close to me" video!) Madonna, Cyndi Lauper, Marie Fredriksson, Monica Zetterlund, Björk, Kate Bush, Cranberries, Michael Jackson (fell in love with him too!), Mary J Blige, Otis Redding, Terence Trent D´arby, Nick Drake, Prince. The soundtracks of Astrid Lindgrens stories, and Peter and The Wolf by Prokofjev mean a great deal to me!
What new music are you currently listening to?
I like Joanna Newsom, Jay Jay Johanson, Regina Spektor, Laleh. Prince´s and Kate Bush´s latest albums are fantastic!!
Name a band (current or defunct) that would be your dream act to open for on a major tour?
I think that my music could match Coldplay or U2 tours, I like to make long mantras at the end of my songs live, and that way of forcing the athmosphere is in their music too!
Who, if anyone, would you like to collaborate with?
I would like to produce an album with Prince. I would like to bring my band and Christoffer Lunquist, producer of Dynamo. I believe it could be a fantastic match! I love the way Prince uses clustres in the vocals and I think his pop-songs (not the funky ones) have something in them that I am trying to do too!
Tell us something about you that we can't find on Google.
I love dancing: flamenco is my latest discovery, but I love the aggression in hip-hop dancing, too!
And one more thing!
When I was around 6 years old I adored chewing gum so much I would scratch off the ones on the ground:o) You know the white things one the asphalt that have been stepped on. And then I would chew them. And I asked my best friend My if I could take hers when she didn´t want it anymore :o)