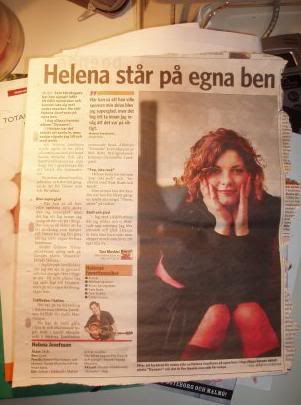 Picture by Maja Bäckström, from Stockholm, SE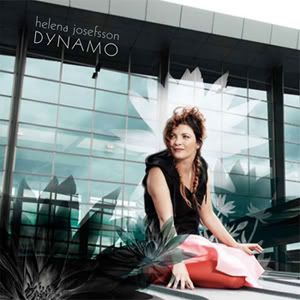 Helena Josefsson

releases her first solo album tomorrow.

Artist.......: Helena Josefsson
Album........:

Dynamo


Label........: Elevator Entertainment/Capitol/EMI




track title time
02. never never (my dynamo)* 03:21 - Second single
03. by your side 02:59 - First single
04. the moon is a grain of sand 03:40 - Side B in the first single
05. waterlily love 03:57
06. air-hostess 03:47
07. where does the unused love go 03:52
08. into the woods 03:47
09. sleepyhead 03:07
10. big bad wolf 04:06
11. meadow 03:54
12. pirate king 03:46
13. never never (reprise) 01:54
These are the strange

credits

from the album:
Recorded at AGM Studios between 26.01.2006 and 11.07.2006.

Helena Josefsson: Vocals, Lyrics*, Co-Producer, Vocal Arrangement, Piano, Saw, Tympani, Fender Rhodes, Portraits, Tack Piano, Claviola

Christoffer Lundquist: Producer, Engineer, Synthesizer, Bass, Clarinet, Dobro, Flute, Guitar, Piano, Celeste, Zither, Vibraphone, Omnichord, Tin Whistle, Mastering, Mixing, Synthesizer Bass, Music Box, Bass Harmonica

Erik Hjärpe (aka Voz Vibrante): Synthesizer, Piano, Sampling, Vibraphone

Jens Jansson: Percussion, Drums, Breathing

Per Blomgren: Choir, Chorus

* Lyrics of Never never (My Dynamo): Dan Bonemark and Helena Josefsson.


T. Evensson, from The Daily Roxette, reviewed the album last week.

Helena Josefsson, the girl from Per Gessle's "Mazarin," the girl from Son of a Plumber, the girl from behind The Ark, Andreas Johnson, from her own band Sandy Mouche and many others, is back. With her new debut album "Dynamo." "Dynamo" will be released February 28 on EMI Elevator Entertainment, Per Gessle's own label. Helena's first single from the album, "By Your Side," does well on the charts in Sweden. The follow-up "Never Never (My Dynamo)" was released to radio February 14. Helena will do lots of radio and TV for the release. Per Gessle himself sponsors her album and claims it will be a world hit, according to Expressen.
"

What do you want to be when you grow up?' 'Either a troll or an artist' I replied to that question in the "My friends" books one had in elementary school. Being an artist or a songwriter is probably one of few lifestyles where you can be a troll at the same time?

When you think about it, a troll and an artist have a lot in common. What I wanted, and still want, is the feeling of freedom, to be a part of nature, to have a place in a city, to find a good spot for picking mushrooms. To be OK to be like you are and still get loved at the same time!

" Helena says.

"

Once when I was a kid my mom got angry with me and then I made myself a sad song as comfort. Since then it has always been like that. Just that the songs have been about other things: love, revenge, to be afraid of everything, consideration, to feel inadequate, longing, then, now, later.




The music my mom played at home was a mix of Kate Bush, the '80s David Bowie, The Temptations, Enya, all the soul queens, Bruce [Springsteen] and a record that was on heavy rotation for 15 years was Jane Fonda's aerobics vinyl with everything from The Jacksons' 'Bridge Over Troubled Water' in a disco-soul version and Jane cheering on. It never gets old!




I've always sung, if I am to describe my music it sounds like my maternal grandparents were Kate Bush and Michael Jackson, and my paternal grandparents were Madonna and Nick Drake!

" she continues.



The album is recorded in Christoffer Lundquist's studio the Aerosol Grey Machine using hand picked musicians like Martin Josefsson (Sandy Mouche,) Erik Hjärpe (Damn! Timbuktu) and Jens Jansson (Brainpool). "

My goal with the recording was to get the contrast between glowing hot and icy cold, plastic and wood, between the most beautifully beautiful and the ugliest ugly. Like an enchanting siren of the woods with a black soggy hole in her back!

" says Helena, who has written all the material herself.









Helena has a unique voice. We all agree with that, don't we? Her music is special, I find it a bit mistic though.












Helena is great!!! The songs are amazing and the most important thing in all this - is her brillian voice!!!! )))) Good luck with everything you do!! Hugs!!












I also think she's a very special artist, I like her song "By your side" very much, in my opinion it sounds very original and fresh.

Never never is a very good song too.

I wish her all the best in her solo carreer.

Looking forward to listening to the album. Helena rocks!!!







The songs i have listened to so far sound great i cant wait for the album to arrive next week








-------------------------------------------------------------


In order to promote the album, Helena has played

today at "Mycket mer än musli" MTV show.

The show (TV Promo) was recorded in

Stockholm

and is broadcasted on March 3rd

-------------------------------------------------------------------------------