Per Gessle has been visiting Holland and Germany this month as part of his "Son Of A Plumber" promotion tour through Europe. A new Son of a Plumber single, "I Like It Like That," will be released in Sweden on May 24. The B-side is, as previously reported, the second installment of the series "Plumber in Progress." Anyway, the new plans for Roxette do not help the SOAP project, that is going to be put on ice.

Other news: Christoffer Lundquist and Anders Mildner, from Junk Musik, are going to write a book about music.


Promo is not become a routine, but in a way, every interview is like the other one. I remember the days that we were doing this every day for months and months – it's not like that anymore, it's fine. But it's also an album – a project – that needs to be described, you have to sort of talk about it a bit and tell what's behind it. If I could do a big talk show on TV, that would be easier.

All my life I've been 'accused' of making commercial music. Though many people bought my records which received a lot of airplay, the press never was enthusiastic. Now a serious magazine like Rolling Stone gives nothing but praise. I can only laugh about that, since this is probably going to be my worst-selling record ever.

We're gonna do some new Roxette stuff in the summer and so I think there won't be any Son of a Plumber shows, because I have to work on the new Roxette. Don't even know at this state if there will be a fourth single from the album. We might pass on that due to the upcoming Rox releases.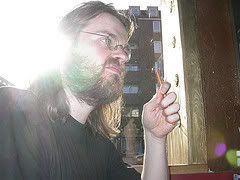 It is the starting point of what will become a book. I have had this idea for some months now, but today was the first time that I met with Christoffer and talked about it (if you don't count the time when I called him and asked "Will you write a book with me?") It's going to be a book about audio: partly a guide how to record, partly a sound-philosophy. We have no idea how long time it will actually take to write this, but you will be able to follow the process and comment on our work & thoughts here at Junk.

Anders Mildner

Anders as writer of a book you could maybe have seen coming, but Christoffer… Hurray for you two! I will read it, promise.
May I ask why the previous poster is so sceptical about my ability to be a writer? Maybe, once the book is done, he (Jens) will read it and pick up a couple of useful things. And thank me accordingly for it.

Christoffer Lundquist -
Junk Musik
Not at all sceptical. Just amazed. You're a man of so many talents and sometimes I forget that. Your book will be a milestone, I feel it. Best of luck!
Christoffer Lundquist - the renaissance man. Keep your eyes open for his premiere art exhibition!

David Birde -
Junk Musik


Once you do a rock opera, all doors are open. You should feel that too


Anders Mildner

My opinion on Christoffer the-yet-to-be-writer: apart from a very comfortable sense of humour, he has a very non-itchy flowing way of being, singing and producing. And he's easy in manner. And free from tension. And I assure you there are no other more important qualities to be required from a writer of specialized books! As for the "l'homme-à-tout-faire"-issue, that's just how creativity goes: no preferential direction, it strikes whatever way and when you expect the least…just like the Holly Spirit hahaha.
So good for you guys, I'm sure the book will be not only useful, but enjoyable as well…Who knows, maybe the Swedish Academy will be amazed by your revolutionary approach of sound and you'll get a Nobel for literature; or for physics at least.