According to a press release, in just two months, there is a new album coming! The album indeed will be in English as predicted and take "Per Gessle's full musical heritage", and is a "debut"… This time "Per Gessle" is not the name in the cover of the album. The new project is called "Son of A Plumber".
Who are "Son of a Plumber"? It's Per Gessle plus most of Mazarinerna's musicians: Clarence Öfwerman, Christoffer Lundquist, Helena Josefsson and Jens Jansson.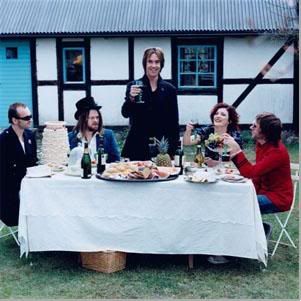 According to TDR, yesterday evening EMI Svenska held a presentation for their partners. They showed a video greeting in which Per spoke briefly about releasing a new album and told it will be out in November. He also showed a piece of paper saying "Son of a Plumber" to the camera, but didn't tell more about its meaning. TDR got more words about it that you can read below. Originally, "Son Of A Plumber" (or Son.Of.A.Plumber) is Per's home-studio in Stockholm where some of the demos for Roxette's "Have A Nice Day" album were recorded.
According to Thomas Evensson from TDR, Per also mentions that they had somewhat strange recording techniques making this album. They would tell Helena to sing something and if she asked how or what, they would say "improvise." This has given some strange, but great results, with lots of "la la la la la" but also other interesting effects.
Gessle will be in Saint Tropez these days to finalize the mixing of the new album. The album title will indeed be "Son Of A Plumber" and will initially be released in Sweden only. If the record is well received, it may be delivered "worldwide" in January, with a European/Swedish club tour to follow. Regarding the sleeve, Anton Corbijn took the pictures this time around, just like he did with Per's previous solo album, "Mazarin." Most of the pictures are taken in Christoffer's garden and some in London, while the sleeve pic itself is taken in London.
Meanwhile, David Birde and Magnus Börjeson (Metro Jets), two of the owners of Junk Musik, will be DJ's for a day tomorrow night.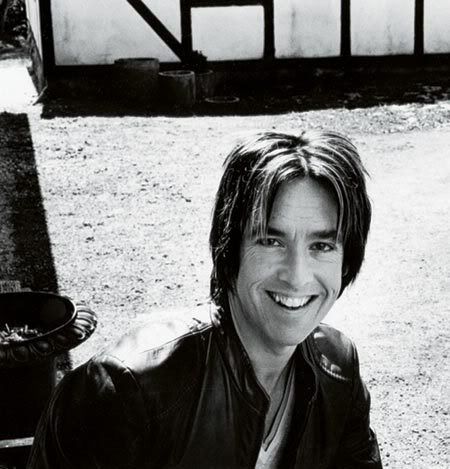 Without Clarence and Christoffer none of this would've existed. I could never have done this on my own. Wow, I don't know what has happened! Somehow it's taken me 46 years to dare to make this album. And to be ABLE to make this album. Son Of A Plumber has become some sort of a musical purification bath for me. The album contains all of my musical heritage. I don't know why that happened, maybe it's because I bought my first mp3-player this winter. I've spent half this year transfering my old records to the computer and rediscovered so much great music I love but had forgotten. It's been a journey back to Furet and Simlångsdalen where I grew up, into the 70s, stuff we listened to in Gyllene's first rehearsal studio.
I discovered that if I work under a different name, I don't have to 'follow up' Roxette, 'Mazarin' or Gyllene Tider. Incredibly nice! Here's something new; Son Of A Plumber! My dad was a plumber. I have become a debutant. I've gotten great self confidence and a lovely boost from the last years' huge response from the audience. I suddenly dare to trust myself and my capacity in a totally different way than before. Therefore it feels like a 'debut'!
My father was a plumber, his name was Kurt. He has a song on the album, because he was the fastest plumber in the west. I think you have be older to be able to make this album, have to have this history and background behind you. I couldn't have done it like ten years ago, you have to have this experience. I didn't make any demos, I always make these complicated nice arrangements for my demos, here I played songs to Clarence and Christoffer, if they liked it, we worked with it.
We've recorded no less than 26 songs, including three, four 50-second instrumentals that we want to include. Sort of like soundtracks to movies. We have pan flutes as well! My thoughts regarding this project was to sort of start a one man band, like Badly Drawn Boy. And also, we recorded no demos for this project. I played the songs for Christoffer and Clarence, and they were like the evil jury in [American] Idol. They then said if they liked the songs or not. If they didn't - we didn't record it.
Lots of work… but I love my work, I love to do this, I'm really pleased as long as I can do this. I've released an album yearly… 2003, 2004, 2005… to record an album like this is a pleasure, it's like a drug thing. You work for 14, 15 hours, four to five days in a row, go home for a couple of days, then back…
Don't sit at home. Don't be gloomy. Metro Jets (David Birde and Magnus Börjeson) will be playing records tomorrow night at VOLYM, Malmö. Join us there! By the way, Son of a plumber, the new project from Per Gessle, features Junk celebs Christoffer Lundquist(Brainpool) Jens Jansson (Brainpool) & Helena Josefsson from Sandy Mouche.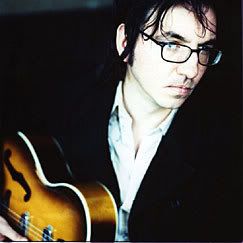 The guy with the guitar is Richard Hawley. I'm obsessed with his
new album,
"Coles Corner". I can' t stop listening to it. You really should get it. The Scott Walker-references are obvious, but personally I hear Nick Lowe all over the record. You really should get it. I will say it again: You really should get it. Q puts it another way: "If he remains overlooked after a record this heartfelt then, well, perhaps there really isn't a God after all." Me, I just say: You really should get it, and hope that I will get the message across anyway.

Anders Mildner

Hooray! It's gonna be great tomorrow night. I feel slightly electric.

David Birde -

Junk Musik