Junk Musik grows and grows. Christoffer Lundquist & friends' record company is promoting two of their artists: Florian Horwath and New David.
Florian Horwath - When The Light Came Around


Florian Horwath - Golden Teeth


Florian Horwath with Jens Jansson and David Birde
Florian Horwath @ Chelsea, Vienna AT 29th September 2005
Video by Annika & Jens Jansson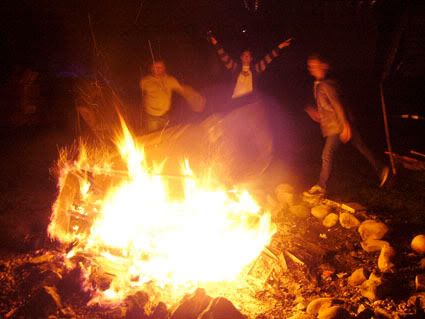 As you may know, Brainpoolians David Birde & Jens Jansson are on a German tour with our friend Florian Horwath. Now, Florian sends us this pic with this text:
"jens & david in full effect.. or this is what happens when you meet a sofa late at night in lustenau, a funny town, very far on the eastern outskirts of austria and very close to switzerland. we were guided to a bizarre övergiven former goa hideout, with a huge "anything goes" playground yard, circus tents, an enormous wood carved phallus & a massive soundsystem. our tour-soundmaestro jeff playing hardcore old skool techno house tunes from his hometown chicago. by the way. we were the only people there. feature dance craze movie to come"
We wonder: do we need to worry? Anything goes? Fire? Sofa? Dance craze movie? Bizarre övergiven former goa hideout? Any guesses?
20.09.05

AUT

– Vienna, Chelsea
21.09.05

AUT

– Graz, PPC
22.09.05

AUT

– Klagenfurt, Kamot
23.09.05

AUT

– Lustenau, Carini Saal
24.09.05

AUT

– Weyer, Bertold Saal
27.09.05

GER

– Karlsruhe, Die Stadtmitte
28.09.05

GER

– München, Zerwirk
29.09.05

GER

– Konstanz, Kulturladen
30.09.05

GER

– Würzburg, Pleierhof
01.10.05

SWZ

– Zürich, tba.
02.10.05

GER

– Neu-Ulm, Salon Hansen
03.10.05

GER

– Köln, Blue Shell
04.10.05

GER

– Darmstadt, Oettinger Villa
06.10.05

GER

– Jena, Kassablanca
07.10.05

GER

– Berlin, 103
08.10.05

GER

– Halle, Objekt 5
09.10.05

GER

– Hamburg, Schilleroper
PS: Ok, it's time to get really worried.
THIS VIDEO CLIP
came from Florian, Jens & David: lost somewhere in Germany, only communicating by sending us strange messages. What IS this? What's happening? What drugs are they on? WHERE ARE THEY? WHAT ARE THEY DOING??
Love, Junk staff