News from Junk Musik: the debut album of Christoffer Lundquist, a special concert last 20.08 ... and a related artist, Ed Harcourt.
According to Junk Musik,
Christoffer Lundquist
releases today his first digital EP,
Major & Minor Songs
, a 4-track solo EP. It will only be available for download, first on CDON and later also on iTunes Music Store.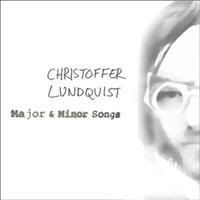 Christoffer wrote, recorded and sang! these four new songs in his Aerosol Grey Machine Studio.
01. Happy New Year

02. I would fain fly

03. So let's talk

04. Take-out for one
A classic sound, with some sad ballad (
So let's talk; I would fain fly
), folk (
Happy New Year
), soul-blues (
Take-out for one
). I have listened to the snippets and
I would fain fly
is our favourite one. The style connects with Son of a Plumber's influences.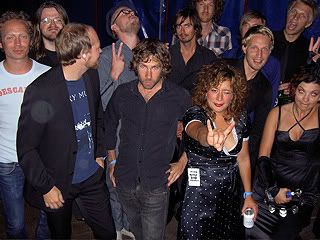 Up early, leaving for Malmö and the

JUNK EXTRAVAGAZA SHOW

which is TODAY between 00-01 at Malmöfestivalen, Mölleplatsen. Before the show we were going to decide what we are going to release this autumn. The bands rehearsed yesterday. Among the bands performing, you will find Brainpool, Metrojets, Monkeystrikes, Florian Horwath, Justin Winokur, Sandy Mouche & some surprises…
Dig this: seven bands packed in a small dressing room. Snacks, candles, beers, bag-in-box wine.
Questions: where is Christoffer? Will people show up at 00.00? Roadies walk by: slowly. Stage Manager from Hell walks by: s-l-o-w-l-y: looking mean. Three hours until the show begins.
Press fast forward – three hours later: seven bands enter the stage. Brainpool begin to play "Junk", the other bands sit around a table behind David´s amplifier, two meters from Jens' drums, having a beer and wine picnic on stage. Each band plays two songs, then go to the table.
New David sings "Lazybird" playing guitar & a great song called "Monitors"playing keyboards. Sandy Mouche play their new single, "Une Histoire", which you will find here on monday, for the first time live, and make an amazing performance of a song from their last album. Christoffer suddenly walks on stage, playing a melodica.
It's all cheers and laughter at the picnic table. Helena from Sandy Mouche is playing air drums. Cecilia from Monkeystrikes is taking photos and playing tambourine. Everyone else is clapping hands & shouting Ooooooooooooooooo at the bands playing. Back stage is no more. Back stage is now ON STAGE.
Justin Winokur is looking exotic wearing his cowboy hat in Sweden, Magnus from Metro Jets is looking Macca-ish in flip flops & a suit. Florian Horwath gives the audience a taste of Berlin art rock, and the audience is one big smile.
Suddenly the Stage Manager from Hell appears: looking mean – saying TEN MINUTES. Meaning: i will shut the PA down in ten minutes.
I'm saying: We have three more songs. He's saying: NINE MINUTES. He's got a lot of tattoos. I dig the message.
Magnus is running out on the stage, telling Jens & David that they have to play a shorter version of Florian's last song. Monkeystrikes begin to play the moment Florian quits, I show Stage Manager from Hell three mobile phones: all three of them blinking 00:56. He frowns. Monkeystrikes kick into "You hate my beautiful love", and all the other bands appear on stage, singing the chorus over and over. It's a great moment.
We pack all our stuff and walk through the park to the party. At 3.30 I´m sitting in a taxi, smiling. This was a great night. We will do it again. Thank you, world.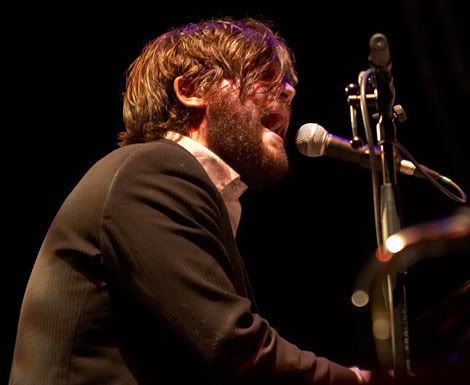 I'm listening to
Ed Harcourt's
new album Elephant's Graveyard, which I bought on iTunes Music Store yesterday. Ed Harcourt is a singer from Sussex, England.

Elephant's Graveyard

is a collection of what Ed on his own site calls "now deleted b-sides, a couple of magazine covermount tracks, the odd international album bonus track and - exclusively - four previously unreleased songs."
I'm not really sure what "exclusively" means here (after all I payed for the album, so I might expect some songs to be unreleased/exclusive…) Anyway, Ed's great as always. And he's almost a Junkie too, since he recorded his last album at
Christoffers studio.
Some stuff from that session has finally found its place on the new record (and Christoffer can be heard doing a "deep mumbling" on one this year's most strange songs).
Ed's recordings has always reminded me of Dennis Wilson's classic
Pacific Ocean Blues,
so it's kind of funny to hear him connecting to the Wilson family by doing Brian Wilson's "Still I Dream Of It". Elephant's Graveyard has got 28 songs, so it will last a while. It's only available as download, an approach we, of course, support.

Anders Mildner