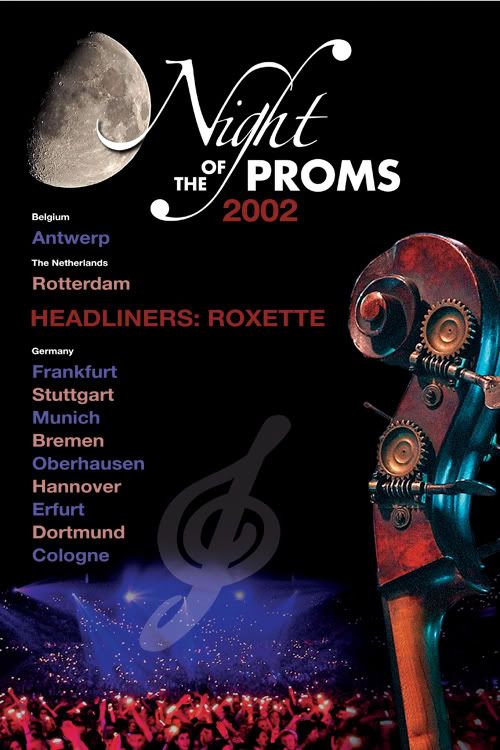 According to NOTP Official Website, Roxette will be the headline act this fall for "Night of the Proms," an event that began as a student party and has evolved into a series of concerts performed in three countries: Belgium, Holland and Germany. Each year 3 international rock/pop acts, a classical and a local act per country are presented. The length of a show is approximately 3 hours including an interval. During this year's edition of the big event, which mixes classical music with pop and is therewith a time-ride through 200 years of popular music, Marie Fredriksson and Per Gessle take up the gage to perform a selection of their many pop hits to the accompaniment of the symphonic orchestra Il Novecento and the choir Fine Fleur.
The band broke through in the late eighties with numerous hits in the top of the charts. Among them were worldwide hits like "The Look", "Dressed for Success," "Listen To Your Heart," "It Must Have Been Love," "Joyride," "How Do You Do!," "Sleeping In My Car," "Run To You," "Crash! Boom! Bang!," and "Wish I Could Fly." Sixteen years later the band can show impressive sales figures (more than 40 million albums and 15 million singles sold) and look back on some very successfull world tours. Their seductive mix of pop tunes full of irony and obvious "power ballads" today still sound as fresh and catchy as in those days, when their songs first started to get airplay."

Marie Fredriksson and Per Gessle will make their 'Night Of The Proms 2002'-playlist from the songs Joyride, Wish I could fly, Crash! Boom! Bang!, It must have been love, The Look and Dressed for success.
All the songs are composed by Gessle (some with MP Persson). It is the second time Per is involved in something related with Classical music. Don't forget the "View from the bridge" project with Clarence Öfwerman and Christoffer Lundquist. Per could be helped again by Clarence and Chris.
Christoffer Lundquist's band, Brainpool, keep on working in their rock opera since the first months of 2000. It's not finished yet. It seems David Birde, Jens Jansson and David Birde, the members of Brainpool, have no official plans of any kind of release this year.
Once we were left alone, our creativity suddenly flourished. But it also led us down some strange paths that we probably wouldn't have followed if we'd still been tied up with our record company and all their expectations of continuous releases and of us selling a certain number of records. With that sort of pressure the process would've been different. As it is, I haven't had a clue what the hell we're doing for the last few years!
As a band, we've laid low for a while. People haven't heard from us apart from our close friends, who've known about us writing a rock opera. Occasionally people have asked us, "how is your rock opera coming along" and laughed condescendingly. And our answer has always been: "well, we're struggling along!". There are so many dedicated people out there, struggling with things they believe in, without anything ever coming of it! Does that mean it's a failure? I don't think so, I think it's just as admirable as actually succeeding, against all odds. Because the author scan never make sure that their work's a success. It's always up to the public to decide on that. As an artist, you just do your bit and hope for the best!

David Birde -
Junk Musik