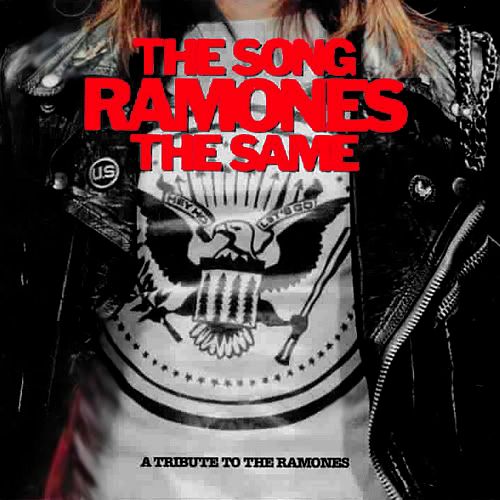 According to Roxette Service and The Daily Roxette, on 15 April 2002, the tribute compilation "The Song Ramones The Same" was released in Scandinavia, in honour of Joey Ramone (from the legendary USA punk/rock band The Ramones). It features the song
I wanna be your boyfriend
covered by Per Gessle, with the help of Clarence Öfwerman, Christoffer Lundquist, Jens Jansson and MP Persson.
Calle von Schewen, director of the small independent record company White Jazz Records, has been working on the compilation for one and a half years. In fact, Gessle and his team recorded the song last July 2001.
A live Ramones tribute night in conjunction with the release of the compilation was held at Götakällare, Stockholm, Sweden on 15 April 2002.
Swedish critics already quoted Per Gessle's contribution as '
the only song on the album that has a entirely personal style, sounding very sweet
'. According to Marcus Jurgen (Roxette Service), "
punk exists because of the false assumption that the Ramones can be imitated and Per Gessle knows that the Ramones can't be imitated. However, he gives the classic song a nice treatment and makes it come to life in a new dimension of rock.
"
For perhaps the first time since 1996 when he gave Gyllene Tider 5 "+" symbols out of 5, Aftonbladet's Per Bjurman, no fan of Roxette, has written something very complimentary about Per Gessle: "It's Nice When Gessle Translates Ramones"
Anders Nunstedt, writing for Expressen, also had very positive things to say about the song. "The cover is sensational…" he writes, "…reminiscent of the summer Westcoast pop that Gessle created so charmingly at the beginning of (his) career."
Following the reviews and after hearing the song, it's no surprise that Per Gessle's ultra radio friendly cover is to be released as the first single outtaken from the compilation. It could be the single of this summer.
On 20 April 2002, Per Gessle performed the song '
I Wanna Be Your Boyfriend
' playback at the TV-show 'Bingolotto' in Stockholm, where after he also did a small interview.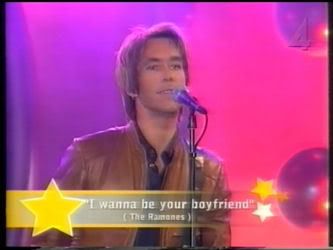 SVT4 Reporter

:

'The front man of the Ramones, Joey Ramone, passed away because of cancer almost exactly one year ago. To honour this influential rock band, several Swedish artists have recorded a tribute album. Except Per Gessle you can also find Sahara Hotnights, Wilmer X, Hellacopters and Backyard Babies on the album.'

Per Gessle

:

'Actually, I don't like this kind of tribute albums. There are 13 in a dozen of them. and only because you like a band it doesn't have to mean you are good at playing their songs. But it's different with the Ramones. They have been in leading quarters in my life. You know, I'm so old I had already started with music when the Ramones released their first album 'The Ramones'. I and MP (Mats MP Persson, ed.) had a little music project together, Grape Rock, which later became Gyllene Tider. We were incredibly influenced by the Ramones. The only album coming up to that level is the Beatles' 'Revolver'. Besides that, I immediately got an idea about how I wanted to perform this song: 'I Wanna Be Your Boyfriend'. It has such a nice summer feeling in it, which I want to keep. And really do it my own way, not try to imitate them.

SVT4 Reporter

:

'Per is now 43 years old and has been working professionally with music since 1978 when he created Gyllene Tider. Since then he has had a great success, much thanks to Roxette which he started together with Marie Fredriksson 1986. no. 1's in the charts both in Sweden and worldwide, tours all over the world and millions of records sold maybe should have made them fed up with the success, but no. Today he and Marie finished a two weeks period of recording in the studio, where they are preparing for new records. This autumn, a collection of ballads will be released and this spring a collection of up-tempo songs.'

Per Gessle

: 'Yes, We have so many hits by now. But there will be some new material also, on both records. I'm writing new songs all the time.'

SVT4 Reporter

: 'But now after the Ramones there actually are some plans for a short break.'

Per Gessle

: 'I'll stay on my couch watching Formula 1. and I have a son who turns five next August, so I think I will have things to do. But more than a week off is not very common.'

SVT4 Reporter

: 'With this tempo and after so many years in the business, is it still fun?'

Per Gessle

: 'It is still as funny as it used to be. Actually it's funnier because we are making the rules now. In the beginning we were tied up by a lot of contracts, now we don't have to care about that. We only do what we like now. Like this Ramones-record. It's so ridiculously fun to sing playback on Bingolotto, we are like little sunbeams on stage!'
Per Gessle played with all his band:
Clarence Öfwerman
(keyboards),
Christoffer Lundquist
(bass) and
Jens Jansson
(drum).
Ps: According to Official Roxette Fanclub's roxettenews.com, Per's Ramones cover "I Wanna Be Your Boyfriend" will be released as a single. No further details, such as release countries or dates, were given yet.


In January, Magnus Börjeson wrote in his website about working with Christoffer Lundquist. Read it.
In January, me and David Birde (Brainpool) are writing together with the Norwegian artist Vibeke Saugestad. We did some gigs with her in Norway last year and had so much fun that we decided to try and write something together. It turned out really well so now we aim for a whole album. A couple of tracks were recorded and mixed. These attracted some "outside" attention so we've ended up writing stuff for others as well, which is what we are doing now.
I´m working on a Beagle's new album as well, but it will take longer to finish than I expected. Christoffer Lundquist also from Brainpool is helping me to produce the new Beagle-record. I am recording in both his studio in the countryside and in my own, "Free Electric Enterprises". One song, "Well it's only pain" was recently released on an American compilation. I got my own studio so that I can record whenever I feel like it. I don't have to wait for other bands to get finished before I can start recording.
There is a powerpop-crowd in LA. For a couple of years I've been getting emails from different people who would like me to come and play in the USA. I guess they got tired of waiting, because suddenly they called and said they wanted me at a popfestival, The International Pop Overthrow in LA, last year. Beagle's records seems to have achieved some kind of cult-status. I only understood this a couple of months ago.
(Malmö, January 30, 2002)