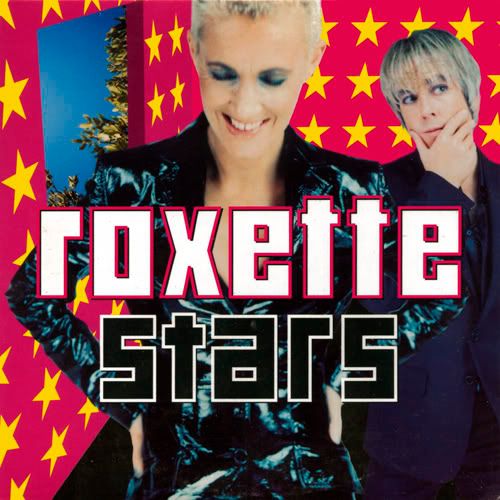 On 27th July, it was released

Stars

, the third single from the last album of Roxette,

Have a nice day

. The previous single, Anyone, a very good song, got bad sales. They try this time with a
dance floor hit with some mixes.
Since January, Roxette has not play live many times.
In Germany, they played Wish I could fly in a gala (Böblingen, Germany, April 23rd) and Stars in a TV show (Cologne, Germany, July 31st)
In England, Roxette has had two real concerts. The first one, a mini-concert (100 spectators, March 10th) by the UK radio station Capital FM in Leicester Square, London, where they played "Wish I could fly", "Listen to your heart", "The Look", "It must have been love" and "Church of your heart". In the second mini-concert, three songs were in the tracklist: Wish I could fly, Anyone and The Look (Party in the Park, London, July 4th). This was the most crowded live performance: they played voice-over versions for over 100,000 people in Hyde Park. No real concerts, no real band, no "Have a nice Tour". We miss the "team": Clarence Öfwerman, Christoffer Lundquist, ...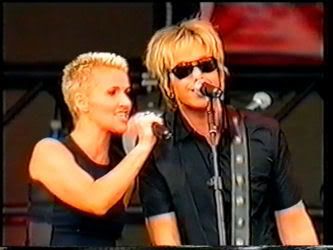 According to Marcus Jurgen, from Roxette Service, Marie Fredriksson and Per Gessle are thinking of another album before touring, as a tour would be so far after the album release that it wouldn't be fresh anymore. Marcus talk to Per and Marie in Cologne last week and he thinks Roxette will probably experiment a bit with forthcoming recordings, bringing in use the crashing guitars again for some songs.
Last July 15th, Per Gessle confirmed it: "We have started to write songs for the new album and no, there won't be any tour this year"

BTW, the song "It will take a long long time", from HAND, is in the film Runaway Bride - cinema premiered on 30 July 1999 -; the director Garry Marshall has re-united with leading lovers Julia Roberts and Richard Gere, from Pretty Woman. But the song by Roxette won't be in the soundtrack because of the problems the band has with their disco label in the United States.