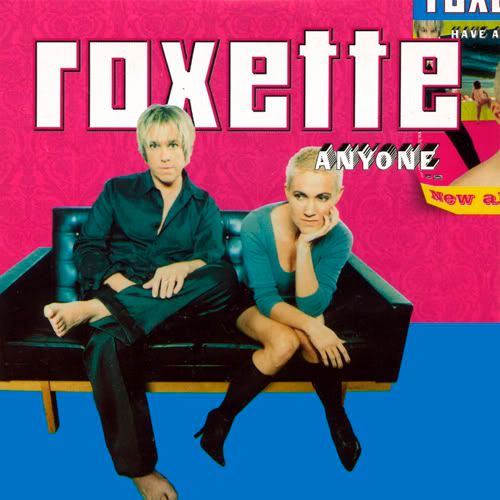 Today Roxette releases the second single of their album
Have a Nice Day
.
After the successful "Wish I could fly", we can listen to another ballad, "Anyone". The single carries the 60s air, including the demo of "
Anyone
" and the Abbey Road Version of "
You don't understand me
" (recorded in the Beatles Studio in London in 1995 by Marie, Per, Clarence and MP). In Japan, there would be a double single: "
Pay the Price / Anyone
".
The promotion of the album has continued these months. Per and Marie have performed "
Wish I could fly
" and "
Anyone
", usually playback, in London (The Radio Café, Leicester Square, March 10th), Lisboa (Coliseu dos Recreios, April 11th), Böglingen (TV, Germany, April 23th) and Aalsmeer (TV, the Netherlands, May 5th). Clarence Öfwerman and Christoffer Lundquist have been with Gessle and Fredriksson in some performances.
Since HAND was released, we have read some reviews about the album, good and bad reviews.
"After a five years' break they still make hit after hit. As never before, Marie Fredriksson's voice is at its best in the ballads like Salvation. However, the theme park techno with childrens choir, Stars, could have been left out. Listen to Anyone instead. Powerpop from Sweden, undestroyable like a Volvo."

- TV Movie, Germany



"Anyone" is Gessle at a party with Burt Bacharach and Hal David. As the title says, you are dangerously close to Dionne Warwicks hit 'Anyone Who Had A Heart' from the 1960'S."

- Kvällsposten, Sweden



"With less guitars and more keyboards, the new album doesn't sound like Roxette all at once. The opening track is a cool dancefloor track, not typically Roxette" -

Allgemeine Post, Germany



"With a few exceptions, the album offers not much of their typical sound. There were e.g. never before there were so little guitars. On the other hand, about half of the songs are ballads with lots of strings, beautiful arrangements, catchy melodies and Marie who has never sung better before. Not completely unexpected, the lyrics reflect two settled people, living with their own families, who seem to feel good. However, the attempts to play with dancable rhythms make it difficult to adapt to Roxette's permanent desire to update, but the desire to an upgrade to 1999 unfortunately overshadows the entity."

- Hallandsposten, Sweden



There's nothing particulary original on this offering. Stomping beats paving the way for Marie Fredriksson's painful solos, but if their success story to date is anything to go by, expect a wave of chart battering singles and gap toothed wailing on the television for quite a while to come.

- FHM, the UK






I myself am mostly surprised of the emotional coldness on the album, despite the technical brilliance. A smaller problem is that there isn't any obvious hit on the album. -

Hufvudstadsbladet, Norway



Nice, clever, but totally without excitement.

- Passagen.se, Sweden



HAND shows that Roxette did not want to step onto new musical territories at all and that actually everything remained the same. How often can one duplicate one song several times, almost unnoticed?!

- RTL, Germany



Good. However, who needs a new Roxette album right now? -

Popcorn, Germany



The guitars are left in their boxes. Instead of them, there are all kinds of beats and samples that aren't really up-to-date. No strong rock songs, but no beautiful ballads either. Not really a highlight

- Hitkrant, Netherlands



Supergroup Roxette have swapped their usual rousing guitar licks for a Euro dance beat. It has been six years since their last hit and on this form it will be another six before their next one.

- The Daily Star, the UK
According to LJdM editor, there are too many goals in this album. They wanted to create a retro and a modern album at the same time. Some songs get it, some songs don't. I like the influence of old bands ... but sometimes it does not fit with the synthetizers or the wearisome string arrangements. Gessle's and Fredriksson's demos sound much better: the simplicity is broken.
First time that I played with Roxette, I was very nervous; Marie started to sing "It Must Have Been Love" and than, after a few lyrics the song began. I was bass player and I had to sing a low key note, but I started to panic and I couldn't remember what key I was in so I hit the worst note ever in combination with what she was playing. It took a few weeks to regain confidence in me.


Christoffer Lundquist -
AGM Studios