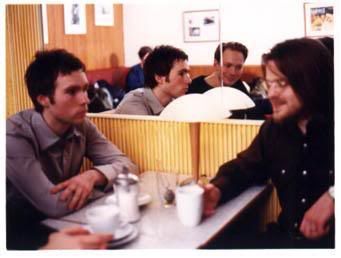 According to The Daily Roxette, Brainpool has recently released their new single, "
You Are Here
", on the Internet.
The new track is sung by Brainpool's guitarist David Birde. Janne Kask, band's former lead singer, left the band in the August 1997. He has just got his own solo album to the shops.
When Janne Kask left the band, the other band members were looking for a new lead singer for a while, but they soon gave up.
The band not only decided to stay together after Kask left, but they decided to change their style and their music. The new Brainpool is formed by Christoffer Lundquist (guitars), Jens Jansson (drums) and David Birde (vocals).
Brainpool was found by Per's record company Jimmy Fun Music in the early 90's. Brainpool's bass guitar player Christoffer Lundquist plays also on Roxette's new album.
It didn't take long for us to realize that it would be impossible to let another person join. It would have to be the three of us, or split up. At first we thought about changing our name, but that turned out to be difficult - Sony Music had already paid for the recording of You Are Here and they wanted us to keep the name. We had to choose between ditching the recordings and lose our record deal or go on calling ourselves Brainpool. We cowardly chose the latter.

We have realized our audience is getting younger. We are 26, we were smelly and unshaven and drunk. There were 11 and 12 year old fans who wanted a hug, we have just thought it was so wrong, that's when we realized we had to do something else. It is time for our music to reach the level of maturity that we are at.


David Birde -
Junk Musik