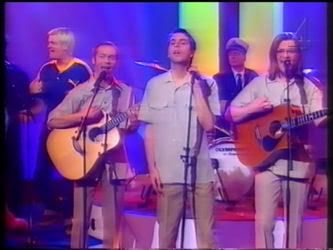 I think i'm gonna start a band.
The great depression is at hand.
People will mourn across the lands.
Yeah, i'm gonna start a band.
The lyrics from Brainpool's song could be a premonition. Yesterday, New Year's Eve (December 31st, 1996), the Swedish indie pop band
Brainpool
played
My sweet lord
and
She's so fine
in TV4, Sweden. And they did not play alone.
"
My Sweet Lord
" is a song by former Beatle George Harrison from his triple album
All Things Must Pass
. The song is primarily about god, but about any religion god. The single was released in 1970. Following the song's release, musical similarities between "My Sweet Lord" and The Chiffons hit "He's so fine" led to a lengthy legal battle over the rights to the composition. The Chiffons would later record "My Sweet Lord" to capitalize on the publicity generated by the lawsuit. Shortly thereafter, Harrison bought the rights to "He's So Fine".
I really want to know you
Really want to go with you
Really want to show you lord
That it wont take long, my lord (hallelujah)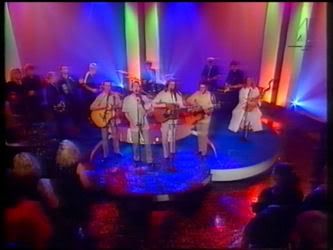 Yesterday, the surprise came in the backing vocals:
Eggstone
and
Gyllene Tider
!!!! (the 80's Swedish band of Per Gessle) sang with Brainpool.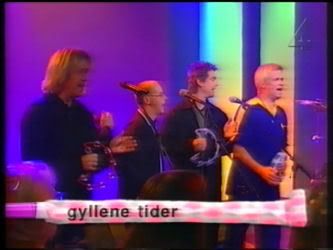 I think it is the first time Per Gessle plays together with Brainpool, although Brainpool was the support band in the
Roxette
Crash! Boom! Bang! European Tour (1994-1995).
A nice performance indeed.
In fansites, it is said that Per Gessle has been recording his new English solo album with Clarence Öfwerman (Roxette producer), some members of Gyllene Tider (MP Persson, Micke Andersson and Anders Herrlin) and other members of Brainpool (Christoffer Lundquist and Jens Jansson). They began the recordings last September 1996 and the album will be ready very soon.
Sooner or later
I hope it's not later
We gotta get together
The sooner the better
I just can't wait, I just can't wait

P, C & C
: Per Gessle, Clarence Öfwerman and Christoffer Lundquist working together. Could it be the beginning of a new band? Oh yea.
PER:
So how did you approach the whole thing?
Gessle:
I wrote some songs and then got in the best pop band in Sweden - Brainpool - to help me kick some butt. Mine, that is. But I also used my former band Gyllene Tider. We were teenage heroes in Scandinavia shortly after the heydays of punk, but re-formed for Scandinavia's biggest tour ever in the summer of 1996. And I figured it was a good idea to tap that well of energy and creativity right after the tour finished in August. So I've been lucky to record with two of my favourite bands.
PER:
What did Marie Fredriksson (Roxette) say when you told her you were going solo?
Gessle: I guess she knew it was coming after the "Crash!" tour. We'd been working together almost non-stop since 1988 and had tremendous success. Sooner or later you have to do something else to get new inspiration, to avoid getting stuck in the rut. Marie never gave up her Swedish solo career, but I've always focused everything on Roxette. So I figured it was time to take some time off and just see what I could do on my own.
PER:
But it's not the first time, is it?
Gessle:
Well, I've done two Swedish solo albums before, in 1983 and 1985, and Marie has done five. So I figured it was about time to catch up.
PER:
Speaking about pop. Do you listen to new stuff as much as you used to?
Gessle:
As you might remember I started collecting pop records early. I had 100 LP's when I as 10. A manic collector and chart-follower from day one, which must be when "I Feel Fine" was released. And so it went on until Roxette broke through. But five-six years ago, during the "Joyride"-days, so much time was spent on writing, touring, recording and promoting that I hardly had the time to listen to anything new at all. At the end of 1995 I started buying new records and today I'm reasonably hip again. But time passes, one gets older and gets new hobbies. I've built a beach house, got me a canary bird, discovered vintage port and bought a Ferrari. Spoiled brat, you know.

By chance in 1991 a friend of mine (David Birde) who played in a band called Brainpool that none had ever heard about asked me if I could be the stand-in for their bass player. He was going to do military service for a year. So I joined them and when the time came for the original bassist to come back I'd gotten so involved in the music the rest of the band felt I should stay permanently. I did and two years later we released our first album.

Brainpool signed a contract with Per's new publishing company in 1994. He started it to invest some money in music that he liked; I think he wanted to be a part of the music industry in a positive and creative way by starting this publishing company that would deal with good music, real music. Not music as a business. Brainpool was the first band he signed to his company and he was sort of a fan of Brainpool. So he asked us to be the support act for Roxette's 1994 Crash!Boom!Bang! tour and then we started to get to know each other. I got to know and be very good friends with Clarence Öfwerman on that tour.