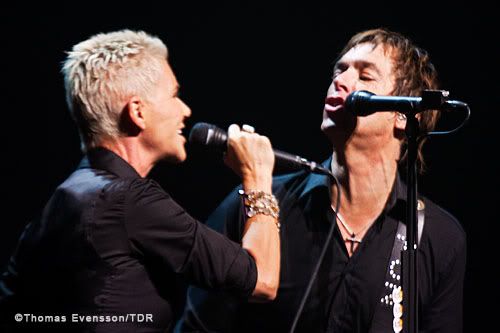 Marie Fredriksson, as in Amsterdam, sang "It Must Have Been Love" and "The Look" together with Per and the band. According to TDR, the noise when Per introduced Marie must have made an impact on the Richter scale… or, as a reporter for one of the Swedish newspapers put it, it almost blew the roof off the theater. The concert was basically the same as on Saturday, only — so it seemed to this reviewer — much more intense. Christoffer Lundquist started playing "Ljudet av ett annat hjärta" frantically on his golden Gibson/Epiphone, and he also started the intro to "Owner of a Lonely Heart" in "Do You Wanna…"
If you want to remember all the tour, you can watch the Official videos from gessle.com here:
The band cried backstage, and then we felt all empty inside. Roxette's things are in the works soon.

After this astonishing tour, I feel empty!!! It's been the greatest tour ever for me. So intimate, so close with a superb band and a delightful crew, the most pleasant hardcore fans you can ever imagine and a great catalogue of songs to dig into. I've had the time of my life! There will most likely be a package with a CD and a DVD put together. The CD is recorded live all over Europe, the DVD is from Cirkus (day one) in Stockholm and the DVD will also include 100 of the most primitive and hilarious clips from the tour (you've probably seen a few on YouTube already). I'm such a generous guy! No one takes me seriously when I'm behind a camera. It's a fact of life. It's such a shame. And, forchrissakes, there will be a double-LP!!! One comes to the point in one's career when it's time to release a live double-album. Like Kiss, David Bowie, and Peter Frampton. This is the point for me! There will be loads of unreleased versions on Nordic Rox. I'm going to NYC next week to sort things out.

I didn't expect anything from this tour at all. I did it basically for me, myself and I. I consider it to be a nice 50th anniversary present from myself. So I am, of course, flabbergasted when it comes to the reception from the fans and the media. I couldn't ask for more. Thank you.

It felt great performing the Rox tunes. I knew I could handle them. At the same time I wanted them to be different from the Rox-versions. My ambition has never been to "replace" Marie. I just wanted to play and sing these songs because they are dear to me. After all, I wrote them.

The Party Crasher-album is pretty tough to play live. Unless, of course, you want to bring the click-trax and computers in. Which I didn't want at all this time around. I wanted the set to be guitar-based, straight forward power-pop with great vocal harmonies and silly power-chords here and there. The PC-album is totally different. Too early to say about how the PC album is doing in Europe, it's out in Germany while the UK is releasing in June. There is some positive response from the radio here and there but I guess it won't outsell Joyride. Next week I have new meetings regarding a US-release since I'm in New York.

We did a cover, "Steppin' Stone", great fun indeed. I might do a punk rock cover album one of these years.

All of the gigs have been terrific. I guess the band felt that Cologne, Copenhagen and London were triple AAA's. But to me all of them were memorable and gifts sent from god (or John L.)

This band is a splendid mix of Roxette and the "En händig man" people. I love them all dearly. On the stage, in the dressing room, in the bar. Can't wait to hit the road with them again. As long as I'm enjoying what I do I can't slow down. This is in my blood. This is what I do. This is what I love. We promised each other in the dressing room in Stockholm that this should be the start of a neverending tour so I don't have a choice anymore, do I?


Per Gessle has changed a lot. He developed a new side of him a lot since the Mazarin tour when he had to be the single male performer for the first time, he really grew I think. And last spring I think it was amazing. But that's a big step. It's a personality thing to be that open. It might be difficult… you have to feel like that..you can't do that as concept and pretend, you have to be like that. Otherwise it wouldn't be good.

I'm glad to hear that some fans liked the new arrangements I did during the Party Crasher tour. That was sort of the idea, to bring the songs back to where they came from, without using the 80ies production. Which I think is great, but we wanted to sound different. So I am happy to hear this, because it's very difficult for us, you know, when you love a band and they come with the old songs in a completely new way, it's likely that you are not going to like it "uh, I want to hear the songs as they should be". It was also fun to play during Party Crasher Tour. Per did that little survey online and asked the fans what they want to listen to. He got a lot of requests for the rocking stuff. The songs we didn't play where those we didn't manage to play that well. But we had all the songs we liked in the set list. We tried lots of songs and skipped those which sort of resisted. For example, during Per solo tours in Sweden we tried some older songs from the 80ies, but we only kept a few. We tried Speedo once, but then it disappeared from the set list. During the En händig man tour we put more emphasis on Gyllene Tider songs.

For us Party Crasher Tour was a very special one. I know Per says that all the time about every tour but this time it's actually true. I hope we can do more of that some time in the future. When I sat down listening and choosing versions from the different cities for the CD I was really surprised to hear that it was a lot different. It was really different. Normally they're not. You feel the difference when you play it, but when you listen to it it's normally same same same same..but not this time. It is really good, I think. It was a fantastic moment when Marie came on stage the second Party Crasher show in Stockholm. It was a magic moment. I was standing in the corner crying. Yeah, it was very emotional, really. And for Marie it's fantastic, of course, to get all that feedback again.

Home again after the European tour with Per Gessle. Feels good to be home and my little baby-boy might think so too- sleeping in his own bed, his parents soon not so tired anymore. But I do think he misses his new friends: a bunch of fully grown men with stubble and beards, smelling of red wine, talking baby language, and smiling faces all around (the band and the crew). Especially Åsa licking his feet in Per´s dressing-room saying "Piiii katten!"

Helena, thanks for some great times over the past few weeks... you made us equally happy with your antics on stage, your an amazing artist and we all had fun watching you chase balloons around! ;) I think we all fell for Martin as well... we are all going to miss those evenings of music and laughter but enjoy the rest, it's much deserved!