Sunday 19 April - OSLO, Norway, Rockefeller
Ilya asked me my birthday: 21/02/1979. Yes, I am younger than Helena (23/03/1978). It means that i´m a little lamb she has taken for dinner.

The rest of the team went home but we stayed another night and left for Oslo in the morning. This gave us a free day in Helsinki and would also give us a free day in Oslo which gives us a chance to get to know the towns and become friends with some local old wise men or a gang of young guys that play in a band or some other people maybe. It´s nice with a day off because it gives us time to rest and get back into shape. We really need it during this tour.

So the day-off in Helsinki we slept a lttle longer than usual and then we went out with mr X now sitting up in his pram. We went to Helena heaven 2 which I must admit is now Martinique heaven too =), It was the Fazer shop and café where we bought ice cream and sat down. We usually don´t see a lot of famous people but we were lucky. Black Adder was sitting at the table behind us, also eating ice ceam: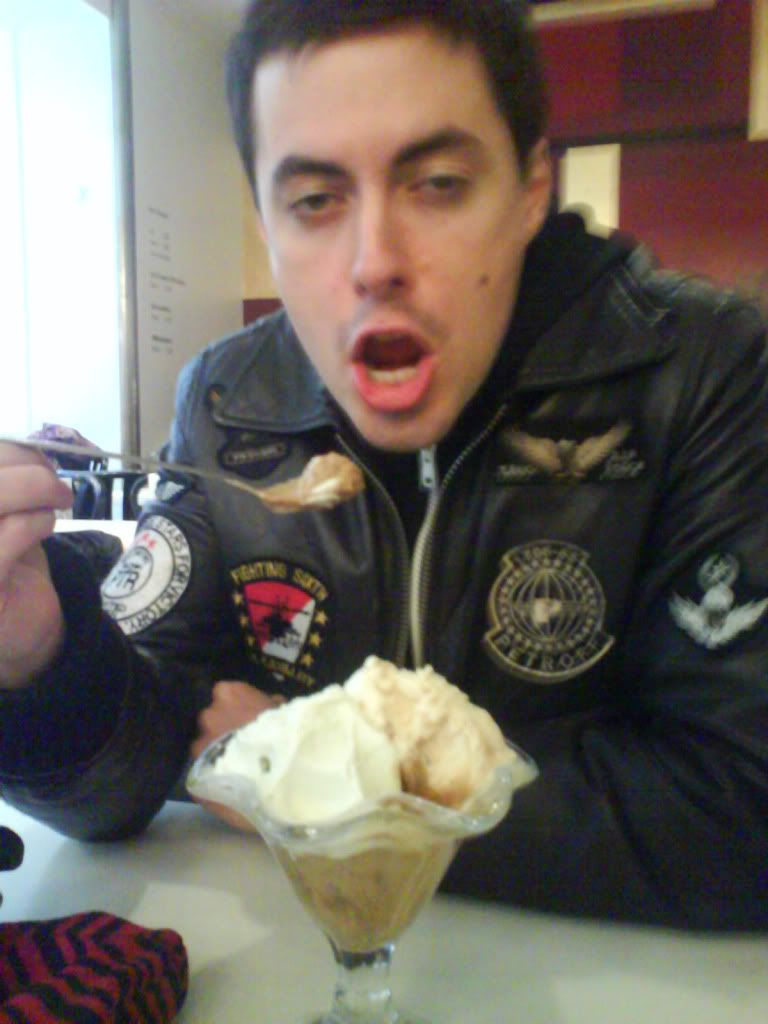 The day-off in Oslo, we went to the cool opera house where you can walk on the roof and look at the sea. Then we went to a big park.
So I just got home after my performance here in Oslo. Walking the street of Oslo back to the hotel with mr X in my arms and the make up still on after a really good performance is a great feeling. At least I thought it went very well this evening and so did Helena and Bosse too. There were about 600 people in the audience and they were very kind to me. Even when entering the stage they welcomed me really nicely which made me do my absolute best. Of course some people were still talking and drinking but not that many actually so that gave the last song a good vibe i believe.

I´m getting warmer in my clothes now and tonight I could even look some people in the eyes and still remember the lyrics. It´s funny how some of them react. Some smile, others blush and some are still stone faced. I´m very happy with tonigh and I feel ready for the rest of this tour now.

I got quite mad when I got to the hotel because I had filmed some movies and Helena had even filmed me when I was on stage but…………..the stupid camera or card didn´t capture it….*sigh*…..but there will be movies of the shows, I promise. Maybe in Copenhagen???

Until then enjoy this movie of the band sound checking.

Comments by fans:
Oh Gosh, I've said this millions of times, but what a beautiful voice does Helena have!))) Her "Fantom of the Opera" is incredible, sad to realise the track wouldn't be recorded and released in the near future..)) Seems like you've having a great holiday during the tour, you'll see so much great things!!! Good for you.. Thanks for the video, and consider these support act performances as one more performing experience. How many live concerts did Per give in his life before behave him so calm on the stage, how do you think? ;) Your music differs from Gessle's – by style, lyrics and music itself, so don't expect too much from the people who came to his concerts…. The most important thing is that you love what you do, then continue doing it, and getting an experience, like in any profession and in any business now a days. With every one more concert you get stronger, with any one more concert you get BETTER!! Don't take it close to your heart…. Have a good night! Sweet dreams to CD!