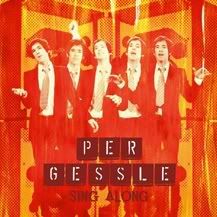 Per Gessle's latest album "Party Crasher," has gotten quite a few release dates confirmed from EMI offices around the world:
Indonesia - February; Japan - February 9; Ukraine - February 9; Czech Republic - March 2; Russia - March 2; Hungary – March 4; Spain - March 3; Poland - March 9; Canada - March 24; South Africa - March; Portugal - End of March; Germany - First week of April; Austria - First week of April; Switzerland - First week of April; Brazil - April; Belgium - April.



"Sing Along", the second single in Sweden from Per Gessle's "Party Crasher", is released in two colors today February 4.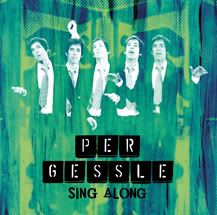 The tracklist:

01. Sing Along (radio edit) (3:25)
02. Theme from 'Roberta Right' (3:05)
03. Sing Along (album version) (4:01)

A huge congratulations from LJdM to Per Gessle who turned big five-oh (50) on January 12! For celebrating it, Per and his band will have an European tour this spring: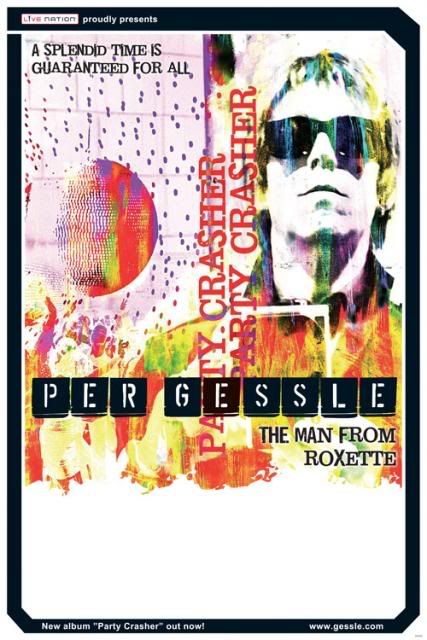 Thursday 16 April HELSINKI, Finland, Tavastia Club
Sunday 19 April OSLO, Norway, Rockefeller
Monday 20 April COPENHAGEN, Denmark, Vega
Wednesday 22 April WARSAW, Poland, Stodola
Thursday 23 April PRAGUE, Czech Republic, Luccerna Hall
Saturday 25 April HAMBURG, Germany, Grunspan
Monday 27 April COLOGNE, Germany, Gloria
Tuesday 28 April ZÜRICH, Switzerland, Kaufleuten
Wednesday 29 April MÜNCHEN, Germany, Muffathalle
Saturday 2 May GENT, Belgium, Handelsbeurs
Monday 4 May LONDON, United Kingdom, Sheperds Bush Empire
Wednesday 6 May AMSTERDAM, Holland, Melkweg
Saturday 9 May STOCKHOLM, Sweden, Cirkus
Sunday 10 May STOCKHOLM, Sweden, Cirkus - extra concert

The new remix of "Silly Really" has been released January 19. It's also supposed to be available in "all digital stores." The song is remixed by Dick Mixon and is very '80s influenced.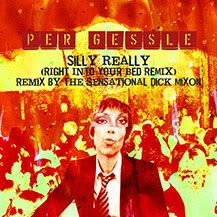 The radio show Nordic Rox, hosted by Per Gessle and music journalist Sven Lindström on the American satellite radio service Sirius XM, airs its 100th episode in January. Sirius XM has been very satisfied with the show that first aired in April 2006. Nordic Rox airs weekly on Sunday nights at 8pm on The Spectrum on Sirius channel 18 and XM channel 45.
Rolf Nygren, one of Sweden's legendary record company bosses, passed away last January. The staff of LJdM offers our sympathy.
It was 20 years ago this month that Roxette made their debut on the U.S. pop charts. The duo's "The Look" debuted on Billboard's Hot 100 chart during the week of February 11, 1989. "The Look" was the highest debuting single of the week. Two months later, "The Look" would top the
Hot 100
for one week. The single remained on the chart for 19 weeks.
And finally, The Daily Roxette has unfortunately been forced to close down their Discussions forum because of the usual trolls. We will miss it! TDR has always been our main source of information and the mirror of LJdM (although we know our modest "journal des mouches" will never get to be so useful).
If you want to know more about Helena Josefsson and about the producer of "Party Crasher", Christoffer Lundquist, you can read the recent interviews with them in
roxette.ro
. According to Feroe Islands' artist
Brandur Enni
's blog, Lundquist won't be bored this year at AGM Studios either.

Party Crasher Tour! I'm really looking forward to this trip around Europe. I consider it to be some kinda birthday present to myself to be able to play my favorites from The Gessle Box Of Songs In English. My ambition is to put together a guitar-based power-pop-set specially designed for the club scene! There will be loads of Roxette songs I haven't sung since the demo days but also favorites from the Plum, World According to… and of course Party Crasher. And why not a jolly cover, or two?

I'll play a power pop set with tons of guitars and a snappy snare with very little technology. We'll do a glorius mess of Son of a Plum (yay finally!!!), Rox (there are so many songs I've written that I've 'never' sung. I sang them on the demos and then the songs 'turned Marie's…' Would be sweet to try out my own versions… plus others that I've sung, for instance '7Twenty7' and'Nox' would be great to try out some gray Tuesday.) World According to'…? That's a bulls-eye for this band!! And of course 'Party Crash' - there are a few that I can't seem to stay away from.

My new band includes three former Roxette musicians; Clarence Öfwerman on keyboards, Pelle Alsing on drums and Christoffer Lundquist on guitar and vocals. Add to these Helena Josefsson on vocals and Magnus Börjesson on bass guitar and you get a sensational line-up. This band will sound f##king fab!! And Clarence is going to wear a Fez! How about that! The tour is too short I'd say, but Chris is a very busy man… I love the fact that we've been able to squeeze in a gig in cookin' Halmstad before the band vaporizes after the two gigs May 9 & 10 in Cirkus in Stockholm (other duties are in the can for my eminent musicians). Friday May 8 we'll be ready to roll the dice in Sporthallen in my hometown, with guitars almost-in-tune and smiles on our faces. Playing in Halmstad always makes my heart beat just a little bit faster.

One hundred shows of Nordic Rox! Can't believe it! We started out as rookies with this simple mission to bring Scandinavian pop and rock music to the U.S. It's been a blast. We've had great response from listeners all over the country. The best thing, however, is to put these shows together. To dig out that special track we just know is happening and demands a bigger audience than just the tiny local radio station in the north of Sweden. That, to me, is what it's all about. A good songwriter gets inspired just like Zlatan or Picasso, a good journalist or a creative director. So it is not so stupid to have a heavy collection of discs if you want to solve the mystery of pop music. On the other hand, I think that it is easy to be inhibited by listening too much. In the same way as talent can put a spanner in the music composing. The simpler it is, always it's the hardest.

I am a small town guy, so my dreams were quite modest and realistic. I never fit in at school, I was rescued by The Monkee's "I'm a believer "and John Lennon's pile to the Rubber Soul-cover. I have had the three T-s : Luck(tur-in Swedish), Timing, Talent. It will be easy to look at someone's life before and after he had children. So it is for me too. Values and priorities were very different before 1997, when our son was born. Career-wise, everything has followed some kind of strange logic. Gyllene Tider rises and falls, giving Roxette the ability to start. When Roxette had calmed down then came the challenge to do solo stuff like Mazarin, Son of a Plumber and now Party Crasher. I have not thought very much of what happened; things have fallen to their place by themselves. Life's highlights: The distorted guitar intro of the Beatles "Dizzy miss Lizzy". That I could find my wife. My son's birth. Roxette's America-number ones. Gyllene Tider -Ullevi-gig. Breakfast this morning.

It was Roffe Nygren who tied Gyllene Tider to EMI 1979. Along the way he's been a great supporter and inspiration to our common Roxette successes. A journey we all thought impossible. He was a "hitpicker" with perfect aim and always a creative idea bouncer. He was also a very dear friend of mine and my family's. We miss him enormously.


I still play with Brainpool but we have difficulties finding time to work as a band because everybody does their own thing to support themselves. But I'm sure sooner or later we'll make more music together because we love it and we enjoy doing this together so much. David and Jens in Brainpool are actually my favorite music-making partners, they are like brothers to me. I've learnt so much by working with them, I wouldn't be half the musician I am without them.

I have worked like crazy for many many years now. And it's been great but I do feel that I wouldn't mind a little more time off with the kids and so on. It's difficult though. To do what I do and do it with the level of ambition I have you need to make some money to keep the studio running. With the music business in free fall and everyone file sharing and not wanting to pay for music it gets increasingly difficult to do what I do. Budgets for an album are 1/5 now compared to when I started, because of declining sales due to file sharing to a large extent. And of course it's the small artists, bands and labels that are most sensitive to this, a fact that is NEVER heard in the ongoing debate about this subject. You often get the impression that file sharing only hurts the already stinking rich when in fact it hurts the poorest the most. The big guys suffer badly but survive; the small ones just cease to exist because they had no economical margin. So I'm eagerly hoping for a reasonable solution that can make music, art and films available to the world as cheaply as possible and at the same time collect some money for all the creative people who made the music, films and art. So they can make some more and spread to the people who obviously enjoy their work. But so far it doesn't look all that great to be honest.


Christoffer Lundquist -
AGM Studios
In the Party Crasher Tour, there will be 25 songs, plus 1 bonus. The songs will include Roxette tracks, but these will be sung only by Per (I won't sing Marie's parts). I do not know Marie Fredriksson very well but we meet sometimes and as a big fan of her I always feel a bit shy when she is around. But I talk to her a little every time our paths cross. Per had a 50 year anniversary party and there we met most recently. Her song "Sparvöga" is the most beautiful popsong in swedish that i have ever heard. I like to sing it to my child sometimes.

I went to Copenhagen and came back to Stockholm a week ago…pretty nice. There's something about January, every thing's fresh and I find a whole lot of positive energy around people this time of the year, even though it's very dark outside. I guess everybody has some plan or idea for 2009, and so do I. The latest news regarding my album, is that I'm going to record it together with a famous Swedish producer called Christoffer Lundquist in March 2009. His studio is called Aerosol Grey Machine Studios, and it's situated out in the countryside of southern Sweden, just outside Lund. You can take a look at his home page www.agmsweden.com. I have a really good feeling about this, and I can't wait to record my songs on that beautiful farm.