Per Gessle's (or rather "Gessle's") album "
The World According to Gessle
" from 1997 will be re-released on EMI/Elevator Entertainment in May in what
Thomas Evensson, from TDR
calls a "super duper extra turbo deluxe with cheese on" edition. The album is now a double with tons of nice bonuses and a new extended sleeve with an interview added.
Bonus trax CD 1:
Kix-Cha-Cha "ghost track"
Love Doesn't Live Here outtake from album + B-side Kix
Always Breaking My Heart (30 May 1995) B-side Do You Wanna…
I Wanna Be With You (2 Nov 1994) B-side Do You Wanna…
Blue Umbrella (15 June 1993) B-side I Want You to Know
Jupiter Calling (3 Aug 1995) B-side I Want You to Know
Let's Party! (14 July 1988) B-side I Want You to Know
Kix (Lovely Pair Mix) B-side Kix
CD 2 – demos that were made for the album:
There is My Baby (27 June 1994)
I'll be Alright (16 July 1994)
June Afternoon (17 July 1994)
T-t-t-Take It! (12 Sep 1994)
Every Day Outside My Window (28 Dec 1995)
Love Doesn't Live Here (25 Feb 1996)
Detective Jones (29 Feb 1996)
Beautiful Things, Terrible Things (7 April 1996)
Elvis in Deutschland (26 April 1996)
Makin' Love to You (acoustic version) (9 June 1996)
Lay Down Your Arms (23 June 1996)
Do You Wanna be My Baby? (12 Aug 1996)
B-Any-1-U-Wanna-B (24 Oct 1996)
Saturday (2 Nov 1996)
Wish You the Best (3 Nov 1996)
I Want You to Know (28 Dec 1996)
Kix (2 Jan 1997)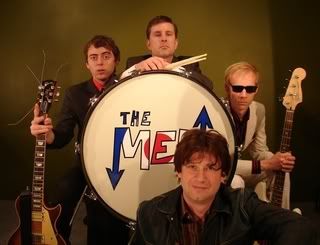 According to the drummer Niklas Kilenstam, maximum Swedish modband from Lund,
The Men
, are now in the
AGM studio
recording their third album with a few more instruments. Over a period of 8 weeks they are going to record 13 new songs.
Christoffer Lundquist
is their guide and master. As of today, 8 songs are down on track and the finnishing touches are being made this weekend for those.
"Elvis in Deutschland" was recorded about a year after the "Elvis in Germany"-demo. I did it because I wasn't quite satisfied with the chorus of "EiG"!!! "EiD" has a totally different chorus (and different chorus lyrics) and is a ballad, sorta… But I went back to "EiG," a wise decision, if you ask me…
A different version of "Every Day Outside My Window" lyrics was given to Marie a few years later and became her ballad "Every Day" …
Same thing with "Beautiful Things, Terrible Things" (which turned into her "Beautiful Things"…)
…and of course we're talking remastering here, I always felt that the original [album] sounds a bit too hard, we'll try to fix it now.

"Detective Jones" also exists with different lyrics, then called "Young" and was recorded by Staffan Öfwerman in the 1800s.

"June Afternoon" ended up on Rox's "don't bore us" album but was ment for "TWATG" from the beginning. Micke Syd plays the drums and is brilliant. One of my best songs ever.
"Makin' Love to You" was written for "TWATG" too.
There's a demo for "Reporter" called "Writer," it's not on this album because it sounds almost exactly the same as the end results… besides the title of course…
The rest of the tracks were apparently also recorded as demos (it seems, I've forgotten most things) but they sound too much the same as the final album to be included. Why this snobism you wonder? Well, I want this demo album to be fun to hear for all the hardcore fans out there. As little as possible should be recognized…

Per Gessle