Hello again, yes we are updating the page quite often now and we are glad that you are following the recording of the year.
Today we started recording probably the fastest song on the album. Per was a bit scared when he realised that it was a 179bpm song. The fact that he had a cold and was feeling a bit saggy didn´t encourage him. Yet he put on his blue basket ball shoes and was ready to hit the toms at a speed he had never recorded.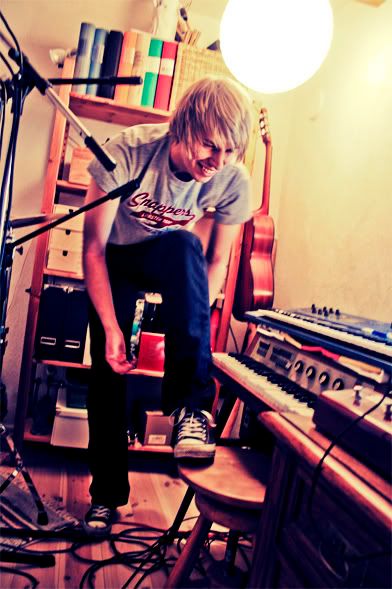 When Per is behind the drums it is me (Martinique) who sets the parameters in the computer so that there is no chance of distortion. This time I had to lower everything since Per was hitting so hard.
After three takes the drums were recorded and Per was even more saggy and sweaty. Great work man. The drums came out pretty punky which we liked.
Then it was bass time! Per and me sat down and tried to figure out the best way to match the bass line with the drums. It ended in a pretty straight forward bass lick with variations in both verse and chorus =). That was all we had time for today and next time we think a nice piano will suit this song. Thank you for reading.
In July 2007, Alberto Fuente,

Le Journal des Mouches

' editor, completed the first article in English about Sandy Mouche in Wikipedia.
There was no reference in English, only in Swedish.
Ilya Volkov
, a Russian fan, had written a good article in wikipedia (August, 2006) about Helena Josefsson, but there was no article about Sandy Mouche.
My article was not very good indeed because I took most of information from the official website.
Ricardo Colmenares
, a fan from Venezuela, rewrote the text again, and removed the more unencyclopedic content, such as the description of the band's emotional impact on the listener. The final article is much better than the original one. Read it:


Sandy Mouche
is a Swedish band from Lund, Skåne County, southern Sweden. It consists of songwriter- and singer couple Martinique and Helena Josefsson, and the brothers Per (drums) and Ola (guitar) Blomgren. On live shows they bring a bassist and a pianist. They sing in English and French.
Sandy Mouche was created in the fall of 2001. Helena and Martinique were on holiday in Crete, Greece, with Per (who had played with Helena in other bands for six years) and his girlfriend, Hanna. Martinique played his song, "A Year" for the group. It was then that they collectively decided to form a band.
Searching for a name, they were inspired by their surroundings: Back on the beach, Per played with the hot sand and shouted "sandy!" Helena looked at her friends, and noticed they all had a mouche on their faces. The name clicked, to the band it sounded like a woman's name, about whom they would make up stories. Following the name was the idea to sing in both English and French. According to the band, they picture Sandy Mouche as "a young woman who lives in every band member making sure we stay on the right track". Per's brother Ola joined the band shortly after.
The band recorded demo's in Per's bedroom, and in a studio along with Danyal Taylan, who would play the bass from then point until 2004. Sandy Mouched recorded and released an
EP
, which they sent to producer Christoffer Lundquist, whom the band felt to be "the perfect collaborator". Sandy Mouche decided they would release their first album,
White Lucky Dragon
(2004) on their own label, Magpie Music.
White Lucky Dragon was released in Sweden and Japan.
...and poems for the unborn
is the band's latest album, and it was self-financed, with Playground Music Scandinavia and Junk Music handling the distribution. It was recorded and mixed over a 10-day period. Unlike the first album, the songwriters wrote separately for their second album, which resulted in a more diverse release than their debut, counting ABBA, jazz, disco, pop, and even children's music among its influences. According to the band, they made the kind of album they would like to buy themselves.
Since 2006, Helena Josefsson, Martinique Josefsson, Per Blomgren and Ola Blomgren have been working in solo projects, although Sandy Mouche will probably record a new album soon, according to Helena and Martinique. They have also made some promotion of …and poems for the unborn with gigs in France and Switzerland.
On February 28, 2007, Helena Josefsson released her first solo album, Dynamo, produced by Christoffer Lundquist. Helena has worked with Per Gessle (Roxette), The Ark, Righteous Boy, Swan Lee, Andreas Johnson, Sebastian Karlsson, Gyllene Tider... and is a member of Son of a Plumber. Dynamo does not break the Sandy Mouche project: in fact Martinique Josefsson and Per Blomgren have been working in Helena's solo project (in the studio and/or in the gigs).
Since September 2007, Sandy Mouche is recording a new album. They are recording in Per Blomgren's house, so the album will be produced by themselves. This time Martinique has written all the songs. Helena Josefsson takes part in vocals but she is also working in her second solo album.